Here are 9 amazing and affordable Asian restaurants that don't skimp on taste or quality!
We're constantly hearing rants about how expensive it is to survive in Singapore — much less enjoy a good meal out. But here is solid proof that it's still possible for two people to enjoy a three-course dinner at a mid-range to upscale restaurant, and do it at an affordable price.
*Disclaimer: At the time of publication, in view of the Phase 2 Heightened Alert measures, dining in is prohibited at all eating establishments until 18 August 2021. Take outs, however, are still allowed. We're doing our best to be accurate, but please double check with the restaurants before you visit.
1. Mitzo
Mitzo's signature Barbecued Pork ($18) is a must-try: the pork belly is tender, unctuous goodness that's a touch fattier than your typical char siew, and it's crusted with caramelised sugar, which adds smokiness and a lovely crunch.
Also good to share for two: The dim sum platter ($28), consisting of three pairs of steamed dumplings: Royal Shrimp Dumpling with Caviar, Shrimp and Pork Dumpling with Baby Abalone, and Steamed Dumpling with Shrimp, Scallop and Sea Urchin. Their Stir Fried Udon ($24) comes with a sizeable portion of roast duck and is suffused with wok hei – this phrase literally translates as "breath of the wok" but it means the delicious and intense flavour you only get in Chinese food cooked over high heat in a well-seasoned wok.
Mitzo
Address: 270 Orchard Rd., Level 4 Grand Park, 238857
Tel: 6603 8855
Opening hours: Delivery only
Reserve on Chope here.
2. Blue Lotus Chinese Eating House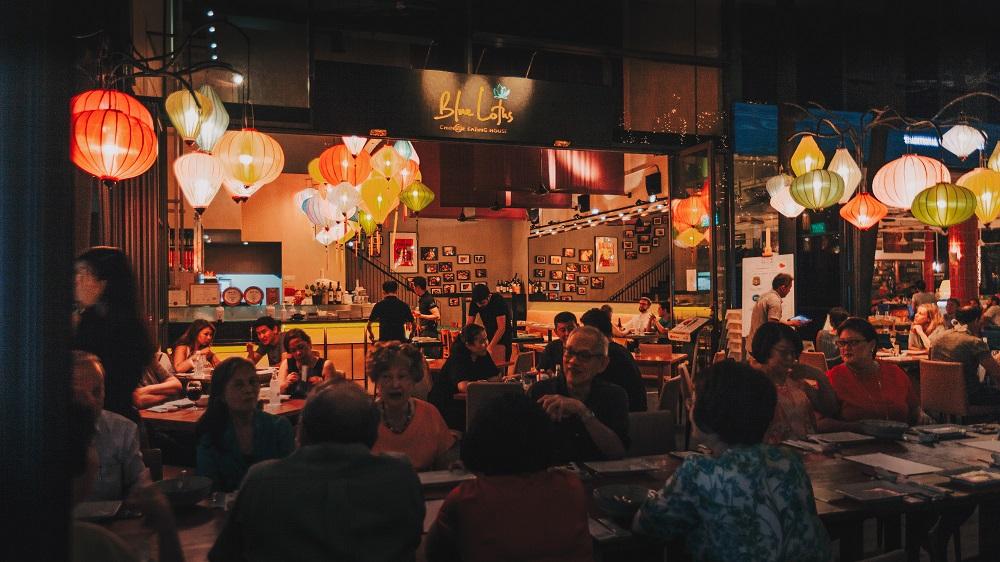 Having a meal on Sentosa doesn't always have to be a costly affair, especially if you do it family-style at the Chinese restaurant affectionaly nicknamed Blue Lotus.
The ever-popular Sweet & Sour Pork ($28) features pork belly double-fried and served with lychees, onions, and peppers. The Szechuan Gong Bao King Prawns ($32) are a good option too, since they are sweet and cooked to a crunchy texture. To complete the meal, get a bowl of Steamed Brown Rice ($2) to go along with your dishes, and you're good to go.
Blue Lotus Chinese Eating House
Address: 31 Ocean Way, #01-13, Quayside Isle, 098375
Tel: 6339 0880
Opening hours: 5:30 to 10 p.m. (Mon. to Thurs.); 11:30 a.m. to 3 p.m. and 5:30 to 10 p.m. (Fri. to Sun.)
Reserve on Chope here.
3.TungLok XiHe Peking Duck
TungLok XiHe Peking Duck is the newest culinary collaboration between TungLok Group and Beijing's renowned XiHe Group, serving up this Chinese classic in authentic style.
Cured and slow-roasted, the Peking Irish Duck ($88 for the whole duck) is tender and fragrant, with a crispy skin that is to-die-for. Done with the breast meat? You can opt for the rest of the duck to be stir-fried in three ways: Salt and Pepper, Cereal Oats and Ginger and Spring Onion, for an additional fee of $12.
TungLok XiHe Peking Duck
Address: Multiple locations
Tel: See website
Opening hours: See website
Reserve on Chope here.
4. Fat Saigon Boy
A tapas and a main are enough to fill you up here. We recommend the Soft Shell Crab Sliders ($10 for two), which has a crispy tempura batter and a lime chilli sauce that gives your deep-fried treat some zing.
For $15, you can pick from a selection of pho noodle or rice bowls, butwe suggest you try the signature Grilled Lemongrass Pork with Vermicelli, which is smoky and juicy.
Fat Saigon Boy
Address: 2 Science Park Dr., Ascent Building, 118222
Tel: 6221 6784
Opening hours: 11 a.m. to 3 p.m. (Mon. to Fri.)
5. Jiang-Nan Chun
It seems unlikely that you can find a bargain meal in a five-star hotel restaurant – but we've found it. The assortment of dim sum treats at Jiang-Nan Chun are surprisingly filling for lunch. Try the Steamed Pork Dumpling with Baby Abalone ($9), Crispy Puff Pastry with Black Pepper Beef ($3), Crispy Silky Turnip Pastry with Dried Shrimps and Ham ($3), or Steamed Pork and Shrimp Dumpling in Chilli Oil and Coriander ($3).
Follow this array with the restaurant's signature Fried Rice with Minced Wagyu Beef in X.O. Chilli Sauce ($14) and finish the meal with a serving of Crispy Egg Noodles with Slow Cooked Beef Cheek ($18).
Jiang-Nan Chun
Address: 190 Orchard Blvd., Four Seasons Hotel Singapore, 248646
Tel: 6831 7220
Opening hours: 11:30 a.m. to 2:30 p.m. and 6 to 10:30 p.m. (Daily)
Reserve on Chope here.
6. Konjiki Hototogisu
Awarded the prestigious Tokyo Michelin Bib Gourmand title for four consecutive years, from 2015 to 2018, Konjiki Hototogisu is one restaurant ramen lovers should not miss. Michelin-starred chef Atsushi Yamamoto brings the renowned Japanese restaurant to the shores of Singapore and everyone whol loves delicious (but affordable) Asian food is very pleased, indeed.
Be sure to try their signature Shoyu Hamaguri Soup Ramen ($14.90), consisting of a rich broth made with Hamaguri clams and pork bones, and topped with house-made Tartufata (black truffle paste) with Porcini mushroom oil and Porcini flakes.
Konjiki Hototogisu
Address: 30 Victoria St., #01-17, CHIJMES, 187996
Tel: 6285 3155
Opening hours: 11:30 a.m. to 3:30 p.m. and 5:30 to 10 p.m. (Mon. to Fri.); 11:30 a.m. to 10 p.m. (Sat. + Sun.)
7. Joo Bar
With dark walls and high bar stools, this thoroughly modern Korean restaurant looks nothing like a typical Korean family eatery. It looks posh enough to feature in a K-drama serial, and you'll feel like a star when you try the the crispy Tofu Chips served with a guacamole and a kimchi salsa dip ($14). Also good are the sweet and spicy Dak Kang Jung ($18) – deep-fried chicken tenders served with chopped nuts and gochujang or fermented red chilli paste.
Joo Bar
Address: 5 Tan Quee Lan St., 188094
Tel: 8138 1628
Opening hours: 5:30 to 10:30 p.m. (Daily)
Reserve on Chope here.
8. Jiu Zhuang
Classic Cantonese food gets jazzed up here. Start your meal with the Double Boiled Soup with wonton dumplings and dried scallops in superior broth ($18). It's light on the stomach, but with an intense umami flavour. The dumplings here are unusual – they're filled with minced pork and blended with malt whisky. This flavour may taste alien to more purist tastes, but they go well with a side of Scallion La Mian (S$8) – the noodles are unusually served al dente, with a very tasty sauce.
For more variety, you can try the Tofu with Century Egg and Crabmeat ($14) and Salted Egg Custard Bun ($8).
Jiu Zhuang
Address: 6D Dempsey Rd., 247664
Tel: 6471 1711
Opening hours: 11 a.m. to 10:30 p.m. (Daily)
9. Min Jiang
Helming the kitchen of Min Jiang for almost 10 years is Master Chef Chan Hwan Kee. He has honed his skills in Cantonese and Sichuan cuisines, captivating diners with his inspired flavour combinations and new renditions of classics. You can splurge on the restaurant's signature, Honey-glazed Barbecued Ibérico Pork ($28). But it's worth saving space for the unusual and hand-made dim sum – including Steamed Pumpkin Ball ($6 for three pieces), Deep-fried Homemade Squid Tofu with XO Sauce ($7.80 for three pieces).
Min Jiang
Address: Multiple locations
Tel: See website
Opening hours: See website
Originally by The Straits Times, last updated June 2019 / Last updated Sabrina Ng
Don't miss out! Like our Facebook page and follow us on Instagram. Sign up for our e-newsletter, too!
More on The Finder:
Indulge At These AFFORDABLE High Tea Places In Singapore
7 BEST Places To Get Affordable Sushi In Singapore UNDER $30
12 UNIQUE International Junk Food To Find In Singapore