Boutique hotels offer more than just a room to unwind and recharge.
Like luxury five-star hotels, a boutique hotel in Singapore provides amenities such as gyms and swimming pools, and is usually conveniently located in the city – bringing you close to attractions and nice eating establishments. 
What stands out between them, though, is the cost. While a boutique hotel is more wallet-friendly, it does not skimp on quality. This means you wouldn't have to splash a tonne of cash to enjoy the full staycation experience. Sometimes, a boutique hotel even injects colour and personality into its design and architecture, exuding character and vibe that is unique from other hotels.
Whether it's a quick family escapade or a romantic weekend retreat with your other half, you can check yourselves into these beautiful boutique hotels that are all under $200 a night.
1. Studio M Hotel
Known for its high ceiling loft bedrooms and white-washed aesthetic, Studio M is the perfect hotel for a quiet, romantic staycation. Situated in the Robertson Quay area, this hotel's convenient location puts it close to amazing cafe fare and the city. Plus, Studio M's minimalist loft concept has made this hotel a popular destination for Instagram-worthy shots – so be sure to bring along your cameras when you check into this boutique hotel.
Studio M Hotel
Address: 3 Nanson Rd., 238910
Tel: 6808 8888
Price: From $200 a night
2. Lloyd's Inn
Located 10 minutes away from Orchard Road, Lloyd's Inn is famous for its Instagram-worthy minimalistic rooms. The space takes on a self-aware zen quality, curated with Japanese kimonos and house-brand bath amenities. The rooms are also free of ornamentation, unless you count Mother Nature, and come complete with a private outdoor bath and large windows that allow plenty of sunlight to come through.
Lloyd's Inn
Address: 2 Lloyd Rd., 239091
Tel: 6737 7309
Price: From $160 a night
3. Hotel G
Not all the rooms are great at Hotel G. Some are even better than great! Feel pampered to no end in the newly refurbished, stylishly vintage rooms at this boutique hotel. It has got more than just your usual creature comforts – think 55-inch televisions and dedicated pillow menus. In need of food? Ginett, the highly acclaimed French restaurant and wine bar, and 25 Degrees, the famed American burger and liquor bar of the same name from Los Angeles, are located just on the ground floor of this hotel.
Hotel G
Address: 200 Middle Rd., 188980
Tel: 6809 7988
Price: From $97 a night
4. Hotel Clover The Arts
If there's one thing to love about Hotel Clover The Arts, it's the fact that all the rooms are furnished with wall paintings of various themes – so you could be among fields of sakura or slumbering away with cuddly pandas. Even the exterior of the building is splashed with art! Nestled between Boat Quay and Clarke Quay, this art-themed boutique hotel is a stone's throw away from award-winning restaurants, trendy bars and hip cafes. It owns a rooftop garden terrace, too, where you can unwind and admire amazing views of the city.
Hotel Clover The Arts
Address: 58 South Bridge Rd., 058689
Tel: 6439 7088
Price: From $$119 a night
5. M Social Singapore
M Social is another Instagram-worthy hotel situated in vibrant Robertson Quay. It offers you chic loft bedrooms alongside cosy alcove ceiling rooms. Also, its favourable location brings you close to a wide range of wine and dine options in the three quays – Clarke Quay, Boat Quay and Robertson Quay. If you don't want to go too far, drop by M Social's Beast & Butterflies. This restaurant serves modern Asian food and cooks up fresh new styles and creations every season, so you can expect something different each time you dine here.
M Social Singapore
Address: 90 Robertson Quay., 238259
Tel: 6206 1888
Price: From $120 a night
6. Wanderlust Hotel
Housed in a 1920s Art Deco building in Little India, Wanderlust underwent a major revamp and reopened in March this year as part of The Unlimited Collection by Oakwood. The new concept merges old-world charm with modern-day comforts and screams contemporary and sophistication. From compact deluxe and cosy studio premier bedrooms to elegant yet homely studio lofts, these accommodations come with the essentials along with kitchenettes and rain showers. There's also a dipping pool on the open-air terrace, a nice escape from the hustle and bustle of everyday life.
Wanderlust Hotel
Address: 2 Dickson Rd., 209494
Tel: 6396 3322
Price: From $180 a night
7. The Great Madras
You might've seen pictures of this hotel's pool on Instagram, but that is not the only thing The Great Madras is known for. Nestled in Singapore's Little India district, this boutique hotel may be small in size – it houses just 34 rooms – but is great on service and personality. Its interior is adorned with tropical wallpapers, pastel-hued paints and geometric-patterned floors, exuding a 1950s vibe in all. Each of its six-room types differs in theme, too, so you can choose whichever style and retreat suits you best. 
The Great Madras
Address: 28 Madras St., 208422
Tel: 6914 1515
Price: From $138 a night
8. Hotel Mono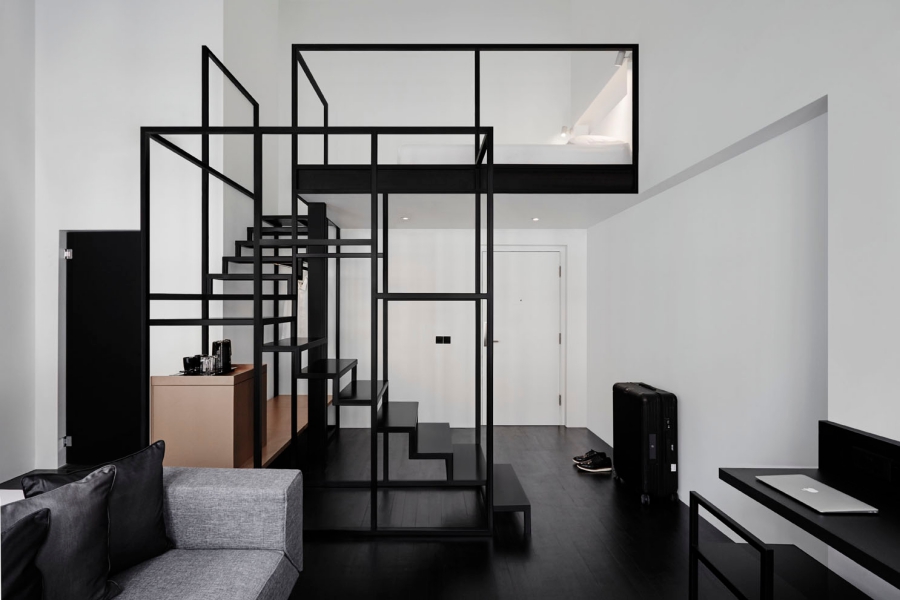 Hotel Mono, as its name suggests, is a monochromatic boutique hotel set within six historical shophouses in Chinatown. This black and white accommodation adds a modern minimalist touch to traditional Singapore. It retains its original charm of characteristic air wells and Rococo-era windows and adds clean lines and neutral colours to enhance the beauty of each space. Regardless if you're having a staycation with family or your loved one, Hotel Mono has a range of rooms that's perfect for each occasion – think smaller bedrooms like the standard double for a party of two to bigger ones like the family, studio and loft rooms.
Hotel Mono
Address: 18 Mosque St., 059498
Tel: 6326 0430
Price: From $86 a night
9. Hotel Soloha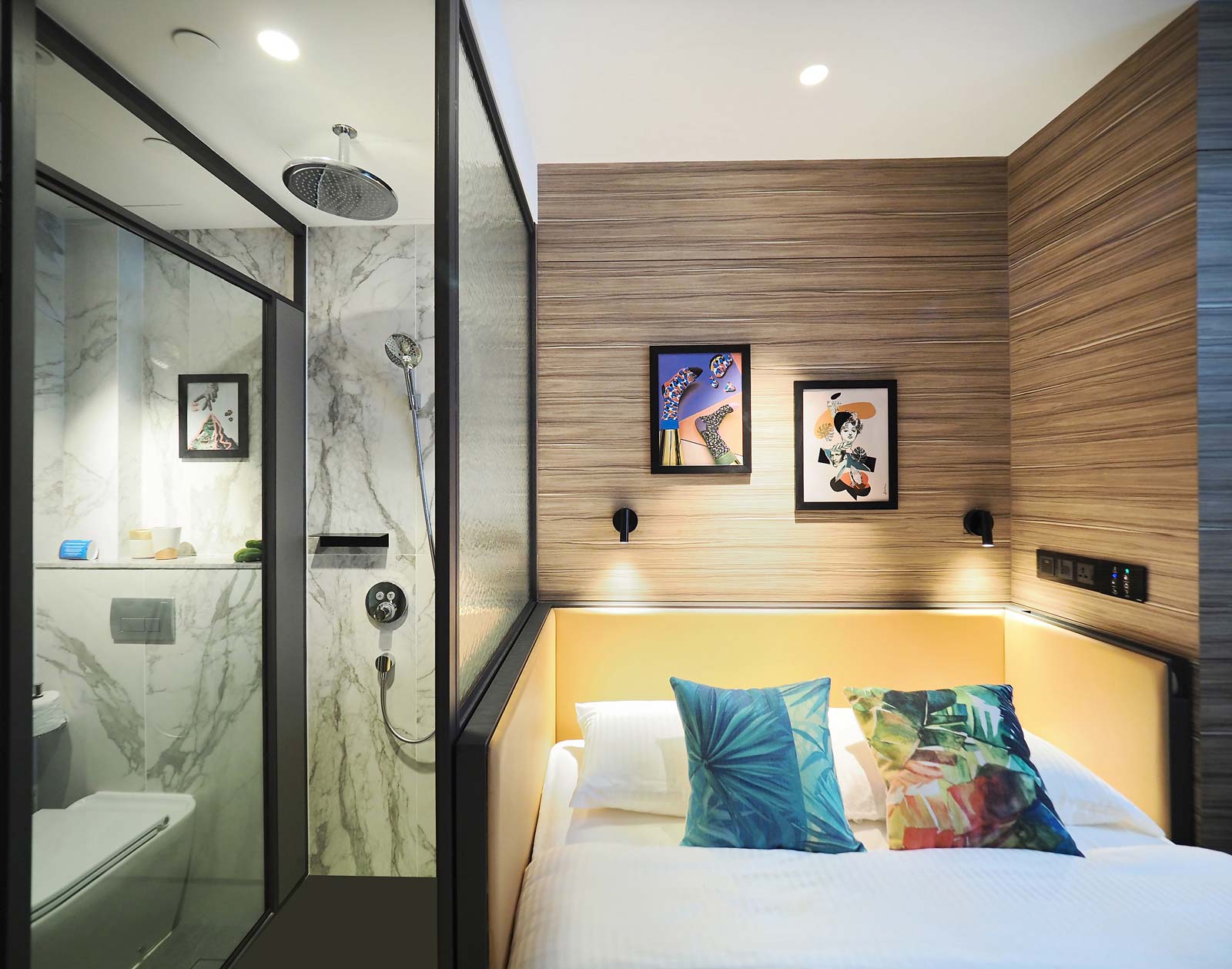 Hotel Soloha is recognisable for its blue and white exterior. But when you step inside this boutique hotel, you'll be greeted with a refreshing burst of personality and colour that contrasts the surrounding neighbourhood – think bold interiors, neon lights and tropical wallpapers. Its 45 rooms, ranging from standard and deluxe bedrooms to lofts and outdoor suites, are designed to feel homely but luxurious. So, look forward to artisanal furnishings that will make you feel like you're living in a designer's enclave and plush beds that remind you of home.
Hotel Soloha
Address: 12 Teck Lim Rd., 088387
Tel: 6222 8881
Price: From $108 a night
By Pinky Chng, adapted from The Singapore Women's Weekly, November 2018 / Last updated by Jayme Chong, August 2021 / Last Updated by Arshi Iqbal, December 2021
Don't miss out! Like our Facebook page and follow us on Instagram. Sign up for our e-newsletter, too!
More on The Finder:
DAYCATION Hotel Packages In Singapore To Book For A Short Getaway
10 Hotels With PRIVATE Pools In Singapore For The Ultimate Relaxation
20 Staycation Spots In Singapore For UNFORGETTABLE Memories With Your Kids