All of the charm without the noise. Amoy Street is a laid-back oasis in the CBD.
Tucked in between the larger and more popular Telok Ayer and Tanjong Pagar districts, it can be easy to give Amoy Street a miss. However, what Amoy lacks in size it more than makes up for in culture and style. There's green spaces, great restaurants and interesting heritage sites. Amoy Street is filled with one-of-a-kind experiences, so we've tracked down some of the best things to do in Amoy Street.
Where to eat and drink in Amoy Street
1. Pho 99 Vietnamese Delight
Behind its humble facade, Pho 99 serves extremely authentic Vietnamese cuisine. The signature Phos are just about the closest you can get to the real thing, outside of Vietnam, with the noodles served in a rich broth and delicious meatballs. Here you can also find nuclear-strength Vietnamese drip coffee, the perfect way to end your meal.
Pho 99 Vietnamese Delight
Address: 57-58 Amoy St., 069882
Tel: 6410 9600
Opening hours: 10 a.m. to 9p.m. (Mon. to Sat.)
2. Dumpling Darlings
For a modern twist on the simple potsticker dumpling, look no further than Dumpling Darlings. You'll come for the unique Asian dumplings (Smoked Duck is our favourite!) but you'll stay for the yummy Miso Mushroom noodles ($6). The menu is straightforward, the food is full of flavour and the price is competitive – all the ingredients work togethe to make this eaterie one of the most popular in Amoy Street.
Dumpling Darlings
Address: 44 Amoy St., 069870
Tel: 8223 9249
Opening hours: 11:30 a.m. to 3:00 p.m., 5:30 p.m. to 10:30 p.m. (Tue. to Sun.)
3. Birds of a Feather
Think of Sichuan cuisine and your mind probably goes straight to Mala – that numbingly spicy peppercorn that's common in Sichuan hot pot. But wait… Birds of a Feather introduces you to a whole new world of Sichuan cuisine, with sophisticated new twists on dishes, and a slightly western influence on presentation. For example, The Homestyle Braised Pork Belly ($58), is presented with the most spectacular mushroom garlic rice you've ever seen.
Birds of a Feather
Address: 115 Amoy St., 069935
Tel: 6221 7449
Opening hours: 11 a.m. to 10:30 p.m. (Daily)
4. Platform
Platform is a beautifully decorated cafe and bar along Amoy Street. It feels like an art installation as much as a cafe, with minimalist architecture and artful displays of dried flowers. The result is a serene space that lets you relax. The drinks are refreshingly fragrant, whether you're there in the afternoon for an Iced Matcha ($7) or pop by after work for an Oolong cocktail ($18).
Platform
Address: 19 Amoy St., 069854
Tel: 8280 0292
Opening hours: 5 p.m. to 10:30 p.m. (Mon.), 2 p.m. to 10:30 p.m. (Tue. to Sun.)
5. Alati Divine Greek Cuisine
Can't travel? No problem. Transport yourself to the lush beaches of Santorini at Alati. Dine like the Greeks do with generous servings that encourage sharing. With fantastic dishes such as the Greek Octopus ($39) Alati truly lives up to its name as 'Divine Greek Cuisine'.
Alati Divine Greek Cuisine
Address: 73 Amoy St., 069892
Tel: 8751 9138
Opening hours: 12 p.m. to 2 p.m., 5:30 p.m. to 11:00 p.m. (Mon. to Sat.)
6. Chico Loco
Like its sister establishments, Super Loco and Lucha Loco, Chico Loco presents quality Mexican food in a vibrant setting. This time, it's Mexican spit-roasted chicken accompanied by your choice of sauces. If you like hot sauce, you can accompany your chicken with Smokey Chipotle BBQ sauce ($2). If you prefer a citrus kick, you can opt for the Green Peppercon and Jalapeno sauce ($2). The roast chickens here are free-range and organic-fed, ($32 for a whole chicken.).
Chico Loco
Address: 102 Amoy St., 069892
Tel: 8751 9138
Opening hours: 11:30 a.m. to 10:30 p.m. (Mon. to Fri.), 5 p.m. to 10:30 p.m. (Sat.)
7. Luna
Luna patisserie makes some of the most delicious cakes, if you can bear to eat them. Each cake is so intricately decorated, it almost feels a shame to bite into it. But Luna is proof that you can judge a cake by its cover, because the flavours are as interesting as the presentation; try yuzu meringue pie, yam and coconut-flavoured orh nee cake, matcha green tea white chocolate slice, and a whole lot more. We enjoy Luna 2.0, a chocolate mousse with a crunchy core of crushed hazelnuts, for $9 a slice. To match the name Luna, the cafe's decor is all pale wood and white seating. It feels like being in a cake shop on the moon, in a good way.
Luna
Address: 53 Amoy St., 069879
Opening hours: 12 p.m. to 6:30 p.m. (Sun. to Thu.), 12 p.m. to 9 p.m. (Fri. to Sat.)
8. Employees Only Singapore
Nothing quite beats a hidden bar. There's something about possessing select knowledge, the thrill of knowing that you're an insider that makes the ordinary feel quite special. Established in New York in 2004, the Singapore branch of EO, as it's affectionately called, serves up fantastic cocktails in an intimate destination. It regularly wins awards for its cocktails, and you'll see why, when you visit.
Employees Only Singapore
Address: 112 Amoy St., 069932
Opening hours: 4 p.m. to 10 p.m. (Daily)
9. Dapper Coffee
The Dapper Coffee approach is a simple one: decent coffee, great wi-fi and plenty of power points. If you're looking for somewhere to work from home (or cafe), Dapper Coffee is perfectly suited for you. Just be prepared for your zoom background to show a swanky cool British pub. Thankfully, your colleagues won't be able to virtually smell the coffee aroma that fills the air!
Dapper Coffee
Address: 73 Amoy St., 069892
Opening hours: 8 a.m. to 5 p.m. (Mon. to Fri.), 9 a.m. to 4 p.m. (Sat. to Sun.)
10. Amoy Street Food Centre
While Amoy may be full of great bars and restaurants, this list would be incomplete without Amoy Street Food Centre. This iconic food centre may not have much going for it architecturally, but it's famous because it's the go-to lunch destination for people working in the CBD area. Enjoy a good variety of hawker mainstays such as the popular fish soup from Han Kee Fish Soup. Alternatively, opt for some fusion food such as the halal poke bowls from Big Bowls Project.
Amoy Street Food Centre
Address: 7 Maxwell Rd., 069111
Things to do in Amoy Street
1. Take an evening stroll up Ann Siang Hill Park
The Ann Siang Hill area is an idyllic enclave amidst the hustle and bustle of town. Located just off Amoy Street, it is the sole remnant of three Telok Ayer Hills – Mount Wallich and Mount Erskine were levelled as a result of land reclamation in the Telok Ayer basin. Today, Ann Siang Hill is the highest point of the Telok Ayer area, and a quiet reminder of the neighbourhood's heritage. As you climb shaded steps up the hill you can read displays about early settlers in the area. You'll also discover tamarind, cinnamon and nutmeg trees, an ode to the crops that were historically planted in the area.
Ann Siang Hill Park
Address: Entrance via Ann Siang Rd., Ann Siang Hill and Amoy Street

2. Visit Siang Cho Keong Temple
Dedicated to the deity Tua Pek Kong (Grand Old Uncle), Siang Cho Keong was built by the Hokkien community in 1868. The site was chosen because of the good feng shui. At the time the she seashore of Singapore was much further inland – it ran along Telok Ayer road. So this temple was sandwiched between protective Ann Siang Hill and the bountiful sea. Devotees often pay a visit to the wishing well at the entrance of the temple. Do note that photography and videography are not permitted inside the temple itself.
Siang Cho Keong
Address: 66 Amoy St., 069886
Tel: 6324 4171
Opening hours: 8 a.m. to 5 p.m. (Daily)
3. Visit Thian Hock Keng Temple, Singapore's oldest Hokkien temple
Singapore's oldest Hokkien temple, Thian Hock Keng was built in 1842 by immigrant craftsmen from China, according to the traditional Fujian architectural style. What started as a simple prayer house for the worship of Mazu, the Chinese sea goddess, soon expanded into an impressive architectural icon that is a must-visit for tourists. While the temple follows traditional Chinese architecture, it also includes some vintage European touches, such as glazed ceramic tiles. It's fascinating to see how Singapore's always been a place where cultures meet.
Thian Hock Keng
Address: 158 Telok Ayer St., 068613
Tel: 6423 4616
Opening hours: 7:30 a.m. to 3:30 p.m. (Mon. to Fri.), 7:30 a.m. to 5:30 p.m. (Sat. to Sun.)
4. Spot Masjid Al-Abrar's iconic minarets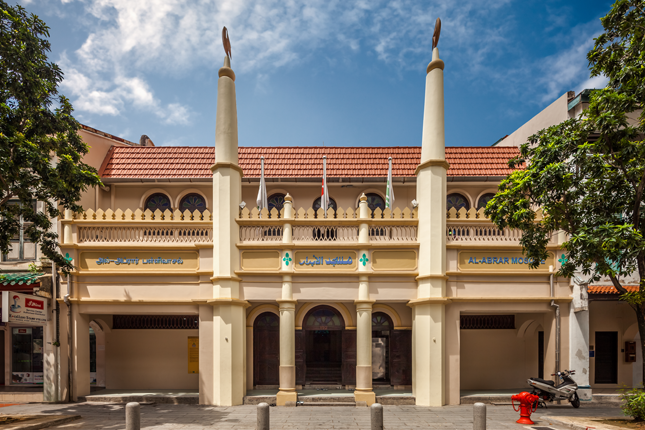 Nothing represents Singapore's multicultural heritage quite like a mosque in the heart of the Chinatown district. Established in 1827 for Tamil Muslims from South India, the Masjid welcomed the Chulias, Singapore's earliest immigrants from India, who were much respected for their trading expertise. With a simple architectural design, you may be forgiven for not noticing the Masjid and it's heritage. However, look up to spot the two iconic minarets the next time you're in the area.
Masjid Al-Abrar
Address: 192 Telok Ayer St., 068635
Tel: 6220 6306
Opening hours: 10 a.m. to 6 p.m. (Daily)
5. Discover Nagore Dargah Indian Muslim Heritage Centre
It's almost impossible to miss Nagore Dargah while walking along Amoy Street or Telok Ayer Street. This pink landmark with its unforgettable decor is home to a gallery that showcases Singapore's rich Indian Muslim heritage, including the Chulias, who historically called this area home.
Nagore Dargah Indian Muslim Heritage Centre
Address: 140 Telok Ayer St., 068604
Tel: 9838 0025
Opening hours: 10 a.m. to 5:30 p.m. (Mon. to Fri.), 9 a.m. to 1 p.m. (Sat. to Sun.)
6. Explore the Singapore Musical Box Museum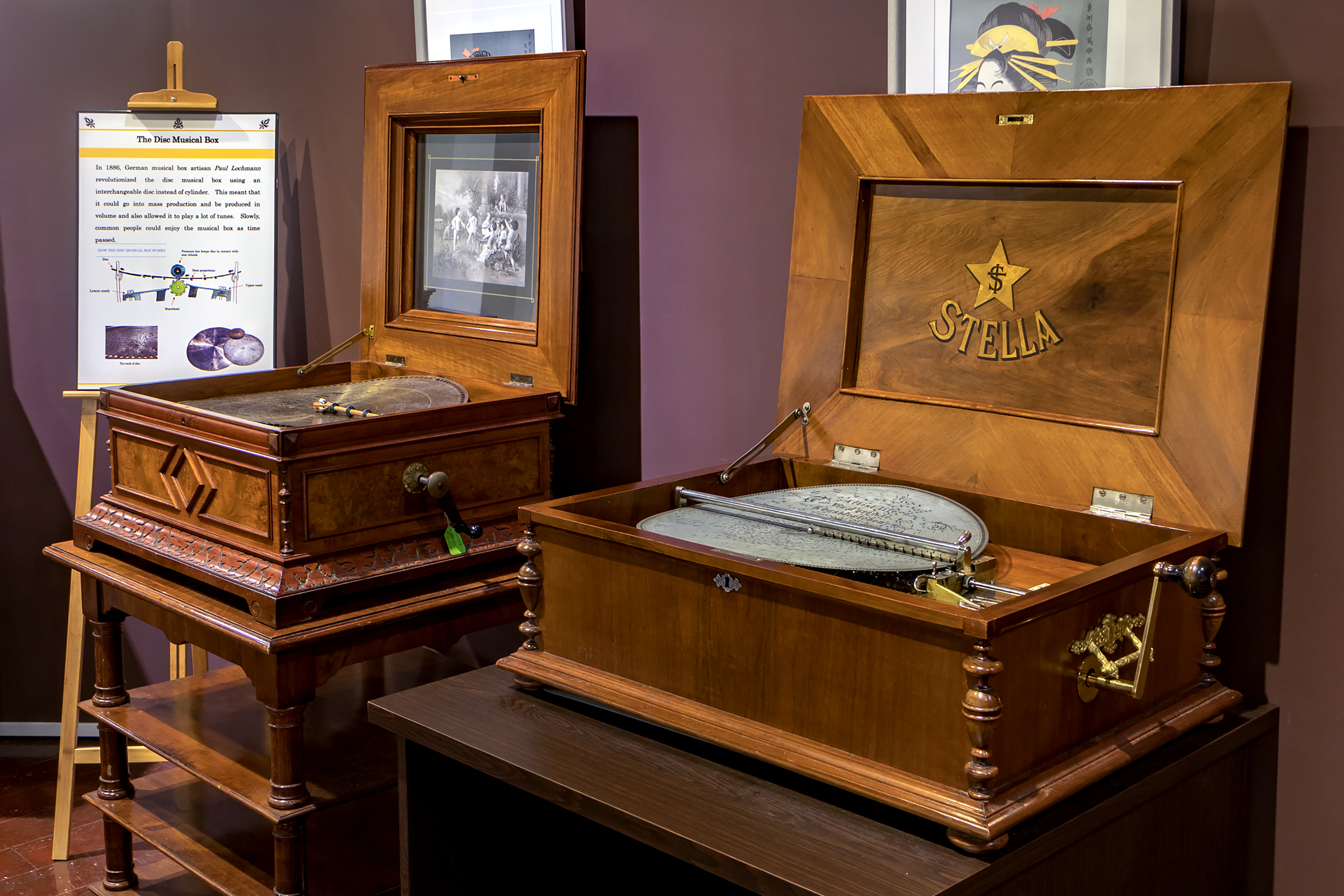 Before wi-fi, music boxes provided state-of-the-art entertainment. This eccentric but delightful little museum is Singapore's first dedicated musical box museum, which aims to preserve the musical history of this part of the world. Discover boxes big and small, including an impressive two-meter tall box which houses a mini orchestra.
Singapore Musical Box Museum
Address: 168 Telok Ayer St., 068619
Tel: 9864 6021
Opening hours: 10 a.m. to 5 p.m. (Daily)
7. Look your best at Jermyn Street Singapore
Named after a street in London that's famous for it's rich grooming and menswear heritage, Jermyn Street is a high-end barber shop along Amoy Street. Here, best-in-class grooming meets a lifestyle experience, complete with a welcome beverage of your choice (alcoholic options available).
Jermyn Street Singapore
Address: 108 Amoy St., 069928
Tel: 6220 4010
Opening hours: 10 a.m. to 8 p.m. (Mon. to Fri.), 9 a.m. to 7 p.m. (Sat.)
8. Get active at Yoga Mandala
Wannabe Yogis can drop in for a class at Yoga Mandala. The classes vary depending on the teacher but they're all designed to hit that sweet spot between a physical workout and a mental detox. Trial classes start from $15 each, for a package of four classes.
Yoga Mandala
Address: 134B Telok Ayer St., 068600
Tel: 6221 6683
Opening hours: 11 a.m. to 8:30 p.m. (Mon. to Fri),8 a.m. to 1 p.m. (Sat. to Sun.)
By Thomas Soh
Don't miss out! Like our Facebook page and follow us on Instagram. Sign up for our e-newsletter, too!
More on The Finder
10 Best Restaurants in Telok Ayer to UNWIND in the CBD
Keong Saik Road: Things To Do + Where To Eat, Drink And Shop
Duxton: Things To Do + Where To Eat, Drink And Shop