Got a special someone you want to impress on the cheap?
Everyone thinks romance is expensive. While that is sort of true, there are plenty of cheap date ideas that exist in Singapore. Plus, not all amazing and memorable date ideas involve spending a ton of money – so don't sweat it!
From knocking down pins at bowling to going on walks and hikes in nature parks, here's a whole list of budget-friendly and cheap date ideas in Singapore to check out for unforgettable fun.
Note: At the time of publication, there are ongoing Covid-19 restrictions due to Phase 2 Heightened Alert going on till 18 August 2021. We're doing our best to be accurate, but double check with the establishments before visiting. It goes without saying, the safety of everyone remains a top priority.
Indoor date ideas
1. Roller skate at Hi Roller
There's nothing more romantic and fun than roller skating on a date. It's retro, adventurous, cheap and gives you the opportunity to hold hands – especially if either or both of you need help with balancing.
For this 80s era date experience, pop by Singapore's only indoor skating rink, Hi Roller. The place is illuminated with disco lights and banger tunes and offers two-hour skating sessions. If you and your date own skates, go ahead and bring them along. If you both don't, the rink has inline and quad skates for rent.
Price: From $10 per person
Hi Roller Indoor Skating Rink
Address: 1 Pasir Ris Cl., Level 5, E!Hub @ Downtown East, 519599
Tel: 9694 4094
Opening hours: 11 a.m. to 9 p.m. (Daily)
2. Play board games at The Mind Cafe
Another fun and cheap date idea you can do is board games. But if you don't own any, don't fret – some cafes do.
With over 500 games in its establishment, The Mind Cafe has just about every game you can think of! We're talking classics like Snakes & Ladders, Cards Against Humanity and Jenga, and uncommon ones like Dirty Minds and Midnight Taboo. Check out this cafe's massive board game collection with your date and have a game or two.
Price: From $6 per person
The Mind Cafe
Addresses: 30 Prinsep St., #01-01, 188647 / 60A Prinsep St., 188664
Tel: 8121 5188
Opening hours: 11 to 2 a.m. (Mon. to Thurs. and Sun.); 11 to 6 a.m. (Fri. to Sat.) / 11 a.m. to 9 p.m. (Daily)
3. Cosmic-bowl a strike at K Bowling Club
Bowling is a great date option. It's fun, inexpensive and a bonus if you're a pro – you get to impress your crush. But have you tried cosmic bowling? That's bowling with flashing neon lights and loud dance music – a level up from traditional bowling.
Take your date to cosmic bowling alley, K Bowling Club, for this unique experience he or she is sure to remember. Other than knocking down some pins, you two also get to play arcade games, pool and darts.
Price: From $11 per person
K Bowling Club
Address: 313 Orchard Rd., #03-27, 313@Somerset, 238895
Tel: 9127 0313
Opening hours: 10 to 3 a.m. (Daily)
4. Get creative at Splat Paint House
Love arts and crafts? This would be the perfect date idea. At Splat Paint House, the entire studio is your canvas – so you're not limited to just the 40 by 55-centimetre canvas in your package.
What's more, quirky art supplies like syringe bottles and water guns will be provided so you can splatter paint literally everywhere. And with coveralls, shoe covers and safety glasses, there's no reason to not get messy all in the name of fun.
Price: From $39 per person
Splat Paint House
Address: 207A Upper Thomson Rd., 574346
Tel: 8882 0839
Opening hours: 3 to 9 p.m. (Tue. to Thurs.); 3 to 10 p.m. (Fri.); 11 a.m. to 10 p.m. (Sat.); 11 a.m. to 8 p.m. (Sun.)
5. Escape a room at Xcape
The last thing anyone would want on a date is dreaded awkward silence. And escaping a room together is a great way to avoid that because this adrenaline-filled activity pushes you to break the ice and communicate with each other to solve puzzles.
The best place to experience this cheap date idea is Xcape. Known as Singapore's biggest escape room provider, it houses 52 game chambers of different themes and difficulty levels where you both can challenge yourselves and have fun. Regardless if you two solve the escape room or not, this is one hell of a date to remember.
Price: From $22 per person
Xcape
Address: 161 Rochor Rd., Bugis Village, 188436
Tel: 6908 1918
Opening hours: 11 a.m. to 11:30 p.m. (Daily)
6. Score a hole in one at Holey Moley
Ah, mini-golf. This is a date classic. If you're a pro, you'll leave your date impressed. If not, you two can just focus on having fun.
Tee off at the different mini golf courses at Holey Moley. Featuring 27 holes spanned across two floors, each course is unique and takes inspiration from pop culture references like E.T., Game of Thrones and Alice in Wonderland. So forget the usual windmills, castles and synthetic lawns and look forward to a different mini golf experience with your date.
Price: From $12 per person
Holey Moley
Address: 3B River Valley Rd., Clarke Quay, 179024
Tel: 3129 0000
Opening hours: 1 to 11 p.m. (Mon. to Fri.); 12 to 11 p.m. (Sat. to Sun.)
Outdoor date ideas
7. Race off at the Skyline Luge at Sentosa
Spending a day at Sentosa with your date? Don't miss the Skyline Luge. This exhilarating four-seater chairlift ride – Skyride – offers scenic views of Sentosa and the city skyline while it transports you to the top of the Luge slopes. After arriving, race your date down one of the four Luge tracks in the three-wheeled go-karts.
Price: From $25 per person
Skyline Luge Sentosa
Address: 1 Imbiah Rd., Sentosa, 099692
Tel: 6274 0472
Opening hours: 11 a.m. to 7:30 p.m. (Mon. and Thurs.); 11 a.m. to 9:30 p.m. (Fri. to Sat.); 11 a.m. to 7:30 p.m. (Sun.)
8. Go prawning at Orto
Prawning is the ideal cheap date to spend plenty of time together while waiting for your catch of the day. And you can do so at Orto – one of Singapore's largest prawning facilities housing 10 ponds consisting mainly of big head prawns and yabbies.
After a whole lot of waiting and catching up with each other, both of you can cook the prawns that you caught and enjoy some seafood.
Price: $20 per hour
Prawning @ Orto
Address: 81 Lor Chencharu., #01-09, 769198
Email: prawning@orto.sg
Opening hours: 24 hours
9. Have a picnic at East Coast Park
Picnics are cheap and down to earth. It's also a great way to get to know your date better. Go old-school and grab a mat and a basket packed with picnic staples – that's all you need for a relaxing day by the beach. Find a shady spot and prepare to lounge or dip your toes in the water.
Price: Free
East Coast Park
Address: E Coast Park Service Rd.
Opening hours: 24 hours
10. Kayak at The Water Sports Centre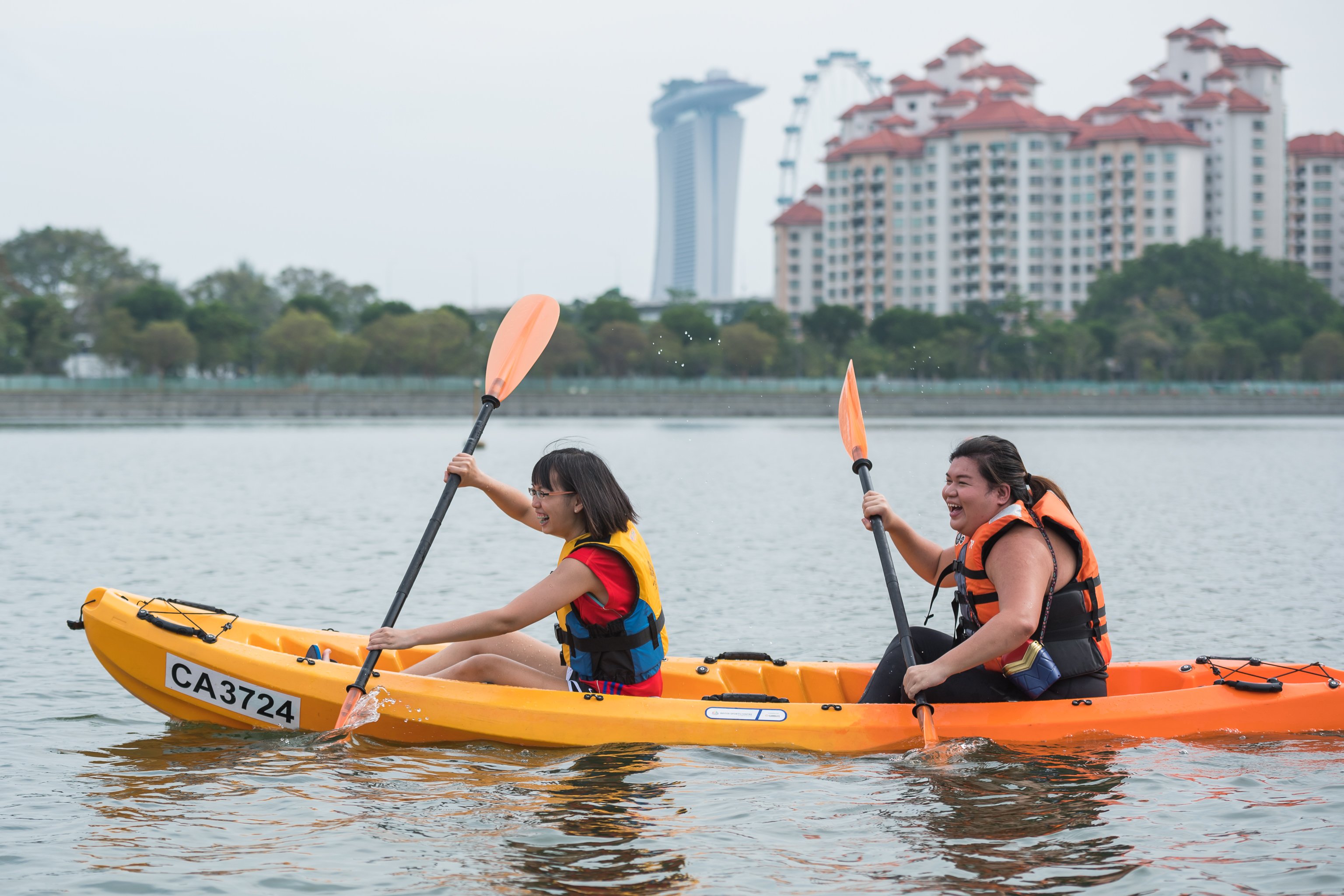 Instead of movie and coffee dates, go kayaking around the Water Sports Centre with your date. Located next to Kallang Basin, this unconventional date idea is the perfect activity to bond and burn off some energy. Don't worry if both of you are first-timers to this water sport, you can opt for the more beginner-friendly pedal boats.
Price: From $12 per person
Water Sports Centre
Address: 8 Stadium Walk., Singapore Sports Hub, 397699
Tel: 6653 8900
Opening hours: 7 a.m. to 7 p.m. (Daily)
11. Nature walk at Coney Island
Go on a nature walk with your date at Coney Island, also known as Pulau Serangoon. Whether you're sticking to the main 2.4km path, following the signs to the beaches, or carving your own path off the beaten track, this is the place for picturesque views. It's pretty enough that many wedding shoots have happened here. So get your cameras ready and take lots of photos for a date to remember!
Price: Free
Coney Island
Address: Punggol Promenade Nature Walk., 829325
Opening hours: 7 a.m. to 7 p.m. (Daily)
12. Fly a kite at Marina Barrage
Kite-flying is a great alternative for couples who love a day in the outdoors but aren't quite fans of physical activity. It's also ideal for those early-day dates when you're just getting to know each other since you'll have plenty of time to bond while making that kite soar.
Besides being a great tourist attraction, Marina Barrage offers open skies and a cool breeze to visitors. Why not take your date there on a clear day and enjoy an afternoon of kite flying, then chilling as the sun goes down?
Price: Free
Marina Barrage
Address: 8 Marina Gardens Dr., 018951
Opening hours: 8 a.m. to 9 p.m. (Mon. to Thu.); 8 a.m. to 10 p.m. (Fri. to Sun.)
13. Explore the Botanic Gardens
There's a good reason why this 162-year-old tropical garden is Singapore's first and only UNESCO World Heritage Site. Housing many attractions, trails and gardens in its sprawling 82 hectares, there's plenty to see and do with your partner.
Price: Free
Singapore Botanic Gardens
Address: 1 Cluny Rd., 259569
Opening hours: 5 to 12 a.m. (Daily)
14. Go hiking at MacRitchie Reservoir
Located just off Thomson Road, MacRitchie Reservoir Park is immensely popular among hikers and nature lovers. It's home to landmarks that offer stunning views, like the TreeTop Walk and Jelutong Tower, and six different nature trails. Before tackling the trails, make sure you and your date have water, sunscreen and mosquito repellent on.
*Note: The TreeTop Walk and Jelutong Tower are temporarily closed for maintenance works. Visit NParks Singapore for more updates.
Price: Free
MacRitchie Nature Trail & Reservoir Park
Address: MacRitchie Reservoir Park., 298717
Opening hours: 7 a.m. to 7 p.m.
By Zoe Zeng, August 2018 / Last updated by Jayme Chong, July 2021
Don't miss out! Like our Facebook page and follow us on Instagram. Sign up for our e-newsletter, too!
More of The Finder:
10 Fun Indoor Date Ideas In Singapore To Hide From The Extreme Heat (Or Rain)
10 SECRET Spots That Do Not Feel Like Singapore To Go On A Special DATE
Couple Activities: 7 FREE Romantic Date Ideas in Singapore You Wish You Thought of Earlier