Bored of the malls at Orchard Road? In this Dhoby Ghaut guide we suggest you head to one of the trendiest areas in Singapore. This region integrates art galleries, boutique shopping, vintage architecture and an abundance of delicious food — welcome to Dhoby Ghaut!
Translating to "Washerman's Gate" in Hindi, in the 1900s Dhoby Ghaut used to be an area of open grass with a canal. It was the perfect spot for dhobis (washerman) to set up shop. They would do the laundry in the canal, then dry it in the sun, laid out all over the grass. Today, Dhoby Ghaut is a busy shopping and arts enclave along the eastern end of Orchard Road.
Because Dhoby Ghaut is also the only triple-line MRT train station in Singapore, it's easily accessible, with art galleries, beautiful brunch spots and quirky local boutiques. Our ultimate Dhoby Ghaut guide will help you find the must-sees and the secret spots in Singapore.
1. Visit the National Museum of Singapore
The National Museum of Singapore is not just a pretty spot to take your next outfit-of-the-day picture, it's actually the oldest museum in Singapore, with history dating back to 1849. The museum is currently home to various artefacts from Singapore and around Southeast Asia. Permanent exhibitions such as the Moving Memories aim to educate the public about Singapore's growth from a small fishing village to the economic powerhouse it is today. The museum also hosts great interactive arts activities for children. Many activites are free and places go fast, so it's worth signing up for the newsletter to be alerted to what's coming up.
National Museum of Singapore
Address: 93 Stamford Rd., 178897
Tel: 6332 3659
Opening hours: 10 a.m. to 7 p.m. (Daily)
Admission: Free (Singaporeans and PRs); $15 (Standard adult); $10 (Concession)
2. Enjoy art at the National Gallery Singapore
Do you know that the National Gallery of Singapore oversees the world's largest collection of Singaporean and Southeast Asian art, with more than 9000 items? The gallery itself consists of two national monuments, the former Supreme Court Building and the old City Hall. They're now connected by modern glass walkways and atriums in an award-winning architectural design.
Aside from being the largest museum in Singapore, the National Gallery also regularly hosts travelling exhibitions to showcase the visual arts and regional artists. There's a good children's art programme, and rooms set aside for budding artists.
Tip: If you're more into cocktails than art, head up to the top floor of the National Gallery to find restaurants and bars with killer views out over Singapore CBD. You can take a panarama video and call it your own Dhoby Ghaut guide.
National Gallery Singapore
Address: 1 St Andrew's Rd., #01-01, 178957
Tel: 6271 7000
Opening hours: 10 a.m. to 7 p.m. (Daily)
Admission: Free (Singaporeans and PRs); $20 (General admission)
3. Check out The Istana presidential building
The Istana is the official residence and office of the President of Singapore, and it's where the President entertains state guests. This massive 106-acre estate surrounds the Istana (or palace) building, an 18th-century Neo-Palladian style building — with deep verandas, louvred windows and panelled doors that harken back to Singapore's Malay heritage.
Most of the time, the closest you can get to the Istana is gazing at the enormous white gates that face Orchard Road. But do note that the Istana is typically open to the public five times a year during the Istana Open House days. It's an ideal time to wander around the grounds and admire the enormous heritage trees, fountains and flowered walkways. You can see the dates here, so you can plan ahead.
The Istana
Address: Orchard Rd., The Istana, 238823
Tel: 6235 8577
Opening hours: 8:30 a.m. to 6 p.m. (Selected dates)
Admission: Free (Singaporeans and PRs); $2 (General admission)
4. Stroll around Fort Canning Park
Talk about a balanced lifestyle: amidst the cafés and nightlife spots in this Dhoby Ghaut guide, you can even find a park! This park is the oldest in Singpore, with a long and storied history. Sir Stanford Raffles lived here for a time, cannons were installed on the hill to protect the harbour from pirates and during World War II, Fort Canning Park was used as a military base for the Japanese.
You can still find remnants of the past on the hill, including cannons, a historic burial site for the region's Malay ruler, remnants of a colonial fort and the colonial signal tower that once used flags to signal ships in Singapore harbour.
Besides all the history, today Fort Canning Park is a popular location for exhibitions, concerts and outdoor recreation, with exercise stations, shady paths and gazebos. It's accessible location also makes this park a great place to squeeze in an afternoon run or a leisurely stroll.
Fort Canning Park
Address: River Valley Rd., Fort Canning Park, 179037
Tel: 1800 471 7300
Opening hours: 24 hours (Daily)
Admission: Free
5. Picnic at Dhoby Ghaut Green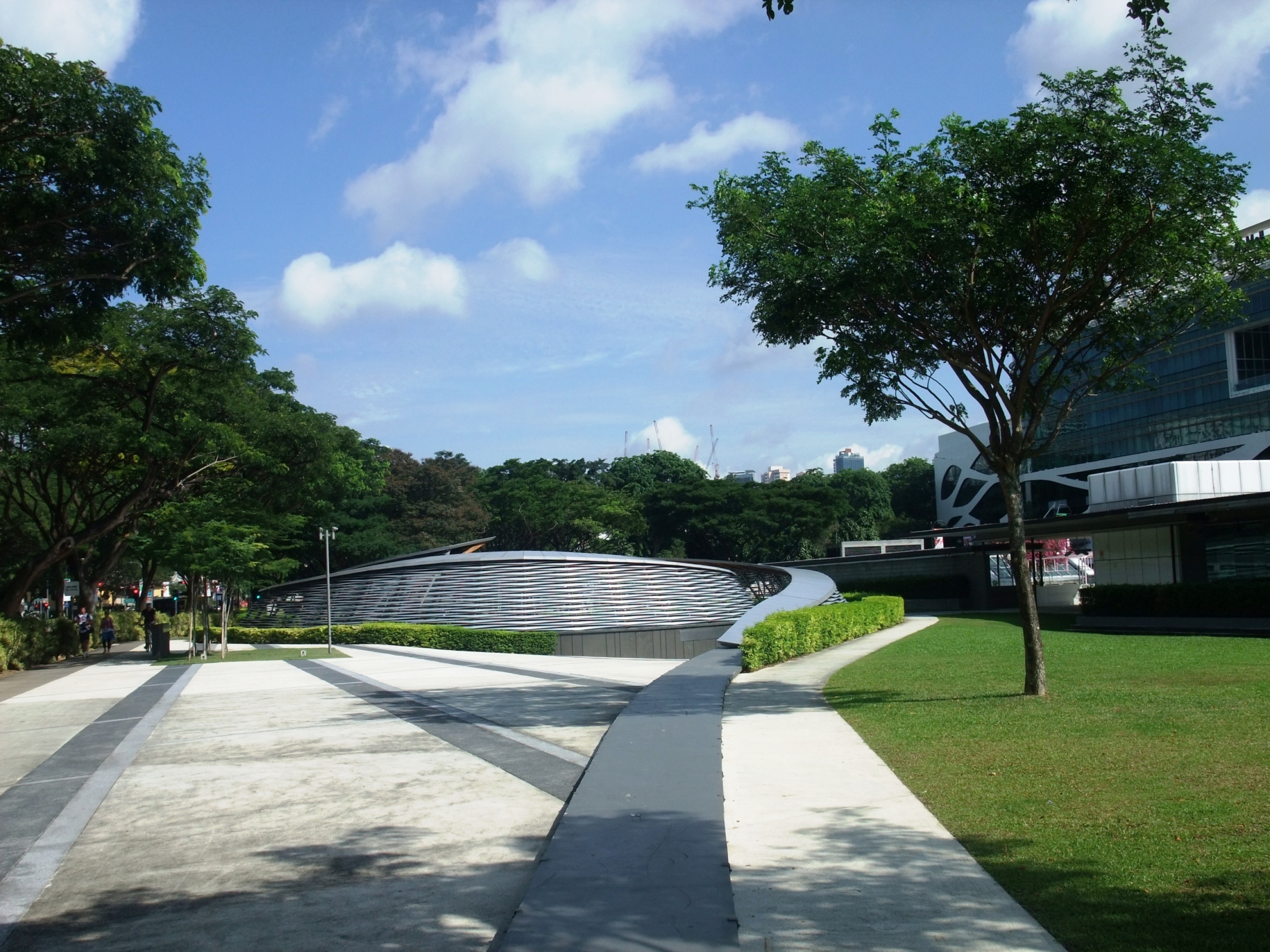 This urban green space is right outside the Dhoby Ghaut MRT train station and covers over one hectare of land. The sculptural open-air amphitheatre, designed by architect Soo K. Chan, is the focal landmark of this park.
Functioning as a showpiece for Singapore's Architectural and Urban Design Excellence project, the amphitheatre also doubles as a venue for arts and cultural activities, and we've included it in this Dhoby Ghaut guide mainly because it's often used for after-dark concerts and programmes like the Night Festival.
If you can bear the heat, the open field makes this park an excellent location for a game of frisbee or a social-distance picnic lunch.
Dhoby Ghaut Green
Address: 9 Penang Rd., 238459
Tel: 9220 6693
Opening hours: 24 hours (Daily)
Admission: Free
6. Book a stay-cation at Lloyd's Inn
Sleek aesthetics and an all-white interior design makes Lloyd's Inn the perfect photo backdrop for weekend stay-cations. This cozy, 34-room boutique hotel used to be a quirky old hotel and the owners cleverly kept some of the vintage architectural elements, including brick paths in the garden. Today, Lloyd's Inn is an urban boutique hotel that boasts eight different room types, including one with a private outdoor bath. The hotel is tiny, so there's no restaurant, but you can order in food from nearby eateries at Killiney Road, and rooms come with a voucher for complimentary breakfast at a nearby café, Artisan Boulangerie Co.
Lloyd's Inn
Address: 2 Lloyd Rd. 239091
Tel: 6737 7309
Price: From $100 to $300 per night
7. Mini-golf at Holey Moley
Holey Moley is here to prove that golf is a fun activity for everyone — regardless of age or athletic ability. Equipped with a mini golf course that turns traditional putting into a multi-sensory labyrinth of unique holes, this is definitely the craziest round of golf you will ever play. We're talking spinning obstacles, mini-moats and carnival decorations. You can even head over to their in-house bar for a quick drink, if you get thirsty.
Be on the lookout for their stellar weekly deals, during which you can get 9 holes of golf, two cocktails and a pizza at only $60++ for 2 players.
Holey Moley
Address: 3B River Valley Rd., 179024
Tel: 3129 0000
Opening hours: 1 to 11 p.m. (Mon. to Fri.); 12 to 11 p.m. (Sat. + Sun.)
Admission: From $20
8. Play a round of board games at The Mind Café
If you're looking for an activity to spice up your next date or gathering with friends, The Mind Café is the place to go. With over 500 board games in the café, there's sure to be something that will tickle your fancy. As well as a space to play board games, The Mind Café also offers a wide range of food and beverages to keep you refreshed and energised in between rounds.
The Mind Café
Address: 60A Prinsep St., 188664
Tel: 8121 5188
Opening hours: 11 to 2 a.m. (Sun. to Thu.); 11 to 6 a.m. (Fri. + Sat.)
Admission: $6 per hour
9. Team up at LaserOPS
Rally the squad and head down to LaserOPS, Singapore's biggest indoor laser tag venue. With over 35 different game formats, LaserOPS is a worthy entrant in any Dhoby Ghaut guide because it aims to cater to every skill level — regardless of age, gender and fitness levels. Split into teams and battle it out with your friends in an interactive arena.
LaserOPS
Address: 60A Orchard Rd., The Atrium @ Orchard, 238890
Tel: 8375 4143
Opening hours: 12 to 9 p.m. (Mon. to Fri.); 11 a.m. to 9 p.m. (Sat. + Sun.)
Admission: From $15 per person
Where to eat + drink
1. Artichoke
Helmed by celebrity chef-owner Bjorn Shen, Artichoke is a Middle Eastern-inspired restaurant that dares to be creative. Touted as a creative exploration of Middle-Eastern flavours and ingredients, Artichoke is an extension of the chef's playful, slapstick personality so traditional flavours are reimagined in creative ways. For example, the signature Lambgasm ($250), is a massive 2.4 kilogram lamb shoulder, slow-roasted with spiced bulgar and various herbs. Bjorn may be playful, but he does insist on good flavours – this restaurant grows its own herbs and collaboraes with local vegetable growers to serve a wide range of seasonal greens.
As a bonus, Artichoke is right next to Objectifs photographers gallery, which hosts exhibitions of photography and talks on video and film.
​Artichoke
Address: 161 Middle Rd., 188978
Tel: 6336 6949
Opening hours: 5 to 9:30 p.m. (Tue. to Fri.); 11:30 a.m. to 2:30 p.m. and 5 to 9:30 p.m. (Sat. + Sun.); Closed on Mon.
2. Matchaya
It all started with a trip to Japan. There, the founders of Matchaya learnt about Chado, the Japanese Way of Tea, and fell in love with Matcha (shaded green tea). They felt inspired to introduce premium matcha to Singapore and set up a cafe that just serves tea. No coffee. No wine. No milk. No sugar. Just Japanese and Chinese tea.
If this sounds very pure… it is. But in a very cool way. You can try Japanese sweets desgned to compliment the slightly bitter flavours of Asian teas, and if you're really hungry you can sample a Japanese-inspired menu with dishes such as Tokyo Beef Short Ribs ($19.90) and Chicken Katsu Sando ($12). No visit to Matchaya is complete without one of their signature Cold Whisked Milk Tea ($7), available in Matcha or Houjicha flavours.
Matchaya
Address: 2 Handy Rd., #01-08/09, The Cathay, 229233
Tel: 8157 0296
Opening hours: 10 a.m. to 10 p.m. (Daily)
3. The Big Cheese
Lovers of Mac 'N Cheese, rejoice! This halal, family-run business may occupy a small shopfront, but we've included it in this Dhoby Ghaut guide because their flavours are anything but small. The most popular option at The Big Cheese is undoubtedly the Make-a-Mac (from $5.90), which lets you customise your own Mac 'N Cheese. Choose from a variety of cheeses ranging from cheddar to gruyere for your base, as well as protein options like beef bacon and mussels. Finally, finish off your Mac N' Cheese with a variety of toppings like parmesan crumbs, garlic oil or even cracker crumbles.
The Big Cheese
Address: 91 Bencoolen St., #01-59, Sunshine Plaza, 189652
Tel: 8119 2664
Opening hours: 12 to 9 p.m. (Mon. to Sat.); Closed on Sun.
4. The Assembly Ground
At The Assembly Ground, you can sample coffee blends from the best in-house coffee roasters, along with classic pizzas and juicy burgers. This cozy café is decorated with a sleek, minimalist aesthetic, making it the perfect spot to snap that brunch photo for the 'gram. Crowd favourites include the Assembly Truffle Fries ($14), a bed of crispy shoestring fries topped with truffle oil, shaved parmigiano and served with truffle mayo. It's all very Millennial and Gen Z.
The Assembly Ground
Address: 2 Handy Rd., #01-21, The Cathay, 229233
Tel: 6733 3375
Opening hours: 11:30 a.m. to 9 p.m. (Mon. to Thu.); 11:30 a.m. to 10 p.m. (Fri.); 11 a.m. to 10 p.m. (Sat.); 11 a.m. to 9 p.m. (Sun.)
5. Hair of the Dog
The "hair of the dog" is a slang phrase that refers to an alcoholic drink you take to lessen the effects of a hangover. The full phrase is "The hair of the same dog that bit you". If that explanation is as clear as mud, just know that this trendy joint gives you a hangover cure is on house if you pop in the next day! Hair of the Dog specialises in wallet-friendly wines, whiskey (and whisky) on promotion.
Happy hour is from 4 to 7 p.m. daily, where you can find specials like two martinis for just $20. The bar bites here are surprisingly clever – like Foie Gras on Toast ($15), served with strawberry compote and hazelnut crumbs.
Hair of the Dog
Address: 2 Handy Rd., #01-11/12, The Cathay, 229233
Tel: 6735 1141
Opening hours: 4 to 10:30 p.m. (Tue. to Fri.); 12 to 10:30 p.m. (Sat. + Sun.); Closed on Mon.
6. Stickies
Affordable drinks and games at a cool venue? Sign us up! Stickies is not a fancy place. Quite the opposite – it's casual, a bit messy and haphazard. And this casual atmosphere is part of why it's popular. Stickies claims to serve up the cheapest drinks in town, with their Beer O'Clock promotions offering beers for as low as $2 per pint. There are also a myriad of games such as pool, darts and various PS4 games to keep you entertained as you drink. Hankering for a snack? Stickies also serves up crowd-pleasing bar snacks like Spam Fries (from $8) and Salted Egg Yolk Popcorn Chicken ($15).
Stickies
Address: 178 Clemenceau Ave., #B1-00, 239926
Tel: 6970 0380
Opening hours: 12 p.m. to 4 a.m. (Daily)
7. STAGE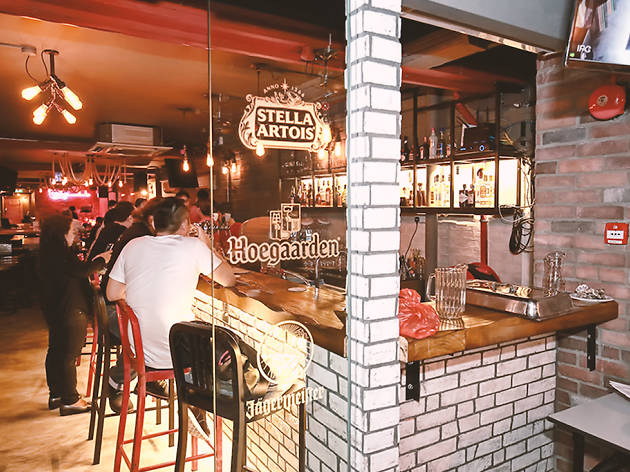 Enjoy live music at STAGE, a restaurant bar tucked at the end of Prinsep Street. At STAGE, local flavours come together with Western classics to create a casual fusion menu. Highlights include the Otah Otah Pizza ($24), a spin on the usual margherita, topped with local otah fish fillets and anchovies. Fusion pasta lovers can try the Black Pepper Beef Pasta ($22), filled with beef cubes, capsicum bell peppers and a black pepper sauce. It's like a swankier version of classic hawker Western food, and gives you that comforting feeling of coming home.
STAGE
Address: 60 Prinsep St., 188664
Tel: 9630 3079
Opening hours: 4 p.m. to 2 a.m. (Sun. to Wed.); 4 p.m. to 4 a.m. (Thu. to Sat.)
Reserve on Chope here.
8. Five Guys
This burger chain from America uses buns that are sweeter and "eggier" than normal buns, and they go perfectly with the brand's beef patties (which you can double-up on, if you like). But what sets Five Guys apart from other fast food joints, is the wide range of customisable toppings. You can pile as many as you like on your burger, for no additional charge.
Other highlights include the french fries (from $7), seasoned either in "Five Guys style" or with Cajun seasoning. For dessert, Five Guys offers up a hand spun vanilla milkshake ($10). This drink cum dessert includes over nine free toppings.
Five Guys
Address: 68 Orchard Rd., #01-32/33/34/35, Plaza Singapura, 238839
Tel: 6976 4385
Opening hours: 11 a.m. to 10 p.m. (Daily)
Where to shop
1. Plaza Singapura
One of the oldest malls in the Dhoby Ghaut area, Plaza Singapura is a behemoth of a mall, boasting retail outlets over seven floors, plus two basements of mainly food stalls and cute jewellery – many with a distinctly Japanese or Korean vibe. From home furnishing to sports gear, you can find a wide range of shops and amenities at Plaza Singapura.
Renowned fashion brands such as Charles & Keith and Swarovski are just some of the brands that have set up shop in this massive mall, but you can also find home furnishings, a supermarket, Spotlight DIY, ArtFriend art supplies, Challenger electronics, Diaso $2 store… you name it. Those looking for a fun activity can head up to the top floor for a movie at Golden Village or a round of arcade games at Fun Claw.
Plaza Singapura
Address: 68 Orchard Rd., 238839
Tel: 6332 9248
Opening hours: 10 a.m. to 10 p.m. (Daily)
2. MUJI Singapore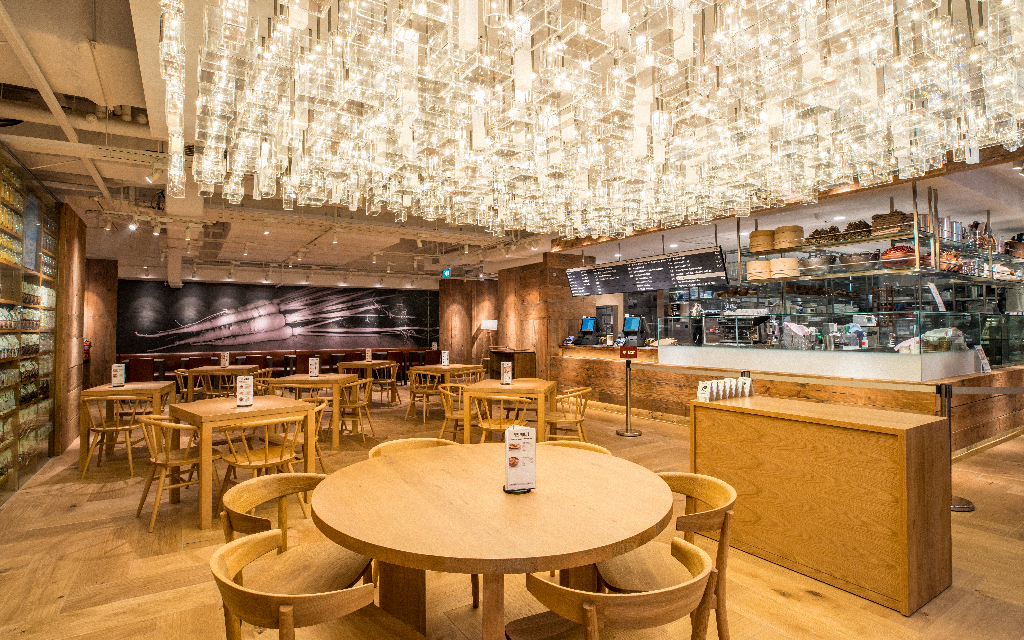 You've definitely heard of MUJI, the popular Japanese homeware and lifestyle brand well-known for its minimalist aesthetic. In 2017, MUJI opened their Singapore flagship store at Plaza Singapura. This store, spanning over 1640 square meters, is the largest retail outlet in the republic, with upholstered furniture, kitchenware, storage, stationary, clothes – the full MUJI experience.
More than just a retail outlet, the store also houses Café&Meal MUJI — MUJI's very own café dedicated to well-balanced, healthy meals with a distinctlyJapanese aesthetic. It's worth visiting the cafe for the lighting fixture, alone.
MUJI Singapore
Address: 68 Orchard Rd., #01-10 to 17, MUJI Plaza Singapura, 238839
Tel: 6346 4123
Opening hours: 11 a.m. to 9 p.m. (Daily)
3. NomadX
NomadX takes futuristic shopping to a new dimension. Touted as the first store in Singapore to be "phygital"(a portmanteau word for physical-digital), NomadX aims to "streamline the shopping experience and customise it with the aid of technology".
So before you enter the store, you encounter tablets that prompt you to take a short online quiz. Once the UI understands what you like, the tablet can recommend products in line with your personal preferences and "Shopping Tribe". There's even a smart mirror in-store where you can flash an item and see its product description appear on the mirror screen.
NomadX
Address: 68 Orchard Rd., #01-67 & #03-65 to 69, Plaza Singapura, 238839
Opening hours: 10 a.m. to 9 p.m. (Daily)
4. The Cathay
Once The Cathay was a gorgeous Art Deco building. But the developers gutted it –except for the iconic facade – and made a mall that integrates art with entertainment and shopping. The iconic Art Deco facade is synonymous with entertainment in Singapore, and has seen many firsts — including being home to the first air-conditioned cinema in Singapore and the first cinema to screen American and British films in Singapore. Today, this mixed-use mall boasts a wide range of retail, dining, leisure and entertainment options. You can find cinemas, a gym, florist and even a hair salon here.
The Cathay
Address: 2 Handy Rd., 229233
Tel: 6337 8181
Opening hours: 7 a.m. to 11 p.m. (Daily)
5. Overjoyed
Looking for crafting or art materials? Head over to Overjoyed, where you will be overjoyed (ha!) to find their extensive selection of art and stationery materials ranging from paints to notebooks. While this place stocks the basics, like office supplies and paint for kids, it's especially good for art supplies. You'll find everything from acrylic to watercolours and calligraphy tools. The store also hosts painting and drawing workshops.
Tip: Overjoyed has an excellent selection of srts and crafts kits of children, but if you just wants a a basketful of basic back-to-school stationary for the children, you're better off heading to Popular at nearby Bras Basah Complex.
Overjoyed
Address: 2 Handy Rd., #B1-11, The Cathay, 229233
Tel: 6466 4366
Opening hours: 10 a.m. to 9 p.m. (Daily)
6. Fortune Centre
We're including this slightly forgotten mall in our Dhoby Ghaut guide because it can be hard to find interesting vegetarian food in Singapore, much less vegetarian food that's good and isn't just a plain old salad. Unbeknownst to many, old-fashioned Fortune Centre is actually a hub for delicious vegetarian food and vegan food.
Our top picks? The meatball pizza ($9.90) with vegan cheese from Hotcakes Vegetarian & Vegan Café taste just as good as the "real" thing. Pine Tree Café also serves up a steaming bowl of special brown rice noodle ($6), served in a mini hotpot — the perfect accompaniment to a rainy day. At Gokhul Vegetarian Restaurant you can find Jain vegetarian food, made with no onions or garlic.
Fortune Centre
Address: 190 Middle Rd., Fortune Centre, 188979
Tel: 6339 5755
Opening hours: 11 a.m. to 9 p.m. (Daily)
7. Funan
The rise of e-commerce has greatly affected brick-and-mortar retail stores, resulting in many malls becoming half-empty husks. Just a three-minute walk from the National Gallery is Funan Mall, the touted "future" of shopping that integrates the accessibility of online shopping with the tactile nature of physical browsing.
Funan Mall utilises video analytics to measure and analyse footfall throughout the mall. They have even implemented in-store terminals to capture transaction data so shops can use the analytics to "enhance your customer experience".
Inside, there is floor after floor of stores selling IT, tech accessories and artisan coffee places. Apparently the future will be highly caffinated.
Funan
Address: 107 North Bridge Rd., 179105
Tel: 6970 1668
Opening hours: 10 a.m. to 10 p.m. (Daily)
By Sabrina Ng, September 2021
Don't miss out! Like our Facebook page and follow us on Instagram. Sign up for our e-newsletter, too!
More on The Finder:
Holland Village: Things To Do + Where To Eat, Drink And Shop
What's On This September 2021 In Singapore
The ULTIMATE Guide To Singapore's Park Connector Networks