You don't have to travel to Korea (or even leave your house) for a taste of homemade kimchi that packs a punch.
The Korean Wave has hit Singapore, and along with it has come a love of kimchi. This traditional side dish, made of salted and fermented vegetables, is a staple in Korean cuisine. Napa cabbage and Korean white radish are the most popular varieties of kimchi. But you can find hundreds of variations made from different vegetables, ranging from cucumbers to spring onions.
Sour and spicy, kimchi is not just delicious, it boasts a range of health benefits. Because it's high in Vitamin C and contains healthy probiotics, kimchi is good for your digestive system and gut health. We have selected the best online stores to buy Korean kimchi in Singapore – without even leaving your home.
1. CHAE's Homemade Kimchi
Not satisfied with the kimchi she could find in Singapore, Korean cook Chae started making her own as a hobby. She finally perfected her recipe after a long period of trial-and-error – and what she describes as, "Many failed attempts along the way".
CHAE's most popular homemade kimchi is the classic napa cabbage variety ($15 for 500g). She also makes unique variations such as chive kimchi ($10 for 300g) and cubed radish kimchi ($10 for 300g). CHAE says she, "Prioritizes inclusivity. So our kimchi is customizable to suit various dietary restrictions". You can order keto, vegan, vegetarian and non-spicy versions of their kimchi. Each batch is made-to-order, ensuring only the freshest kimchi is delivered to your doorstep, each time.
Available at CHAE's Homemade Kimchi.
2. Pink Candy
Do you know the weather can affect how you cook kimchi? With over 11 years of experience in making kimchi in Singapore, Pink Candy knows how to perfect this pickled vegetable dish, despite our island's humid weather. At this online store selling homemade Kimchi in Singapore, you can get their version of the traditional napa cabbage kimchi ($9 for 500g). Pink Candy makes a unique apple kimchi ($8 for 500g).
Unlike traditional varieties, this apple kimchi is made to be eaten fresh. It's lightly fermented to ensure a fresh and crunchy kimchi that is sweet and tangy – the perfect pairing with noodle soups and barbecued meats.
Pink Candy
Address: 144 Upper Bukit Timah Rd., #04-60, Beauty World Centre, 588177
Tel: 9170 2365
Opening hours: 10:30 a.m. to 2:30 p.m. and 5 to 9 p.m. (Mon. + Wed. to Sun.); Closed on Tuesdays.
3. Jin Kimchi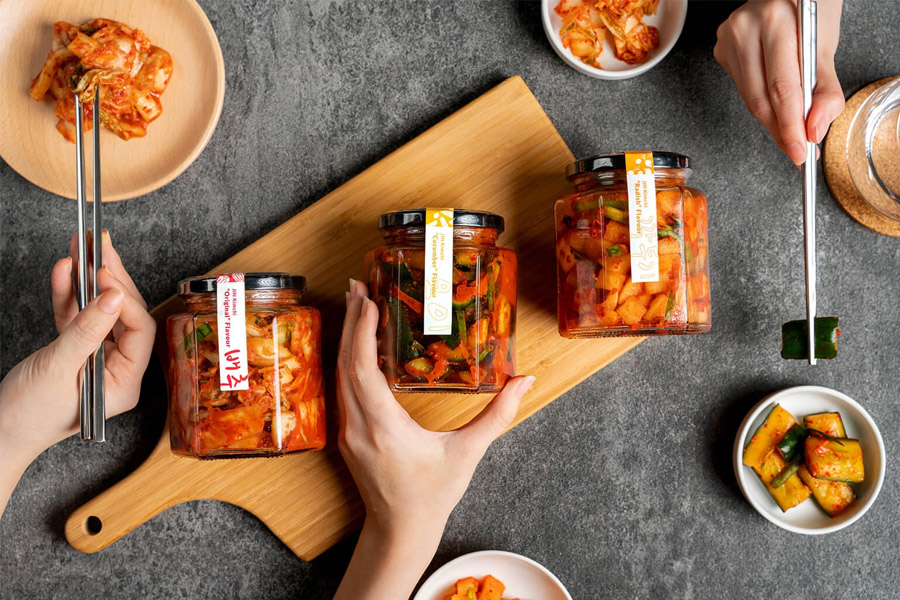 If you need a one-stop online store to get homemade Kimchi in Singapore there's no shortage of variety at Jin Kimchi. With over six different types of kimchi, there is an option for everyone. For example, if you are keen to introduce fermented foods into your child's diets, try Jin's White Kimchi ($23.90 for 630g).
Also known as baek kimchi, this tangy variety does not contain hot pepper flakes and is not spicy. Instead, napa cabbage is submerged in a fruity brine, resulting in a clean, sweet taste that appeals to children, and anyone who avoids chilli. Jin's Pro tip: Try pairing white kimchi with fatty meats to undercut some of that grease.
Available at Jin Kimchi.
4. Hangguk Kitchen
Talk about authentic, the kimchi sold at Hangguk Kitchen is imported from Korea and delivered directly to your doorstep. Touted as the one-stop-shop for Korean food, Hangguk Kitchen online store was founded by Mr Haden Hee, a Korean food products wholesaler who is dedicated to bringing us authentic Korean banchan or side dishes.
At this online store selling homemade Kimchi and banchan, it's just $11.95 for one kilogram of kimchi. This makes Hangguk Kitchen's kimchi one of the most bang-for-buck options in Singapore.
Available at Hangguk Kitchen.
5. Wanting Kimchi
With it's sleek packaging, Wanting Kimchi seems like a brand that comes from a large corporation – but actually it was born in a university dorm room in England. An avid fan of Korean dramas, founder Zen Wanting started making kimchi 10 years ago, while she was studying in England. Not impressed with the pickles she found in British supermarkets, she started making her own kimchi in her dorm kitchen. Now you can buy her homemade kimchi online in Singapore.
If you prefer a milder taste, Wanting Kimchi is ideal, because it isn't as sour as some of the other options on this list. Try the signature whole leaf cabbage kimchi in two flavours: Fruity Floral ($18.90 for 550g), for a traditional taste, or Feisty Fire ($18.90 for 550g). This Singaporean-adapted version of kimchi packs a chilli punch.
Available at Wanting Kimchi.
6. Sun Kimchi
Altered to suit local tastebuds, Sun Kimchi is slightly sweeter and less sour than most other kimchi you can find Singapore.
Sun Kimchi uses no added preservatives. Each batch is made-to-order, to ensure freshness. The best-seller is the signature napa cabbage kimchi at $15 for 500g. The company also make a selection of banchan, the small side dishes served along with cooked rice in Korean cuisine. The Spicy Stir-Fried Fishcake ($12) and Sweet And Spicy Anchovies ($12) look tempting.
Available at Sun Kimchi.
7. Lulu's Kimchi
With their fully customizable kimchi options, Lulu's Kimchi is sure to appease even the pickiest of eaters. At this online shop selling homemade kimchi in Singapore, everything is customizable — from how much spice to specific taste profiles. You can shape your perfect kimchi.
For the health conscious, Lulu's Kimchi ($18.90 for 500g) is made with less sugar. If you follow a ketogenic diet you can even buy a gluten-free version, with no added sugar ($19.90 for 500g).
Available at Lulu's Kimchi.
8. Kimchi Local
Sick of having the same napa cabbage kimchi again and again? Meet Kimchi Local, an online shop selling very creative homemade kimchi in Singapore. Sample creative menu items such as their Pineapple and Cucumber Kimchi ($9.90 for 230g) or Nutty Apple Kimchi ($15.90 for 400g). All of their kimchi options can be made vegan, upon request.
Available at Kimchi Local.
Originally by Sabrina Ng, July 2021
Don't miss out! Like our Facebook page and follow us on Instagram. Sign up for our e-newsletter, too!
More on The Finder:
9 Best Places To Get Authentic KOREAN FOOD In Singapore
Where To Find The BEST Korean Fried Chicken In Singapore
7 BEST Places To Get Affordable Sushi In Singapore UNDER $30