East side best side? Let's see why the East of Singapore is widely regarded as a food haven filled with fun things to do!
Whether you're in Tampines, Katong, or Siglap, there's just so much to do, eat, and see in eastern Singapore. And now, all the attractions are seamlessly connected through one of the largest park connector networks in Singapore: The Eastern Coastal Loop.
Park Connectors in Singapore are narrow corridors of nature than connect parks like East Coast Park with Changi Coastal Road, and Pasir Ris to Bedok. So you can walk or cycle all along the eastern coast, car-free. The Park Connector network in Singapore is administered by National Parks Board, and as well as cycleways and nature stops, all park connector routes include stopovers in various food centres.
Get ready to cool your feet in the lapping waves at East Coast Park and discover why this is the most popular destination park on the island. Let's get ready to start exploring the East!
Things to do at the Eastern Coastal Loop
1. Explore Pasir Ris Park & Beach
The name Pasir Ris comes from the Bahasa Malay term for "narrow sand" and the white, sandy beaches are definately one reason to visit this area. Anyway, what better way to begin your adventure along the Eastern Coastal Loop of Park Connectors in Singapore, than by starting at the seaside? From Pasir Ris Town Park (the one with the massive fishing pond), you can rent a bicycle from GoCycling and cross a road to reach Pasir Ris Park and Beach.
Here, coconut trees sway with the wind, and waves break onto shore like an orchestral masterpiece. The vibes here are relaxing, which is why this is a popular place for camping. There are designated areas within Pasir Ris Park where you can set up a tent and spend the night. To do so, you need to apply for a camping permit first, online.
As well as camping and fishing, people visit this park to chill by the beach, and birdwatch. Oriental Pied Hornbills and sea eagles live nearby. Once in a while people even spot wild Estuarine crocodiles swimming along the beach – they swim freely in the Straits of Johor. They're not common and they're protected. More information on Estuarine Crocodiles can be found here
2. Go back in time at Changi Village
It's as if time stood still at this secret enclave on the northeast shores of Singapore. While this destination is a long way from any MRT station, there are plenty of buses and cyclists love the Eastern Coastal Loop Park Connectors in Singapore. The Changi Village area was originally developed as a recreational hub for Singaporeans, and workers at a naval base that used to be nearby.
So even today you can find ferry crossings to nearby islands and beachside chalets that famillies can rent for holidays by the sea. The whole area has a relaxed and beachy vibe, with seafront restaurants and shops selling swimming gear and fishing tackle.
The Changi Village Hawker Centre is worth the trip. Several stalls here are well- respected for Nasi Lemak; a Malay rice dish made with rich coconut milk. The fresh sugarcane juice, Hokkien mee noodles, prata bomb and BBQ seafood also all have fans. You can eat till you burst, and still have change from $10.
Tip: If you want to eat right on the beach, try Changi Sailing Club. Non members can eat in the beachside restaurant, which has an open-air balcony that hovers right over the sand. The menu is licenced, affordable and full of tried-and true local and Western favourites, like steak, fish and chips and seafood hor fun. It's popular with families and expats who've been living in Singapore for years (and know the secrets).
Changi Village Hawker Centre
Address: 2 Changi Village Rd., 500002
Opening hours: 6 to 2 a.m. (Mon. to Thu.); 6 to 12 a.m. (Fri.); 24-hours (Sat. + Sun.)
3. Chill out along Changi Beach Park
After filling your tummies at the Changi Village Hawker Centre, walk over the road to the boardwalk that leads along the sea to Changi Beach Park. The ferry terminal is the start of a 3.3 kilometre seaside path along the side of the ocean. Turn left and you get views of the Johor Strait and can watch little ferries churn to and from the islands of Pulau Ubin and Pulau Tekong. Pulau Ubin is an unspoilt nature getaway, and it's well worth a trip. You're less likely to be visiting Pulau Tekong for fun – it's used as a military training camp by the Singapore Armed Forces.
If you turn right from the ferry terminal you'll be heading towards Changi Airport. Sometimes you feel you are walking right under jets. as the come in to land.
If you really love airplanes, take a short detour to Stella Seaside Lounge. This unpretentious seaside bar and restaurant is built on a boardwalk right over the sea. It feels almost under the flightpaths to Changi airport (in a good way)so you can watch people windsurf by your table or look up at jets as they take off and land! There's also decent play area for kids.
4. Zoom down the straight Coastal Road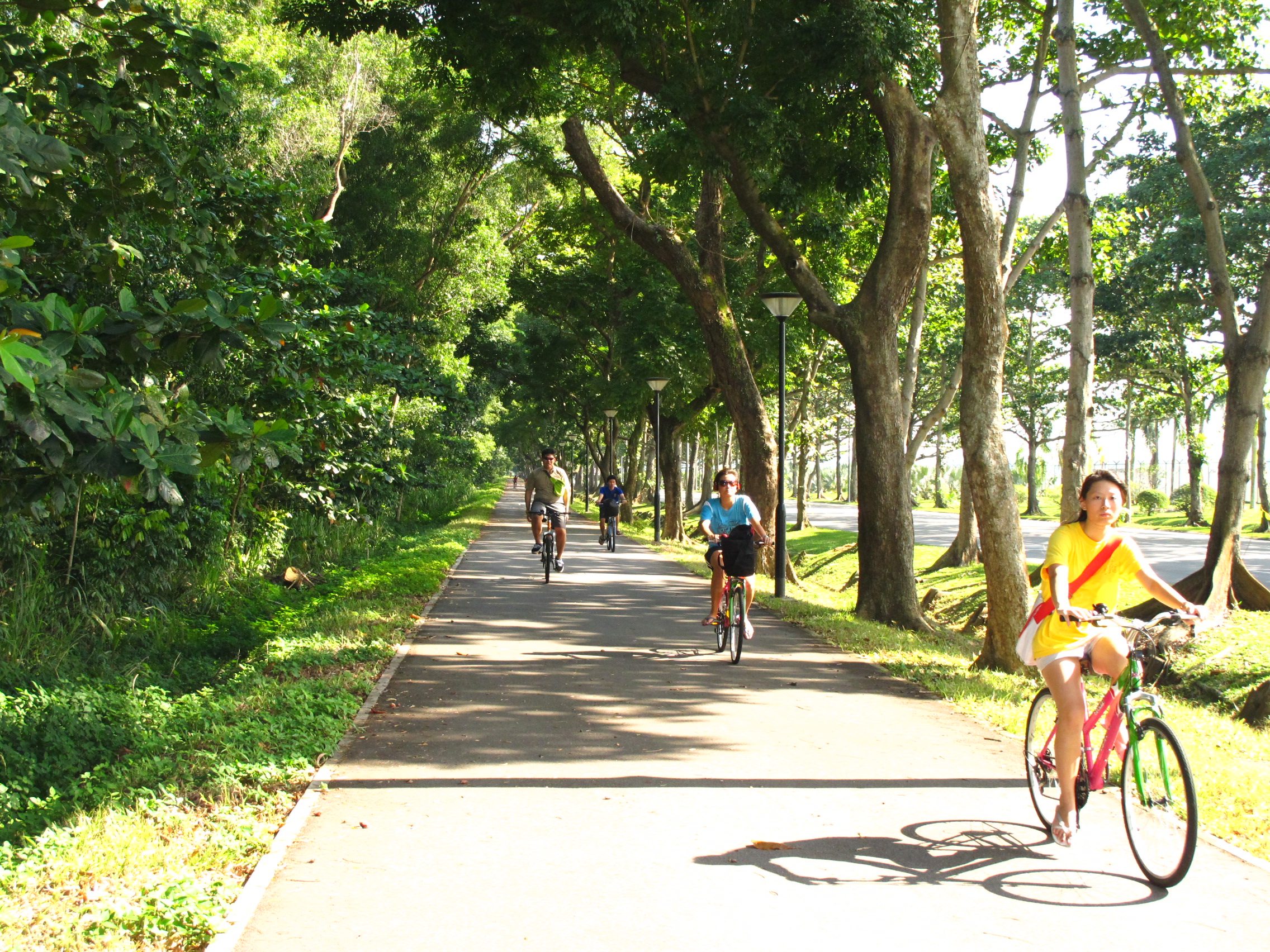 On the extreme right side of Singapore lies the Coastal road; a wide and dead-straight 14 kilometre road that is made up of both Aviation Park Road and Tanah Merah Coast Road. This road is shaded by palm trees so it is a popular place for cyclists and roller bladers, who zoom down the dedicated cycling lane marked out on the road.
On one side, you can see Changi Airport's expansion project and the site of the future Terminal 5. On the other side you get a view over Changi Bay. The road is rarely too busy, and no tall buildings stand in your way of the seaviews. Heck, you'll even forget you're in Singapore, around here!
5. Take in the views from Bedok Jetty
Well done! You've used the Park Connectors in Singapore to reach East Coast Park. Your first stop here has to be Bedok Jetty, one of the most popular angling spots on the island. It is a short trip away from the city centre, but still boasts a serene environment for you to get your game on. Catches here include the Rosy Jewfish, Tambans (Sardinella fimbriata), and even stingrays.
Fishing here is a perfect way to meet other like-minded individuals and the fishing fans here will cheerfully swap tips like what bait to use and whether you should weight your line.
The stone and concrete pier offers good fishing because it's stretches more than 300 meters into the sea. It's super long and super sturdy because it's a former military jetty, with sheltered fixtures and stone benches that can accommodate several fishing groups.
6. Have fun at party central, in East Coast Park
The breezy east coast has been Singapore's holiday hotspot for generations. In past times, wealthy families even built beach houses here to enjoy the view. Nobel Prizewinner Albert Einstein is just one of the famous folk who've visited. He popped by in 1923, to enjoy a beach holiday with his friends the Frankels (of Singapore's Frankel Avenue). He apparently especially enjoyed watching the sea breeze waft through the palm trees along the east coast.
Today, you don't have to be a Nobel prize-winning genius to appreciate the appeal of East Coast Park. This 185 hectare park stretches for 15 kilometres along the east coast, and it is the ultimate destination for fitness junkies and happy families.
You can rent a bicycle from multiple bike stops in the park, put on your rollerblades and skate down the wide pavements, or just enjoy a stroll while overlooking the Straits of Singapore.
For some splashing good fun, check out the newly-opened Coastal PlayGrove, featuring Singapore's tallest outdoor slide. Otherwise, just sit back at one of the many cafes and licenced eateries along East Coast Park – they include Starbucks, The Coffee Bean and Tea Leaf and McDonald's.
7. Discover Bedok Reservoir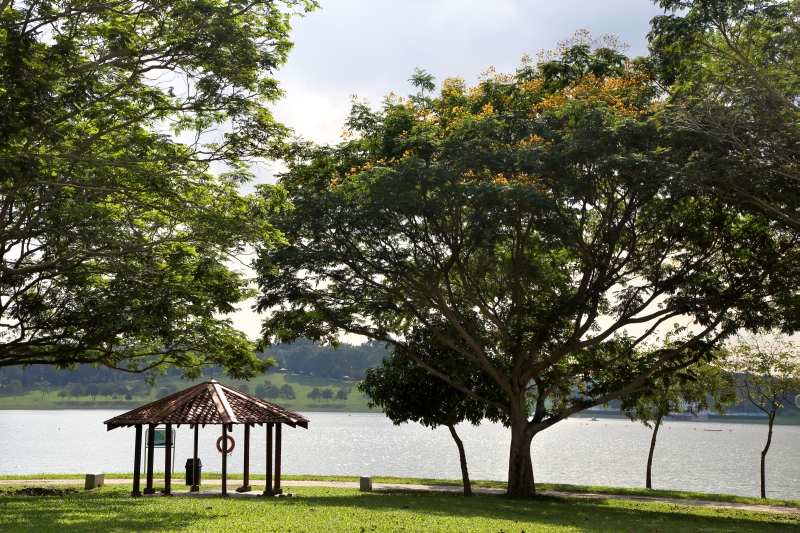 As one of the more famous reservoir parks in the country, this green pocket surrounds the 88-hectare Bedok Reservoir. Water sports enthusiasts and adrenaline junkies regularly gather at the park to dragon boat, kayak and wakeboard, while others can be seen jogging or cycling around the water.
To make this park connecter system in Singapore even more enticing, more than 14,000 wetland plants have been recently added along the reservoir as part of the Active, Beautiful, and Clean (ABC) Waters Programme. The plants help to naturally clean the water, plus they provide a home for wildlife. Now Bedok Reservoir Park is turning into a real hot spot for bird watching, and nature lovers can often spot swallows, herons and kingfishers fishing for their lunch.
8. Get lost in flora and fauna at Tampines Eco Green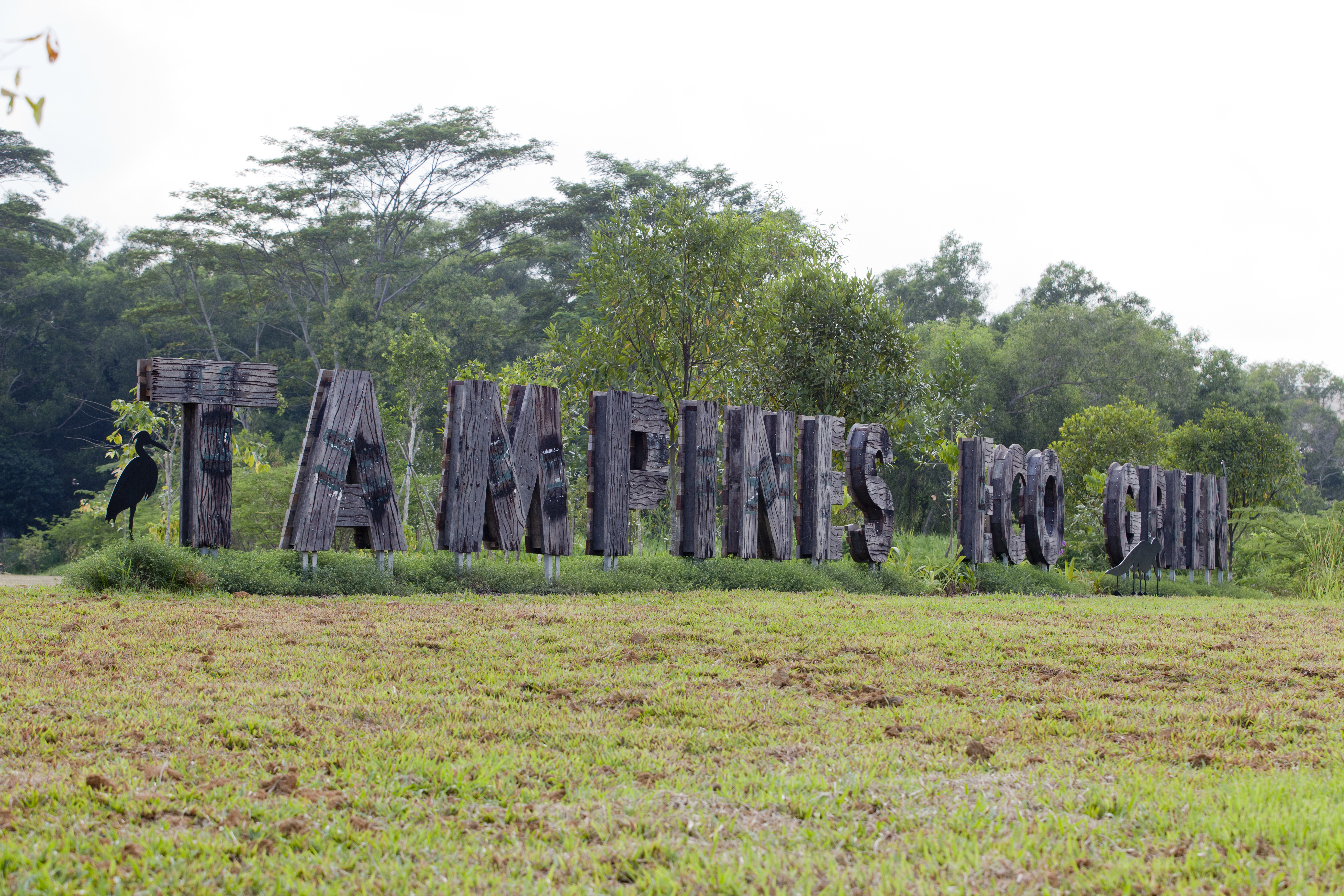 This eco-park does not allow cyclists or pets; it's designed as a quiet nature reserve and ecologists have created many different natural habitats, including open grasslands, freshwater wetlands, and secondary rainforest.
Hiking trails within the park allow nature lovers to discover an array of flora and fauna and experience nature in all its glory.
It also features the first flush-free eco-toilet in a public park. This waterless, chemical-free system converts human waste into compost using bacteria and wood shavings. Do not worry – this eco-toilet is odour-free as it has a good ventilation system. And a few minutes north of Tampines Eco Green, you'll find yourself right back at Pasir Ris Town Park. Congratulations! You've completed the Eastern Coastal Loop! Hurray!
Off the Beaten Trail
Changi Point Coastal Walk
A right turn after Changi Village Hawker Centre brings you to Changi Beach, while a left turn takes you to the Changi Point Coastal Walk instead. This 2-kilometre boardwalk stretches the coastline and takes you past resorts, chalets, and of course, the beautiful waters. This less-travelled walkway is perfect for a leisurely stroll, especially during the sunset.
Changi Jurassic Mile
Newly opened in 2020, the Changi Jurassic Mile stretches over 1 kilometre, and is Singapore's largest permanent outdoor display of life-sized dinosaurs. More than 20 different pre-historic creatures from nine different species can be found here, ranging from a towering Tyrannosaurus Rex to Pterodactyls that fly! Just follow the signs (they're dinosaur-themed, you can't miss them) when you're cycling or walking along Tanah Merah Coast Road (where the Eastern Coastal Loop is) and find yourself transported to this jurassic-themed walkway that is located right beside the runway. Come here and learn more about the dinosaurs with your little ones!
By Derrick Tan, July 2021
Don't miss out! Like our Facebook page and follow us on Instagram. Sign up for our e-newsletter, too!
More on The Finder:
Park Connectors Singapore: Guide To The Northern Explorer Loop
Park Connectors Singapore: Guide To Western Adventure Loop
Park Connectors Singapore: Guide To The North Eastern Riverine Loop