City-living can be stressful. Take a breather and escape to a nature sanctuary in the northern part of Singapore, via a series of Park Connectors in Singapore that are just made for cycling.
Flanked by the Straits of Johor, the Northern part of Singapore may feel rather secluded. However, this undisturbed area has several excellent destinations for children and families.
The Northern Loop is a series of park Connectors and parks in Singapore, all administered by National Parks Board. For over 25 kilometres, narrow green corridors or Park Connectors, connect up to 11 larger parks and nature sites, so you can travel all along the top half of Singapore island, surrounded by trees.
The Park Connectors in Singapore that make up the Northern Loop are especially good for rollarblading or bicycling because the terrain is either flat or gently rolling. Plus, you can enjoy the views from one of Singapore's longest coastal jetties, at Woodlands Waterfront.
Escape the stress of city-living for a moment, and take a trip down Singapore's Northern Explorer Loop with us.
Things to do at the Northern Explorer Loop
1. Straits of Johor at Woodlands Waterfront
Because Woodlands is the most Northern area of Singapore, and the closest to Malaysia, Singaporeans love to joke that Woodlands is "ulu" (Bahasa Malay for remote). But it's not exactly undeveloped. Just take a look at Woodlands Waterfront Park, a 11-hectare park which houses a large playground and a 1.5-kilometre-long waterfront promenade. It's a great place to start your day off with an invigorating cycle. You get to enjoy fresh sea breezes as you admire the unobstructed view to the north.
Whether you choose to cycle or run, this trail offers a panoramic view of the entire coastal park and Straits of Johor. Best of all, Woodlands Waterfront Park (like the others on this list) is connected to the larger park system via a ceries of Park Connectors in Singapore knows as the Northern Explorer Loop.
To get to the park, you can use public transport. It's located near two major bus interchanges: Yishun and Woodlands, and is only a stone's throw away from a nearby car park.
You can rent bicycles in many parks in Singapore, or you can use Singapore-based SG Bike. Download the app on your phone, and if there is a bicycle near you that is available for rental, it will show up on the app's app. Prices start from $0.03 per minute.
2. Bond with the family at Admiralty Park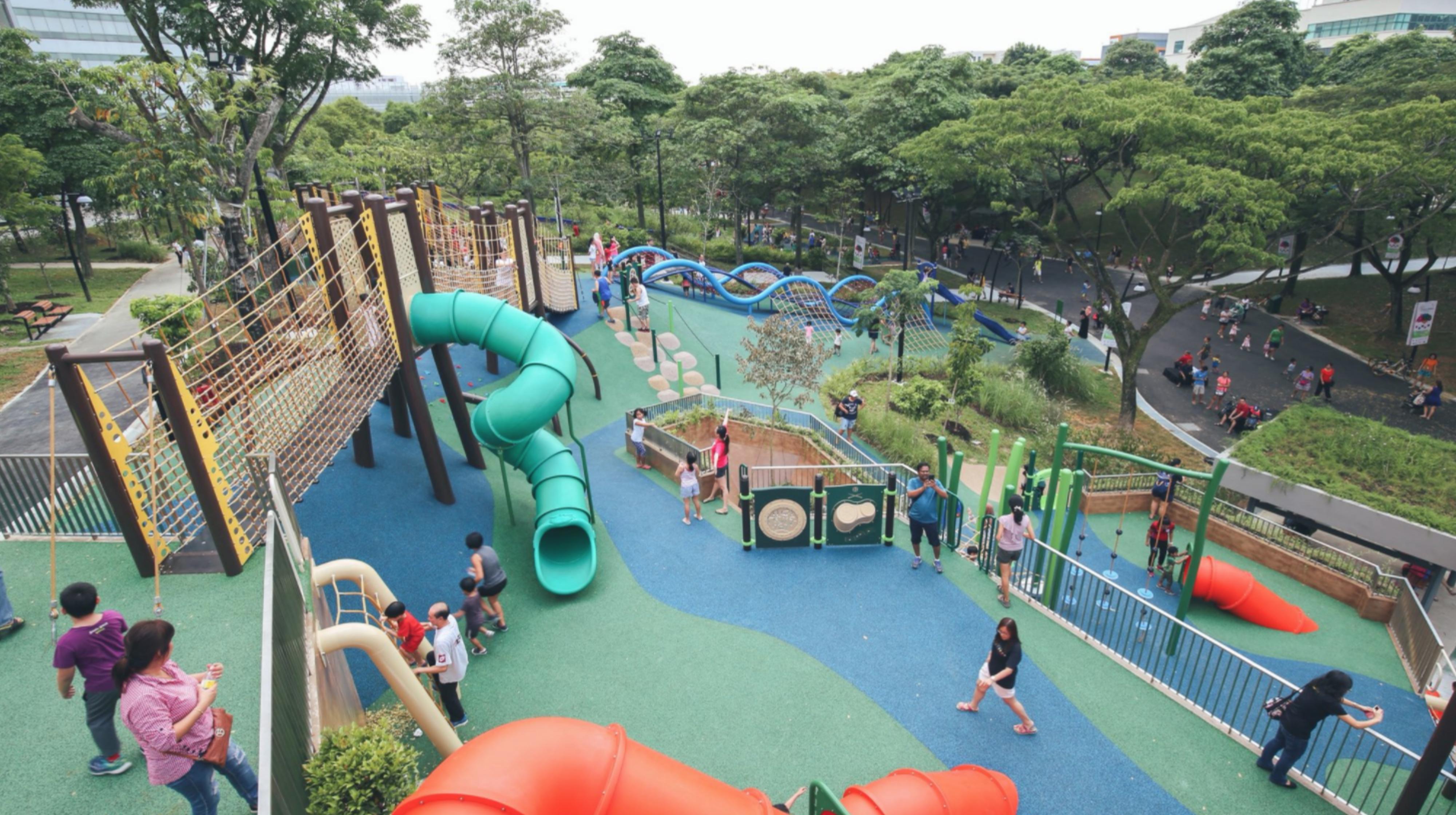 You've seen a park by the seaside, now get ready for the largest park in the north! At 27 hectares, Admiralty Park houses the largest nature reserve in an urban park in Singapore.
But what little kids really love is the massive playground, with 26 slides — the most in any park in Singapore!
Admiralty Park is on naturally hilly terrain, so the playground is divided into three areas: Junior Play Adventure Play, Family Terracing Play and Inclusive Playground. Each area caters to children of a different age or needs, and features a wide variety of play equipment that encourages teamwork and multi-generational interactions.
For instance, the family slide at the Junior Play area is large enough to accommodate four people at the same time! At the Inclusive Playground you'll find specially designed physical structures catered to support children with special needs.
The adults of the family can delight in the many photo opportunities at Admiralty Park, ranging from flora and fauna, to the scenic views of the Sungei Cina river that cuts through the park.
3. Escape the heat at Causeway Point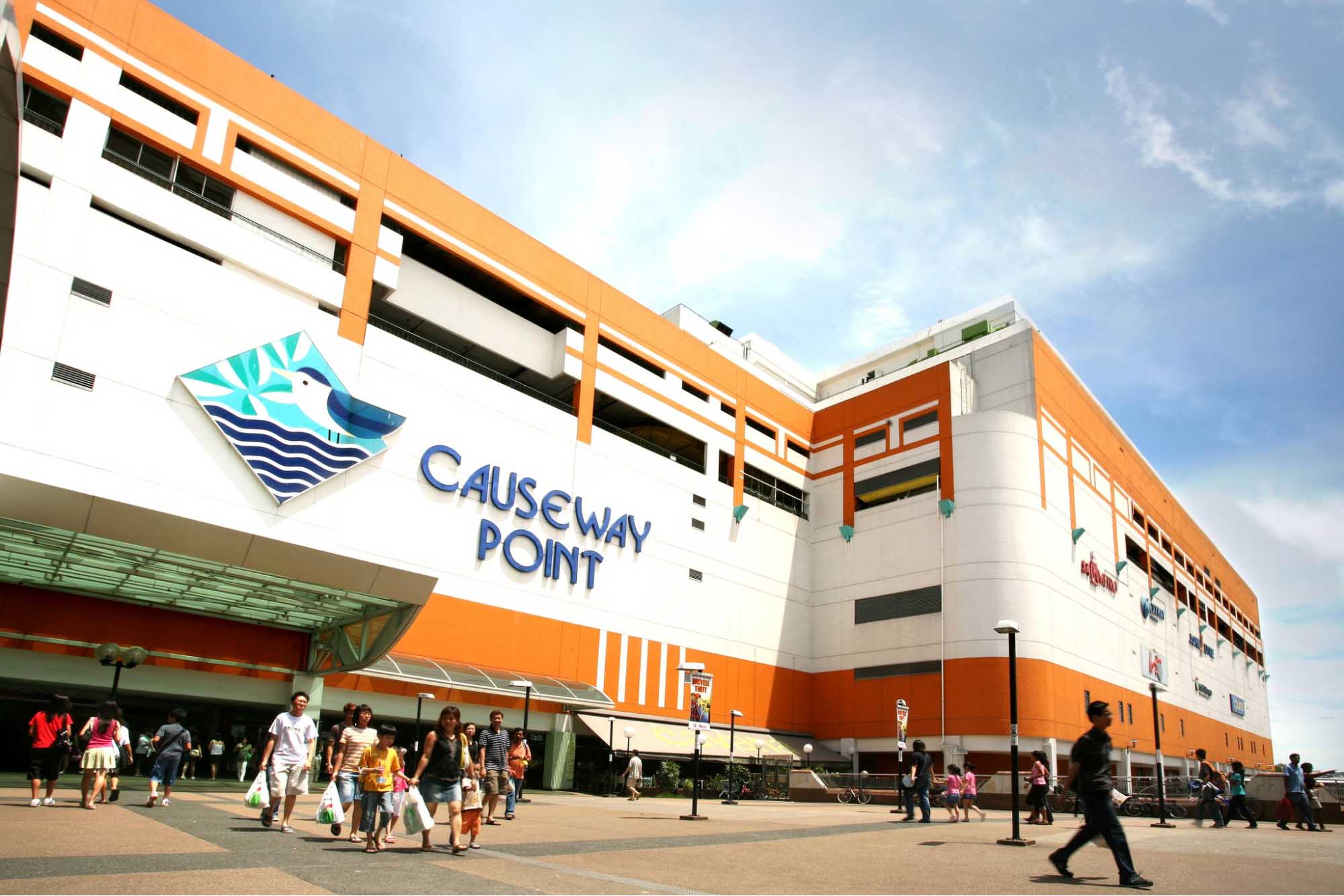 Hungry after an exciting morning? Escape the heat and grab a bite to eat at the nearby Causeway Point Mall. Located at the heart of Woodlands, Causeway Point Mall is easily accessible by both MRT and bus. There's a wide selection of dining options to choose from at this mall, ranging from casual dining restaurants such as Sushiro to acclaimed Asian restaurants such as Crystal Jade Hong Kong Kitchen. Refuel and charge up before continuing on your adventure.
Causeway Point
Address: 1 Woodlands Square, 738099
Tel: 6894 2237
Opening hours: 10:30 a.m. to 10 p.m. (Daily)
4. Immerse yourself in nature at Ulu Sembawang
The route gets steeper at Ulu Sembawang Park Connector, making this 1.3 kilometer part of your journey the perfect challenge when you want to get in a good cardio workout.
If that doesn't sound appealing to you, fret not! Take your time along this trail and enjoy the secluded calm of the nearby Mandai Nature Reserve. Along the way, keep an eye on the surrounding tropical fruit trees and you might just spot macaque monkey swinging about in the branches.
5. Explore Dairy Farm Nature Park
Did you know that there used to be cattle farms in Singapore? Dairy Farm Nature Park is a 75-hectare recreational space tucked away at the end of the Central Catchment Park Connector.
Today, the cows are gone, replaced with a host of recreational activities and amenities at Dairy Farm Nature Park. The park is perhaps best known for the Wallace Education Centre, which features a permanent – and free – exhibition about the renowned English naturalist Alfred Russel Wallace. A quick history lesson: Wallace arrived in Singapore in 1854 and used the island as a base to study the natural history of Southeast Asia. Once as famous as Charles Darwin, Wallace is often called the other "father" behind the theory of evolution.
This park has good hiking and mountain biking trails, and big spaces that are perfect for a quick game of touch football or a picnic. Plus visitors of all ages can learn about the biogeography and biodiversity of Singapore at the education gallery. There are also various interactive exhibits at Wallace, depicting information about insects and other wildlife of Dairy Farm park. The best part? Did we mention that the Wallace Education Centre is completely free to enter?
6. Snap photos along Mandai Park Connector
Shutterbugs lookout! The Mandai Park Connector runs parallel to the beautiful Central Catchment Nature Reserve, offering a great view of the Upper Seletar Reservoir. The roads here are flat and surrounded by a shady overgrowth of trees, making the route popular with runners and cyclists.
Don't forget to bring your camera! This is one of the rare places in Singapore where you can barely see a building on the horizon, making Mandai Park Connector the ideal place for a TikTok video or an Instagram-perfect sunrise or sunset.
7. Catch fresh prawns and more at Orto
If you have children or teens to entertain, Orto adventure park is a great destination along the Park Connectors Singapore. As big as seven football fields, this adventure park is packed full of activities, that include a trampoline park and a paintball arena.
At Orto, you can cook your own dinner and catch it too! The adventure park has 10 freshwater ponds, stocked with live prawns and "yabbies" or freshwater crawfish. For $20 an hour, you can catch your seafood dinner, and cook it. The fishing fee is $20 an hour, and includes rods, bait, and an electric grill to cook your catch.
Smaller children enjoy longkang fishing. In the 1950s and 60s, a popular hobby for children here was fishing in a longkang, or drain. At Orto, kids can try this vintage fun by using little nets to catch small fishes in a pond.
Orto also has several restaurants. BKK Bistro & Bar is popular for its affordable fusion menu. Prices start at $0.80 for a bowl of Thai-style Boat Noodles
ORTO
Address: 81 Lor Chencharu, 769198
Tel: 6257 8858
Opening hours: Open 24 hours (Daily)
8. Watersports at Lower Seletar Reservoir Park
Clear turquoise waters and palm trees blowing in the wind… No, this isn't the Maldives, it's Lower Seletar Reservoir Park! A popular destination for kayaking and dragon-boating, this water park now has a brand new water sports centre. For beginners, try the ABC Kayaking Experience ($25 per person).
This two hour experience takes you through the history of Seletar as you paddle along the still waters of the reservoir. Plus you learn about local flora and fauna. If you're a more experienced paddler, there are also introductory classes, using single and double kayaks.
Do note that children must be aged seven or older to do water sports at Lower Seletar Reservoir Park. Children under 13 must be accompanied by a guardian.
Off the beaten trail
Hike at Bukit Timah Nature Reserve
Just a short 10-minute walk away from Dairy Farm Nature Park, is Bukit Timah Nature Reserve, one of Singapore's largest undisturbed patches of primary rainforest. The reserve was officially declared an ASEAN Heritage Park on 18 October 2011 and is now part of a prestigious regional network of 35 protected areas in Southeast Asia. With four hiking trails of varying difficulty, plus mountain biking trails, it's an oasis of wildlife just 12 kilometres from the CBD.
By Sabrina Ng, July 2021
Don't miss out! Like our Facebook page and follow us on Instagram. Sign up for our e-newsletter, too!
More on The Finder:
Park Connectors Singapore: Guide To Eastern Coastal Loop
Park Connectors Singapore: Guide To Central Urban Loop
Park Connectors Singapore: Guide To North Eastern Riverine Loop