The west side of Singapore has the country's largest floating wetlands, granite cliffs and nature parks, all connected by narrow park connectors.
A park connector in Singapore is a narrow green corridor of plants and pathways between two bigger parks. Part of a network managed by NParks or the National Parks Board, the five park connectors in Singapore let you walk or cycle around the city, under cover of trees.
You'll find the wild side of Singapore on this Western Adventure Loop. You can work up a sweat by hiking through rugged Zhenghua Park, see an incrdible variety of wildlife at Dairy Farm Nature Park, or just relax under the trees.
You are in for a full day of exploration and fun along the massive Western Adventure Loop. Are you ready? Let's go!
Things to do on the Western Adventure Loop
1. Discover Jurong Lake Gardens
While the east of Singapore has more reservoirs and parks, few compare to the scale and beauty of Jurong Lake Gardens; our first stop along the Western Adventure Loop of Park Connectors Singapore. This 90-hectare garden is actually a combination of Lakeside Garden, the Japanese Gardens and the Chinese Gardens.
This park prides itself as being a people's garden and there are many facilities and attractions here for children and older folk. Besides Chinese pagodas and Japanese bridges to photograph, there's a wading pool for children at Clusia Clove. Plus there aree are also several immersive playgrounds, open lawns and lakeside boardwalks that are great for pushchairs or wheelchairs. There's even a beautiful field of tall lalang grass, for the ultimate exploration experience.
This massive garden also has a Singapore's largest floating wetland for you to discover – this floating wetland is a bioengineering project that uses floating water plants to clean the water. The plants also provide a home for birds, fish and all kinds of wild life. So if bioengineering, ecology or picnics are your thing, you'll love Jurong Lake Gardens.
2. Be transported to Guilin at Bukit Batok Town Park
You have to walk for about an hour along the Western Loop Park Connector in Singapore to get to Bukit Batok Town Park, dubbed Singapore's Little Guilin. Why? Because the towering 133 metres granite cliff here looks like the beautiful rock formations found in Guilin, China. The formation looks mystical, and will make you forget you're in Singapore.
You can take a hike to the top of the cliff and gaze at the view over the lake, or just sit by the foot of the cliff and admire it's grandeur and beauty. If you've had enough exercise for the day, Bukit Batok MRT station is just a five minute walk away from this pretty place.
3. Explore Bukit Batok Nature Park
A stone's throw away from Little Guilin is Bukit Batok Nature Park, a 36-hectare green lung in the heart of the city. The park used to be an old granite quarry that was decommissioned and filled with water to form the park we know today. The granite cliff here is pretty impressive.
In Bukit Batok Nature Park you can explore trails that wind through dense stretches of forest. Do keep an eye out for different types of trees, plants, and wildlife. Think long-tailed macaques, squirrels, monitor lizards and an amazing diversity of birds. Due to the lake and the tall trees, this park is really popular with wild birds.
4. Hike up Bukit Timah Hill
The next stop of our Western Adventure Loop is Bukit Timah Hill. Singapore's tallest hill stands at a fairly modest 164 metres and you can climb to the top using three different trails. The easy, fairly flat one is designed for people pushing strollers, while the most challenging hiking trail is almost vertical in some places.
The hiking is fun, but nature is what this park is all about. Because Singapore is on the equator, the dense jungle on this hill is filled with an astonishing variety of plant, animal and insect life. For this reason, back in 1882, Bukit Timah Forest Reserve was one of the first forest reserves to be created in Singapore. The move was recommended by keen naturalist Nathaniel Cantley, who was Superintendent of the Singapore Botanic Gardens at the times.
Today you can walk along trails that pass by towering Seraya trees. And if you're lucky, you might even spot an endangered colugo or pangolin. If you've got energy, follow the path which leads towards Rifle Range Road, where you can join the Central Catchment Area and hike to Macritchie Reservoir.
5. Get lost in Dairy Farm Nature Park
No longer a dairy farm, this 63-hectare nature park is a great place to immerse yourself in nature. It has hiking trails and mounbtain biking trails, for beginners and advanced riders.
To get a sense of history of the park, stop by the Wallace Education Centre to view exhibits that illustrate how the landscape of the park has changed over the years. You can also walk up the park's hilly hiking trails and be rewarded with spectacular views of a quarry and lake (yes, another one!) in the southwest portion of the park. There are maps are all around the park to guide you on your way.
Advanced mountain bike riders will find some of the steep climbs challenging, but there are also flatter mountain biking trails for beginners. Do note that pedestrians and hikers are not allowed onto the mountain bike trails, for safety reasons.
6. Travel down Zhenghua Park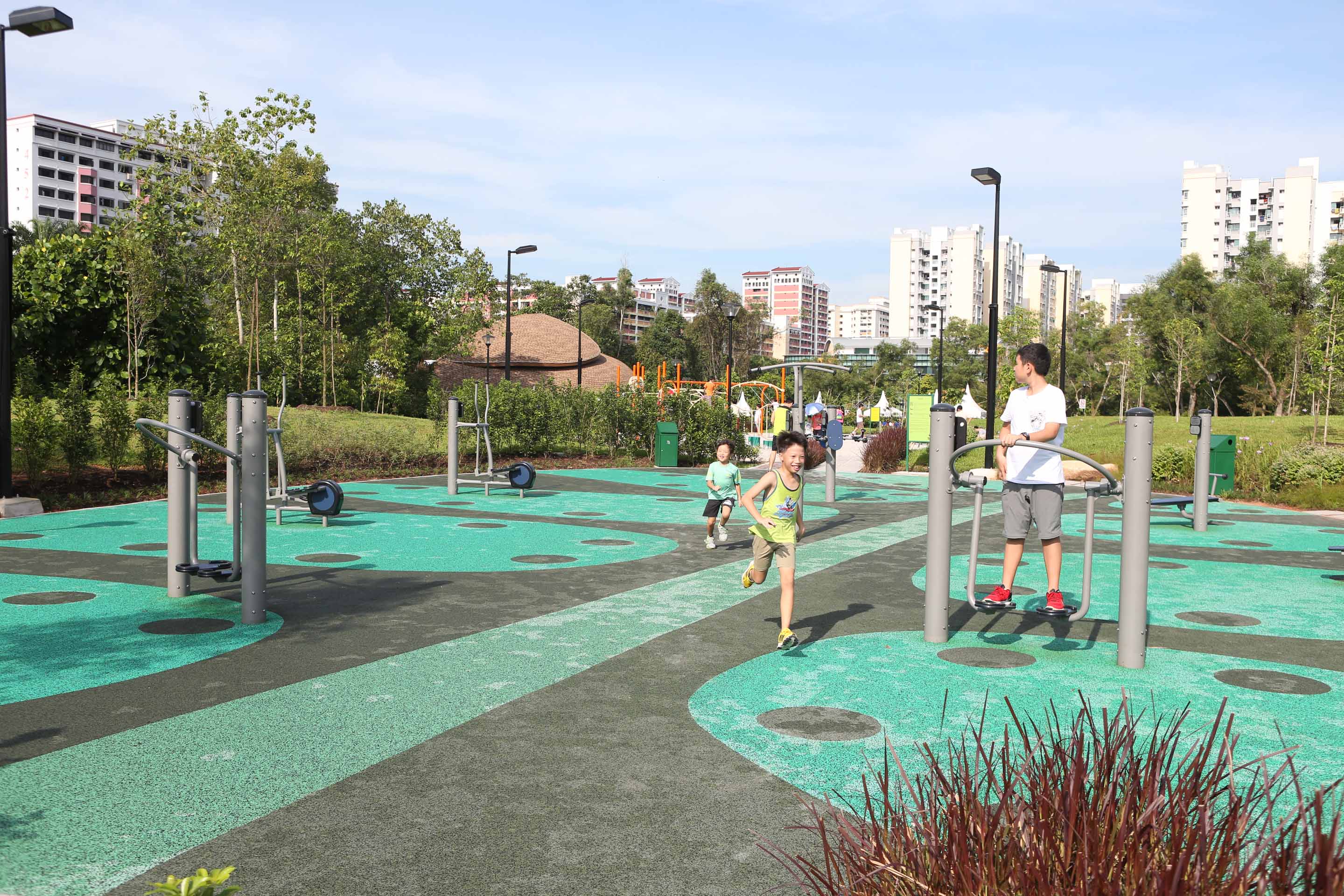 It's not a very natural-looking park, but Zhenghua Park is a massive hit with children. This 17.3-hectare nature park in Bukit Panjang has a multi-purpose event lawn, a children's play area, and an exercise station. There's also a 2.5km jogging and cycling track which runs parallel to the BKE motorway.
This park may be manicured, but it's still a vital ecological linkage between the nature reserves and forested areas in the West. So the park is surprisingly rich in wildlife – 37 bird species have been spotted here, including the Olive-backed Sunbird and the Flameback Woodpecker. Oh, and don't be surprised to see monitor lizards and long-tailed macaque monkeys sharing the pathways, too!
7. Hop over to Chestnut Nature Park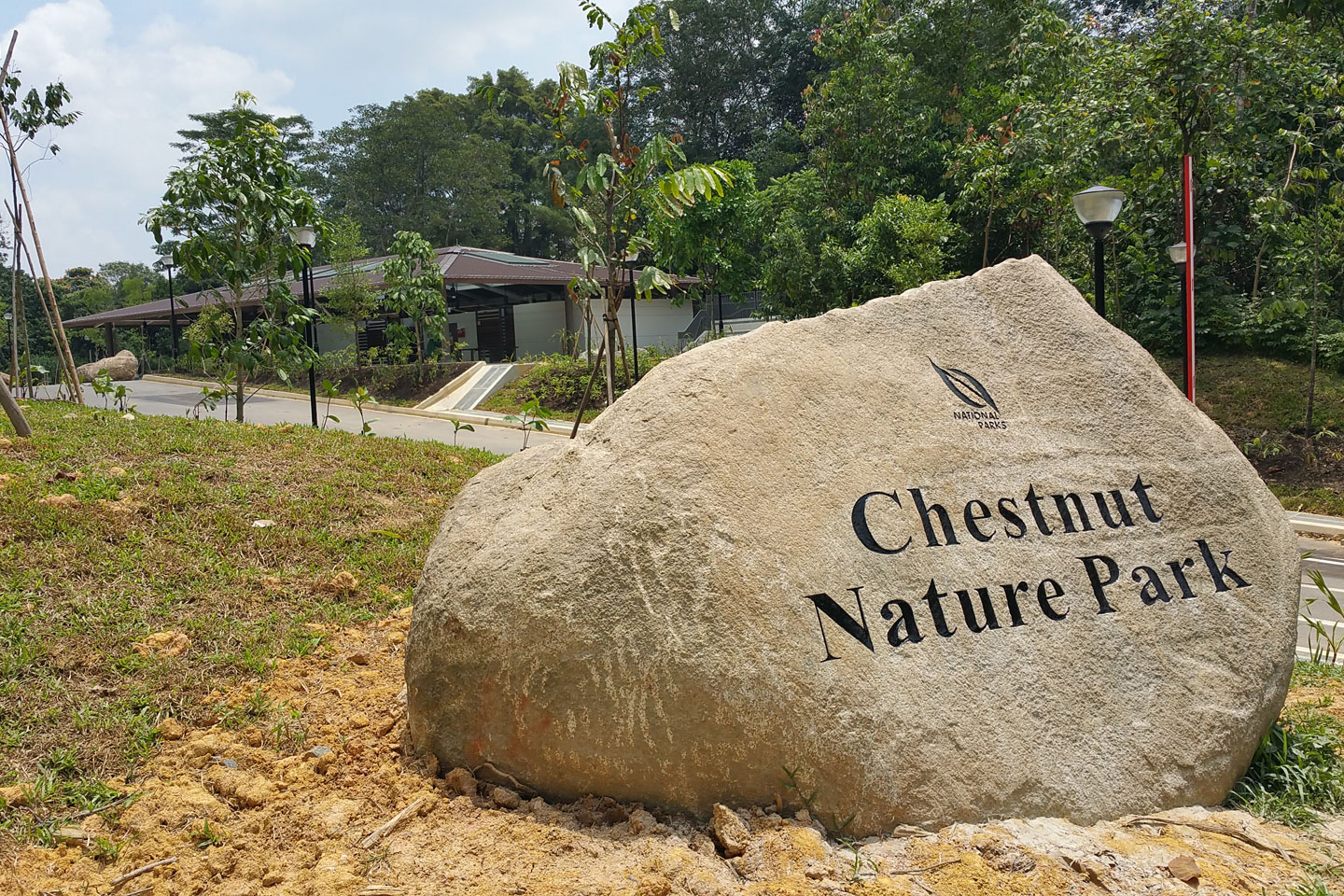 On the other side of Zhenghua Nature Park lies Chestnut Nature Park, an 81-hectare treasure trove along the edge of the Central Catchment Nature Reserve. This park is hidden on one side of the expressway, and it only opened in 2017. This means it's not that well known yet – but it is Singapore's largest nature park, to date!
As part of ongoing habitat enhancement programmes, Chestnut Nature Park is now part of the Park Connectors Singapore network. It's being planted up with native tree species, and many of them are helpfully labled, which makes strolls here much more interesting. Take a stroll past the Braided Chestnut trees (Castanopsis inermis), Singapore Walking-Stick Palms (Rhopaloblaste singaporensis) and the Jelutong (Dyera costulata).
Visitors here can enjoy a range of leisure activities from hiking and mountain-biking, to bird-watching.
8. Stroll in Clementi and Dover Forest
Part of the famed Rail Corridor Park Connector in Singapore, the Clementi and Dover Forest is a pocket of very tall, old trees. To get to this green pocket from Bukit Timah Hill, you walk or bicyle along the old railway tracks which used to connect Singapore and Malaysia. Now the railway line has been turned into a narrow Park Connector called the Rail Corridor.
Today, Clementi and Dover Forest remains one of the last untouched forests on the island, with some of the tallest trees on the island. Some of the paths pass by landed homes and condominiums, but there are long stretches where you're just walking or cycling between towering trees.
Off the Beaten Trail
Hike through Bukit Timah Nature Reserve
Bukit Timah Nature Reserve is a huge green space that is separated from the Central Catchment Area only by an expressway. You can follow the trail and reach MacRitchie Reservoir and Lower Pierce Reservoir (among many other green pockets in the city)!
Join the Rail Corridor Park Connector
The Rail Corridor is fast becoming an extremely popular trekking and bicycling route in Singapore. Starting from Woodlands, the trail runs adjacent to the Western Adventure Loop, and meets the park connector network at Bukit Timah Nature Reserve. If you continue along this 4km green corridor, you can pass by Clementi and Dover Forests to reach the Southern Ridges, and end at the old Tanjong Pagar Railway Station.
By Derrick Tan, July 2021 / Images from 123RF and NParks Singapore
Don't miss out! Like our Facebook page and follow us on Instagram. Sign up for our e-newsletter, too!
More on The Finder:
Park Connectors Singapore: Guide To Eastern Coastal Loop
Park Connectors Singapore: Guide To The Central Urban Loop
Park Connectors Singapore: Guide To North Eastern Riverine Loop