International Chess Day (20 July) is here! If you find the game too complicated, how about checking out these spots that serve cafe-style meals along with a huge inventory of traditional card and board games (think UNO and Scrabble). Make your move and start spending quality leisure time eating and playing at these 5 food and gaming joints.
Think board games are too old school? Here are our top picks for the coolest Board Game Cafe in Singapore!
1. The Mind Cafe
With over 200 games to choose from, The Mind Cafe creates a warm and inviting space for friends, families, and colleagues to gather. Choose from classic favourites like Taboo and Clue to more obscure games, or those that your young ones will love. Its extensive food menu includes all kinds of comfort food such as Beef Lasagne ($11.90), Laksa Fried Rice with Baked Salmon ($11.90) and a free flow of chips ($2.90). The normal fee is $6 an hour per person (excluding food and drinks), but do look out for promotions that run every month.
Bonus: Kids below age 7 play for free!
The Mind Cafe
Address: Multiple locations
Tel: See website
Opening hours: See website
2. Coffeemin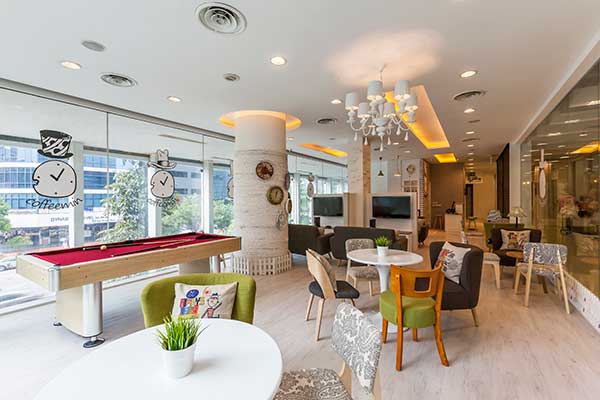 For a more revolutionary cafe idea, try Coffeemin. Promoted as "your home away from home," Coffeemin is designed to be a space where you are free to chat, work, play games or read as long as you respect others within the same space. It offers a mix of several video games, boards games, a pool table, and of course, coffee. However, the owners are kind enough to allow customers to bring their own food and drink onto the premises as well.
The cafe also operates as a co-working space with computer stations for study and work. Classes like knitting and calligraphy are held on certain days as well. Using the space is only $6.50 for the first hour (per person on weekdays) and $8.50 for the first hour on weekends, with each subsequent 10 minutes charged at $1. Daily spending is capped at $30 regardless of the time you spend in a day.
You can even have the whole space to yourself for a special event, simply enquire and book in advance.
Coffeemin
Address: 277 Orchard Rd., #02-01, 313@Somerset, 238858
Tel: 6677 7631
Opening hours: 1:30 to 9:30 p.m. (daily)
3. Settlers Cafe
Singapore's first board game cafe, established in 2003, stocks a large selection of over 600 games that both kids and adults will love. Feeling peckish? Choose from a variety of dining sets such as its All-Day Brunch Set ($24++) featuring brunch favorites like Truffled Mushroom with Scrambled Eggs Toast. The wide array of food options will be sure to keep you satisfied while you play the day (and night) away. Gaming starts at $4.50 per hour for each guest, with several packages such as Beer Gaming and Tapas Gaming available.
Settlers Cafe
Address: 39A North Canal Rd., 059295
Tel: 9751 9011
Opening hours: 24 hours (daily)
4. Battle Bunker
Specialists in tabletop gaming, Battle Bunker positions itself as both a hobby game store as well as a gaming arena. How it works: one half of the store works as a retail shop, while the other half operates as Singapore's largest table top gaming centre.
As a shop, it sells all manners of games, collectibles and figures; ranging from kid-friendly Pokemon to old classic Star Wars. As a gaming spot, players can rent games from its library to play within the space. Aside from casual sessions of playing Nendoroid, Battle Bunker also hosts in-store, large scale national and regional tournaments and leagues. But don't worry – if you are a newbie to the warrior scene, they also hold basic how-to-play tutorial sessions now and then to introduce new recruits to the gaming world.
Just note that at both of their locations in Bugis+ and West Coast Plaza, only bottled drinks and water are being sold (no food at the table, please), so grab a bite outside before you enter.
Battle Bunker
Address: Multiple locations
Tel: See website
Opening hours: See website
5. Old School Delights (OSD)
Talk about a walk down SG's memory lane – Old School Delights immerses customers in a full-on #throwback moment with retro green-tiled walls, chalkboards and old-school wooden dining furniture. To pile on the step-back-time impression, there's also local memorabilia in the form of typewriters, rotary dial phones, and vintage toys and games.
But don't mistake this as just another board game cafe – OSD serves proper local comfort food such as its signature Beef Cheek Rendang ($14.90) and Nasi Lemak ($10.90), as well as desserts like Chendol ($4.50), a traditional dessert of green sago or rice flour worms served with coconut milk. After you tuck into the delish hawker fare, occupy yourself with retro card games such as Happy Family and Old Maid, or traditional games like Five Stones and Snakes & Ladders.
Old School Delights
Address: Multiple locations
Tel: See website
Opening hours: See website
Reserve on Chope here.
By Kathleen Siddell, January 2017 / Updated by Melodi Ghui, May 2019 / Last updated by Sabrina Ng
Don't miss out! Like our Facebook page and follow us on Instagram. Sign up for our e-newsletter, too!
More on The Finder:
11 Fun Activities To Do With Your Kids In Singapore When You're Out Of Ideas
9 UNDERRATED Cafes In Orchard Road To Go To Before Everyone Else Does
10 Hidden Cafes In The North Of Singapore That'll Make You Wish You Lived There