Hit up these Spanish restaurants when the cravings set in!
Fans of Spanish cuisine are spoilt for choice in Singapore. Thanks to a steady increase in Spanish restaurants, eateries and wine bars, you can now sample everything from tapas and pintxos, to paella here – and by now most people even know that soccarat (the crunchy rice at the bottom of a paella pan) is the hallmark of paella done well. Here's our round-up of the best Spanish restaurants in town for a food fiesta. ¡Delicioso!
*Disclaimer: At the time of publication, in view of the Phase 2 Heightened Alert measures, dining in is prohibited at all eating establishments until 18 August 2021. Take outs, however, are still allowed. We're doing our best to be accurate, but please double check with the restaurants before you visit.
1. Binomio
Part-tapas bar, part fine-dining Catalan restaurant, Binomio has been serving stellar sangria and delicious tapas before most of the trendier spots on this list even opened. The restaurant has gathered a loyal following of regulars, most of whom cannot get enough of the Gambas al Ajillo ($16) a dish of sizzling fresh prawns in olive oil, garlic and parsley; or the delicately charred Cordero ($22) which is lamb chops, served with a crust of herbs and nuts. Begin your meal with drinks and nibbles at the tapas counter and finish at the elegant indoor dining room.
Binomio
Address: 20 Craig Rd., #01-02, Craig Place, 089692
Tel: 6557 0547
Opening hours: 12 to 2 p.m. and 5:30 to 10 p.m. (Mon. to Fri.); 5:30 to 10 p.m. (Sat.); 12 noon to 3 p.m. and 5:30 to 9:30 p.m. (Sun.)
Reserve on Chope here.
2. Restaurant Gaig
This intimate dining space is the Singaporean outpost of the one Michelin-starred restaurant in Barcelona run by celebrity chef Carles Gaig. Far from being stuffy and pretentious, the restaurant at Tanjong Pagar is warm and inviting. Gaig's traditional Cannelloni ($16.50), is a pasta dish where pasta tubes filled with pork and foie gras are drenched in a rich truffle cream sauce. It's a family recipe that has remained unchanged since 1869.
Mains include a black coloured squid ink and seafood Fideuà ($32.50), rich in umami ocean flavours. The award-winning chef tries to visit his Singapore restaurant a few times a year, so if your visit coincides with those times, expect seasonal specials on the menu.
Restaurant Gaig
Address: 16 Stanley St., 068735
Tel: 6221 2134
Opening hours: 12 noon to 2 p.m. and 6 to 10 p.m. (Mon. to Sat.)
Reserve on Chope here.
3. UNA
Located in the ornate heritage building of Alkaff Mansion, UNA is a contemporary Spanish restaurant and wine bar that's perfect for a romantic night out. It pays homage to the age-old heritage of Spanish gastronomy, but puts an innovative and modern twist on classic dishes.
Signature dishes include the Arroz Negro ($52 for small, $72 for large), a squid ink paella dish with cuttlefish, clams and prawns. Another winner is Carrillera De Ternera ($32), Angus beef cheek braised in red wine and served with creamy potatoes and broccolini. UNA also serves up a variety of small plate samplings (a la tapas-style) for diners who want to try a bit of everything. TIP: if you love nature, UNA has opened a stunning conservatory area, so you can cosy up to your dining partner and gaze at the restaurant's terraced garden.
UNA
Address: 10 Telok Blangah Green, Level 2 of Alkaff Mansion, Telok Blangah Hill Park, 109178
Tel: 8126 8844
Opening hours: 6 to 10:30 p.m. (Tue. to Sun.)
Reserve on Chope here.
4. Esquina
In a neighbourhood that sees trendy spots come and go, Esquina has firmly held its ground on the corner of Jiak Chuan Road. Small and large plates of Spanish and Catalan flavours, in the form of elegant tapas and upscale mains, are produced with panache by the team led by Head Chef Carlos Montobbio.
Spanish staples have been reinvented here, like the Paella of Bomba ($32), which is rice cooked in lobster stock and topped off with sea urchin, saffron aioli, sugar snap peas and avocado mayonnaise; or their version of the Spanish Omelette ($14), which is served in little pancake discs on sliced of sourdough bread, then drizzled with olive oil caviar and aioli. Counter seats are a great choice to watch the buzzy, open kitchen as you devour your meal.
Esquina
Address: 16 Jiak Chuan Rd., 089267
Tel: 6222 1616
Opening hours: 12 to 2:30 p.m. and 6 to 10:30 p.m. (Tue. to Sat.)
Reserve on Chope here.
5. Tapas Club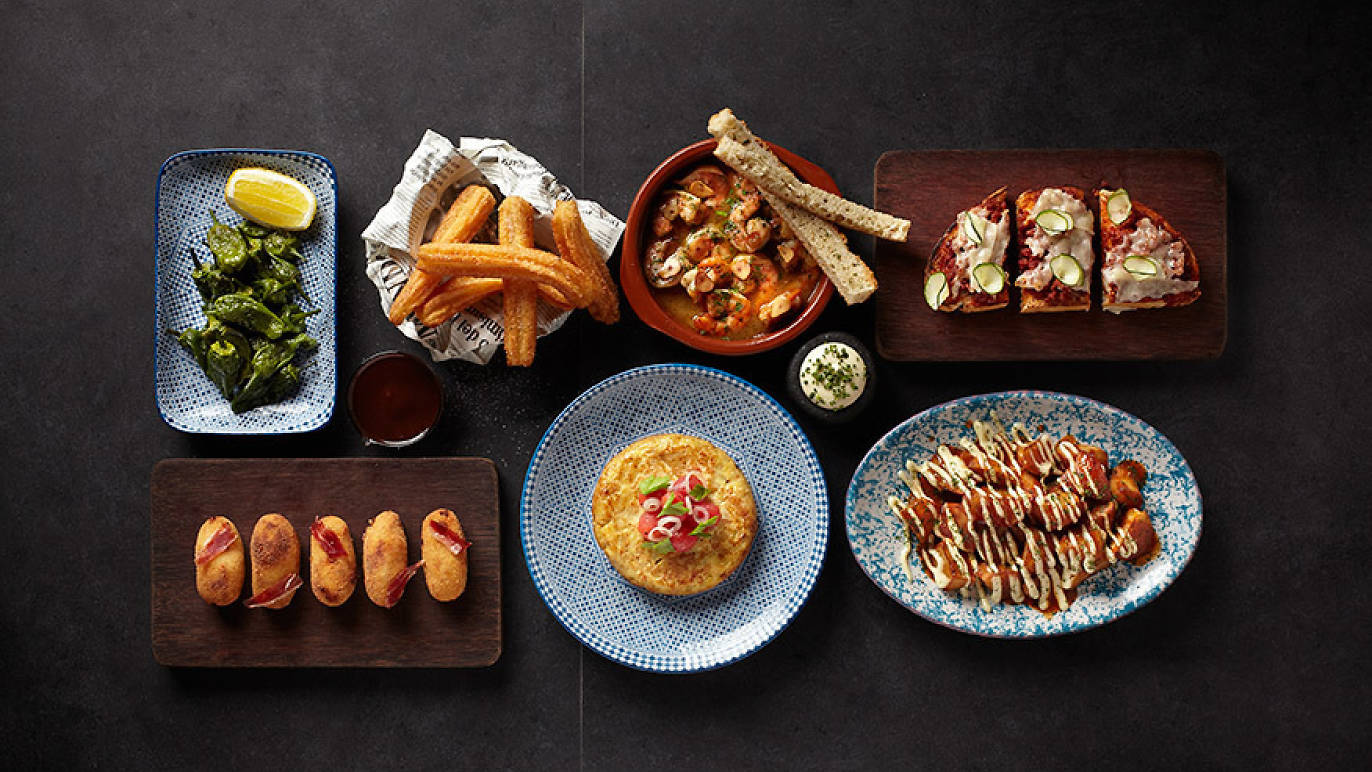 While delicious, a lot of the small plates served at fine Spanish restaurants come with eye-watering prices. Not at Tapas Club! Here, you get quality nosh at excellent value. Their most raved about dishes include the Calamares Fritos ($12.90) where deep-fried baby squid is served with butifarra sausages and fava beans, and the lush Spanish Omelette ($12.90) topped with thinly sliced jamon and sour cream. Their good-value deals on Spanish beer ($5 onwards) and Sangria (available in red wine and Cava versions, $12 for a glass) makes all their outlets an excellent happy hour spot.
Tapas Club
Address: Multiple locations
Tel: 6602 8081
Opening hours: 12 to 3 p.m. and 5 to 11 p.m. (Mon. to Thurs.); 12 to 3 p.m. and 5 p.m. to 12 a.m. (Fri.); 12 p.m. to 12 a.m. (Sat.); 12 p.m. to 11 p.m. (Sun.)
Reserve on Chope here. (Orchard Central)
Reserve on Chope here. (VivoCity)
Reserve on Chope here. (Jewel Changi)
6. My Little Spanish Place
The Boat Quay location may be more central and accessible, but we are partial to the original Bukit Timah outpost for its charmingly cosy vibe. My Little Spanish Place has been feeding people since 2010, and the warm service, top-quality food and family-restaurant ambience remain unchanged.
Regularly imported servings of Spanish ham (hand-carved to order), cheeses ranging from the typical Manchego to rarer Catalonia Romero, and indulgent signature dishes like the Grilled Octopus Leg with Red Pepper & Saffron Potato Purées ($38), are all good reasons to visit. A solid list of Spanish wines, including Spanish Cava and good ol' sangria all guarantee a delicious night out.
My Little Spanish Place
Address: 619 Bukit Timah Rd., 269720 / 54 Boat Quay, 049843
Tel: 6463 2810 / 6532 0665
Opening hours: 6:30 to 10:30 p.m. (Tue. to Fri.); 12 to 2:30 p.m. and 6:30 to 10:30 p.m. (Sat. + Sun.) / 5 to 10:30 p.m. (Tue. + Wed. and Sat. + Sun.); 12 noon to 3 p.m. and 5 to 10:30 p.m. (Thurs. + Fri.)
Reserve on Chope here. (Bukit Timah)
Reserve on Chope here. (Boat Quay)

7. Sabio By The Sea
If you love Spanish food with a seaview, you can get your fix of authentic tapas and paella at Sabio By The Sea, out on Sentosa Island. This bar and grill uses an authentic Spanish charcoal oven, which is especially useful for the dedicated weekend tapas menu. This selection of little plates of Spanish food is great for sharing. You really feel like you are in the Mediterranean, because you can eat and gaze out over yachts, moored just a few metres away.
All the tapas are good, but be sure to try the El Cerdo ($23), herb-marinated pork belly with sauteed potatoes and Pan Con Tomate ($8), a traditional tomato bread from Catalonia which uses fresh diced tomatoes , garlic, salt, and Spanish olive oil piled onto toast.
Sabio By The Sea
Address: 31 Ocean Way, #01-02, 098375
Tel: 6690 7568
Opening hours: 5 to 10:30 p.m. (Mon. to Thurs.); 12 to 11 p.m. (Fri.); 11:30 a.m. to 11 p.m. (Sat.); 11:30 a.m. to 10:30 p.m. (Sun.)
Reserve on Chope here.
8. Pura Brasa
This Spanish chain, born in Barcelona, opens its seventh restaurant at Guoco Tower right in the centre of Singapore's CBD. Pura Brasa was created by Josper charcoal ovens, to showcase the oven's versatility, so you know this place is all about the power of charcoal grilling.
Pura Brasa's menu include a wide variety of dishes: tapas, fish, burgers — all with the characteristic flavour of grilled charcoal cooking. A 3-course set lunch here costs $25.90, and includes favorites such as Avocado Salad with Ciptrio Dressing, Josper Grilled Black Angus Sirloin Entrecot, Charcoal Grilled Mushroom Paella and the dessert of the day.
Pura Brasa
Address: 5 Wallich St., #01-16, 078883
Tel: 6386 9678
Opening hours: 12 noon to 11 p.m. (Daily)
Reserve on Chope here.
9. La Tapería
Expectations are high when you sit down for a meal at La Taperia, because this Spanish restaurant is by the acclaimed Les Amis group. Since the opening in 2014, La Taperia has established itself as an intimate tapas and wine bar, boasting the city's largest selection of wines from Spain, paired with authentic Spanish cuisine.
But it's not just wine that's served here. Whisky aficionados can sample a selection of Glendronach single cask whiskies aged in the best Spanish Oloroso casks. The food does not take a backseat at all; the Crispy Baby Squid ($26), cooked in squid ink and served with aioli, is insanely addictive, and for dessert the Churros ($3.50 a piece), served with chocolate sauce are often lauded as the city's best.
La Taperia
Address: 1 Scotts Rd., #02-10/11, 228208
Tel: 6737 8336
Opening hours: 12 to 2 p.m. and 6:30 to 10:30 p.m. (Daily)
Reserve on Chope here.
10. Don Quijote
While most of the other choices on this list can be classified under tapas bar, or casual-fine dining, this Dempsey stalwart boasts a family-restaurant vibe — complete with kids menu and dining options to suit a variety of palates. From tapas staples like Patatas Bravas ($8), to heartier mains like Paellas in all sizes and dietary preferences, you can find something for everyone here.
Tip: Don Quijote does an excellent weekend brunch. It's great value at $38++ onwards ($19++ for kids), and you will not go hungry with their array of tapas, salads, Catalan-style pasta and exotic mains like the Stewed Pigs Feet with White Beans.
Don Quijote
Address: 18 Toh Yi Drive, #01-97, 590018
Tel: 6476 2811
Opening hours: 11 a.m. to 2 p.m. and 6 to 9 p.m. (Tues. to Sun.)
11. FOC by Nandu Jubany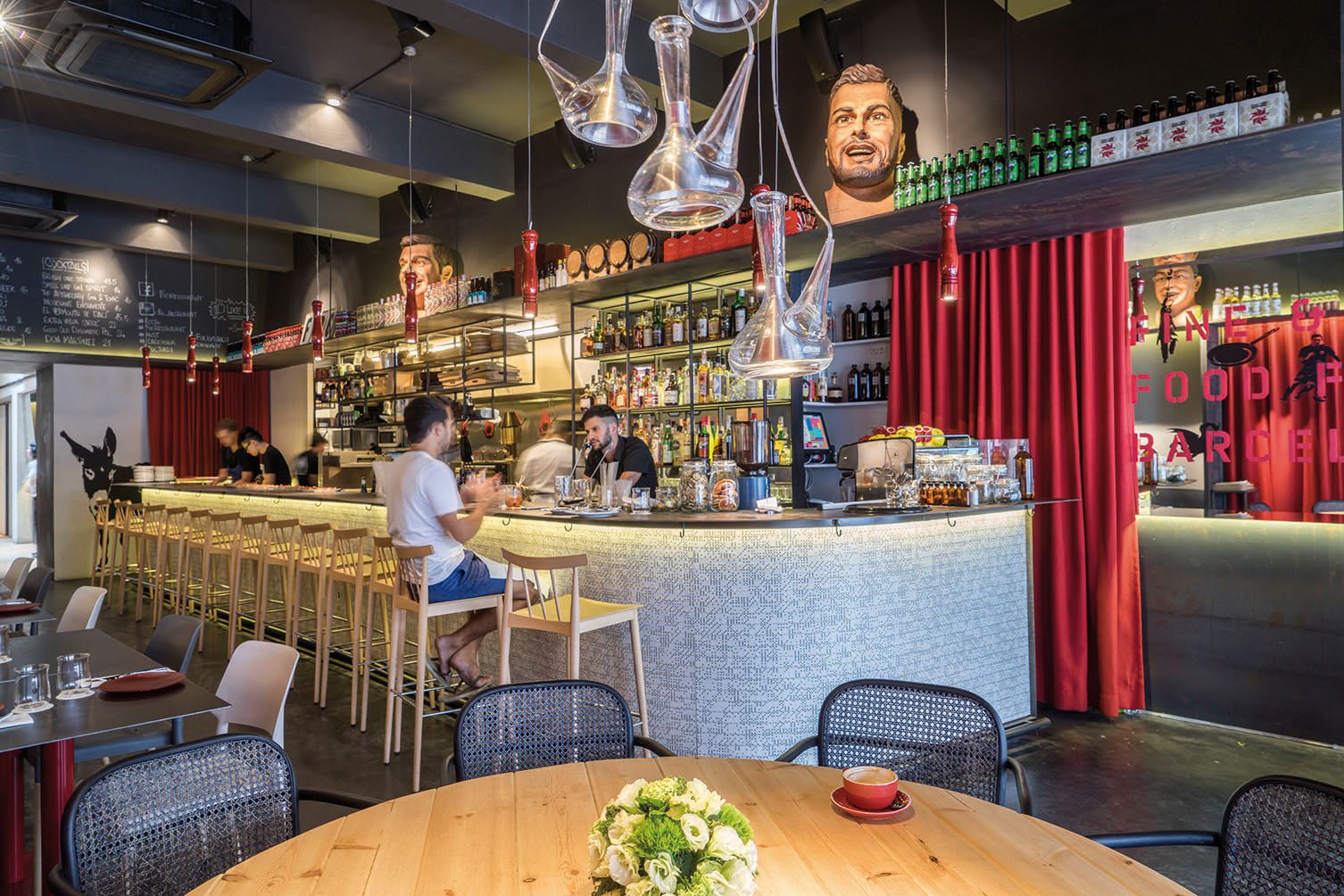 'FOC' means fire in the Catalan language, and it is a fairly apt description as a meal here is vibrant, the diners are fashionable and the mood is always lit and buzzy. Trendy, but tasty is how we would describe the elegant plates that come out of Nandu Jubany's and Jordi Noguera's busy kitchen.
Inspired dishes on the menu are the Watermelon "Gazpacho" & Smoked Olive Oil Ice Cream ($12), and the FOC-style Prawn Ravioli ($14). Drinks-wise, the cocktail list holds many winners. The FOC Sangria is arguably one of the best (read: potent) classic versions in town — it's a highball glass of rum, sweet vermouth, wine and orange juice ($17). The choice of tipples also include a variety of Spanish wines and sherry, including some rare Spanish liquors that the bartenders are happy to serve, on request.
FOC by Nandu Jubany
Address: 40 Hongkong St., 059679
Tel: 6100 4040
Opening hours: 12 to 10:30 p.m. (Tues. to Sat.); 6 to 10:30 p.m. (Sun.)
Reserve on Chope here.
12. FOC Sentosa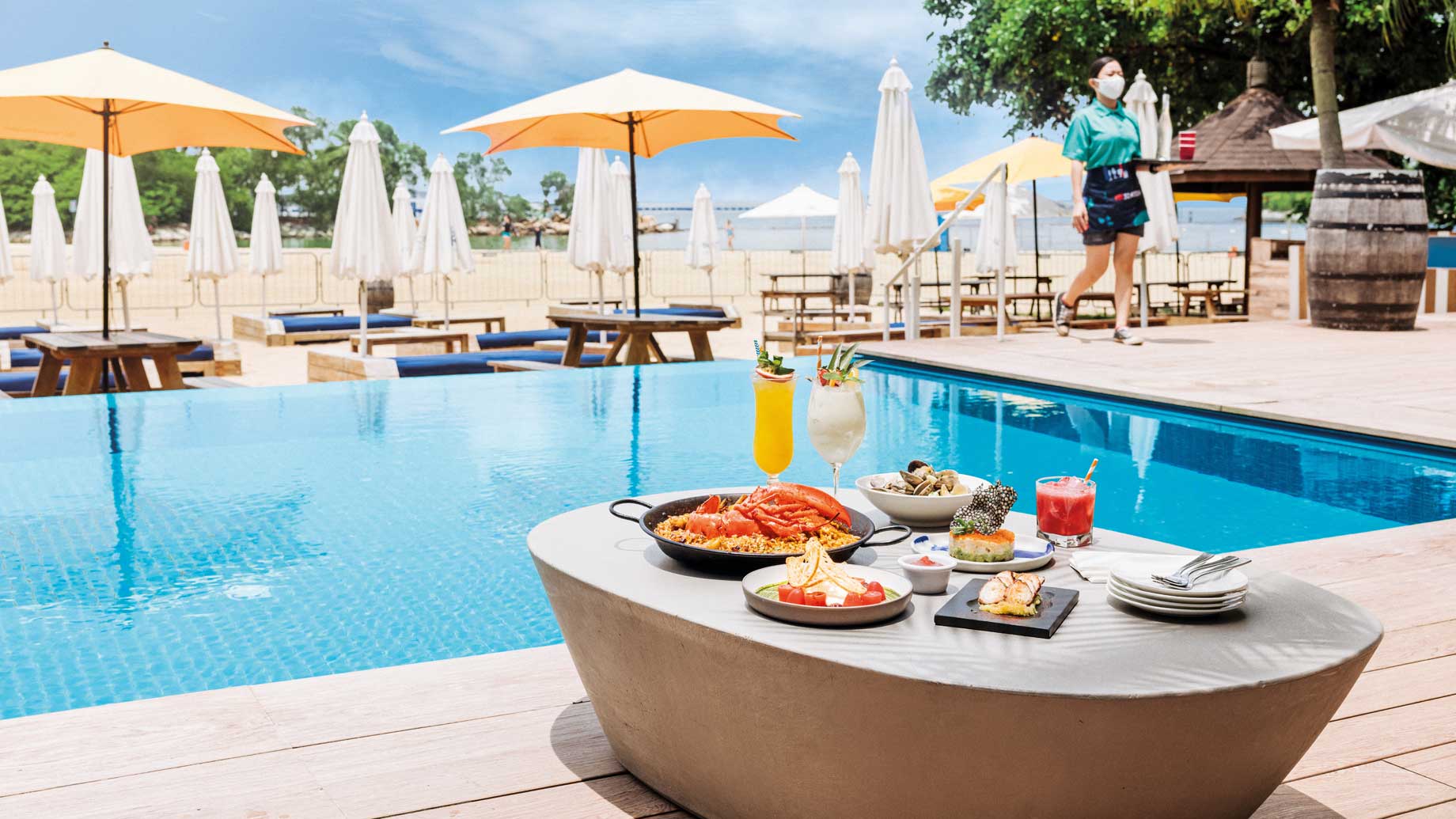 Unlike its more refined sister restaurant on Hong Kong Street, FOC Sentosa is a trendy and casual spot on Tanjong Beach at Sentosa island. The vibe here is casual, but it's more refined than some of the other bikini-party beach clubs you find just up the road on Palawan Beach.
The menu is mainly delicious nibbles, so you can sit on the deck and face the sea while chowing down on Canadian Oysters ($40 for half dozen, $72 for a dozen), or the Parrillada ($58), an assorted meat platter that includes roast spring chicken, chorizo sausages, beef tenderloin, lamb ribs and the traditional Catalan butifarra pork sausage. Tip: Look out for the selection of gin and tonic cocktails, served in balloon glasses, for a potent drink by the beach.
FOC Sentosa
Address: 110 Tanjong Beach Walk, 098943
Tel: 6100 1102
Opening hours: 11 a.m. to 10:30 p.m. (Wed. to Sun.)
Reserve on Chope here.
By Priyanka C Agarwal, October 2019 / Last updated by Sabrina Ng
Don't miss out! Like our Facebook page and follow us on Instagram. Sign up for our e-newsletter, too!
More on The Finder:
7 BEST Mexican Restaurants In Singapore We Need To Taco 'Bout
15 Restaurants In Singapore Serving AUTHENTIC Indonesian Food
30 Best HALAL Restaurants In Singapore For Every Type Of Cuisine