Boat noodles, coconut ice cream, skewered grilled meats and more. Here's where to get cheap and good Thai street snacks in Singapore.
Sweet, sour and spicy – it's no wonder Thai street food is popular. The good news is that with so many new Thai street food places popping up across Singapore, there's no need to travel to Bangkok or Phuket just to satisfy your food cravings. Here are our picks for the best Thai street food in Singapore!
*Disclaimer: At the time of publication, in view of the Phase 2 Heightened Alert measures, dining in is prohibited at all eating establishments until 18 August 2021. Take outs, however, are still allowed. We're doing our best to be accurate, but please double check with the restaurants before you visit.
1. Kra Pow Thai
You don't have to break the bank to get delicious Thai street food in Singapore. At Kra Pow, most mains are under $10, with no additional service charge on top of it.
Fans of classic Thai street food favorites will be delighted to find dishes such as Seafood Red Tom Yum Soup ($7.90), and their signature Krapow Pork with Rice ($7.90). Those feeling more adventurous can try Krapow's Drunkard Noodle Pork ($7.90), a stir-fried noodle dish seasoned with a savoury sauce and topped with generous servings of pork.
Kra Pow Thai
Address: Multiple locations
Tel: See website
Opening hours: 11:30 a.m. to 9:30 p.m. (Daily)
2. Mak Mak Thai
This takeaway kiosk does its best to give you that Thai street food vibe by building the stall around a second-hand red Vespa scooter, just like the scooters food delivery drivers use in Bangkok. But the snacks themselves are more likely to make you feel like you're eating on a Thai soi or side street.
Of the 14 snacks, popular picks include crispy garlic pork ($3.60), skewered grilled chicken ($1.20), and the eye-catching Microphone ($1.50). This is a gigantic sphere of deep-fried pancake batter with a meatball core, stuck on a skewer. It's not glam, but it's good. For a more filling meal, you can pair these bites on skewers with turmeric rice ($1).
Mak Mak Thai
Address: 200 Victoria St., #B1-K04, Bugis Junction, 188021
Opening hours: 10 a.m. to 10 p.m. (Daily)
3. Thailicious Boat Noodles
Kuay Teow Ruae, better known as Boat Noodles, originated on Bangkok's canals in the 1940s, when vendors on boats sold soup noodles with a selection of side dishes. Now, Boat Noodles means an affordable and comforting meal of springy rice noodles cooked in spicy broth, topped with whatever you like.
Choose from either a Small bowl ($2.30) or opt for a Standard ($8.50).You can also choose between having pork or beef added to your noodles. The restaurant also serves up popular Thai dishes such as Pineapple Fried Rice ($9.50).
Thailicious Boat Noodles
Address: 8 Liang Seah St., #01-01, 189029
Tel: 6917 9857
Opening hours: 12 to 10:30 p.m. (Daily)
4. KOKO Ice Cream
Just like in the streets of Bangkok, KOKO Ice Cream serves coconut ice cream in a coconut husk. Creamy and well-balanced, the ice cream can be topped with a variety of Southeast Asian toppings, including sweetcorn kernels and peanuts, or chunky Red Ruby bites made of diced water chestnut. They're a fun way to add texture.
Get a single scoop with three toppings, plus a small cup of coconut juice, all for $3.50.
KOKO Ice Cream
Address: 216 Joo Chiat Rd., #01-03, 427483
Tel: 9155 5708
Opening hours: 6:15 to 11 p.m. (Mon. to Fri.); 1 to 10 p.m. (Sat. + Sun.)
5. The Original Boat Noodle
The highlight of this casual Thai eatery is its namesake dish, which you can try in a dry or wet variation. And in the true tradition of Thai street food, this place is affordable.
Each bowl ($1) is a mix of rice noodles, pork balls, bean sprouts, and kang kong green vegetable, served with either pork broth (the wet version), or soy sauce-based black sauce (the dry version). Each serving can be eaten in three mouthfuls. Unlike traditional Thai Boat Noodles in Thailand, this local version does not contain pig's blood. The eatery also serves a range of popular Thai snacks, including desserts made of coconut rice.
The Original Boat Noodle
Address: Multiple locations
Tel: See website
Opening hours: See website
6. Co+Nut+Ink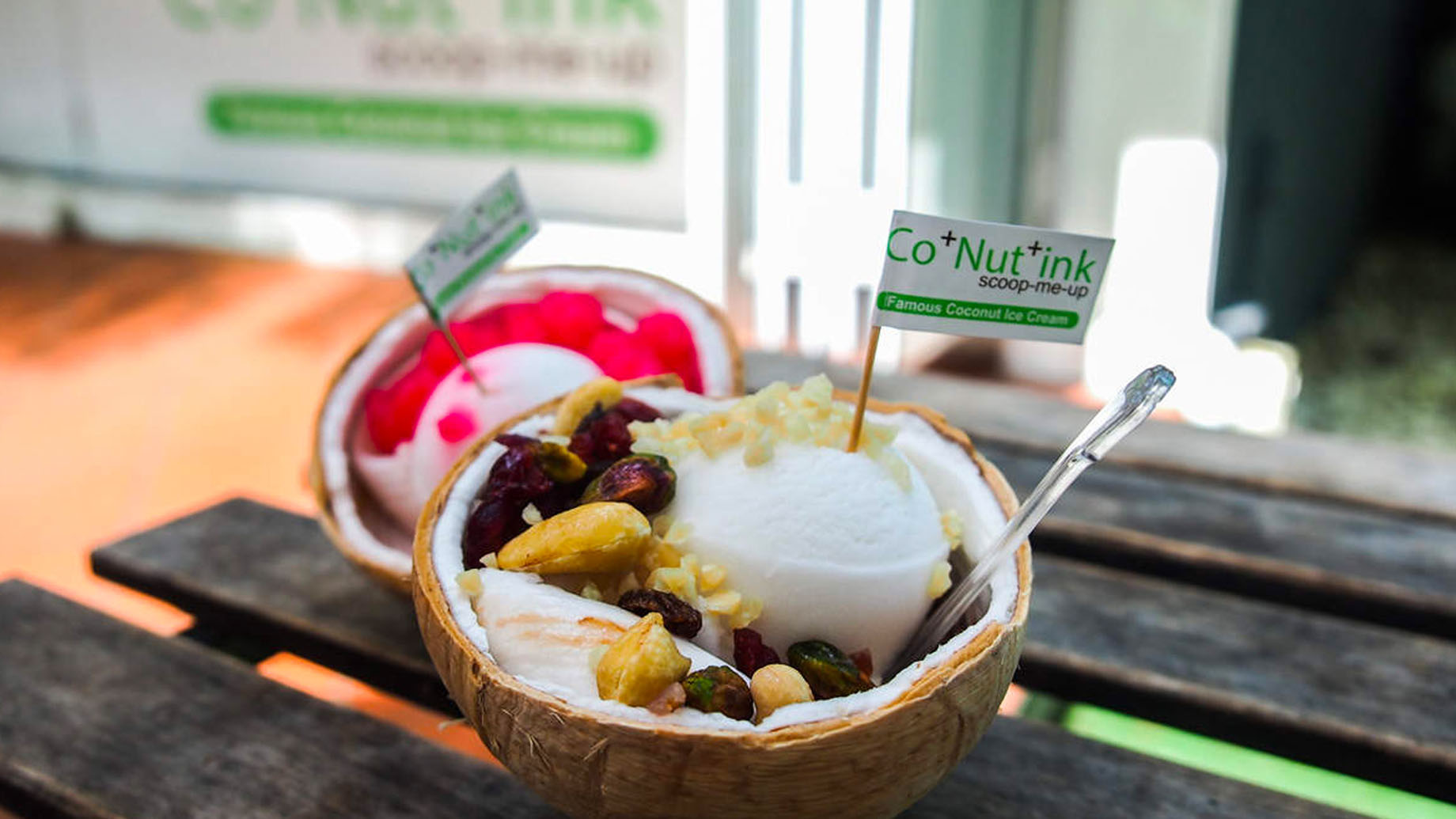 Thai street food doesn't get better than this. The owner of this home-grown brand bought the recipe from a famous coconut ice-cream vendor at Chatuchak Weekend Market in Bangkok. Now the shop sells more than 10,000 servings a month in Singapore. Prices start at $5 and toppings include peanuts, Red Ruby bites, red beans and sticky rice.
Co+Nut+Ink
Address: Multiple locations
Tel: See website
Opening hours: See website
Originally by Kenneth Goh, Her World, March 30, 2015 / Last updated by Sabrina Ng
Don't miss out! Like our Facebook page and follow us on Instagram. Sign up for our e-newsletter, too!
More on The Finder:
Enjoy TAKEAWAYS From These Delicious International Restos While You Stay SAFE At Home
5 AUTHENTIC Greek Restaurants In Singapore That'll Make You Say 'Opa!'
Check Out This List Of The World's BEST Cities For Street Food