1. National Gallery: Wu Guanzhong, Learning from the Master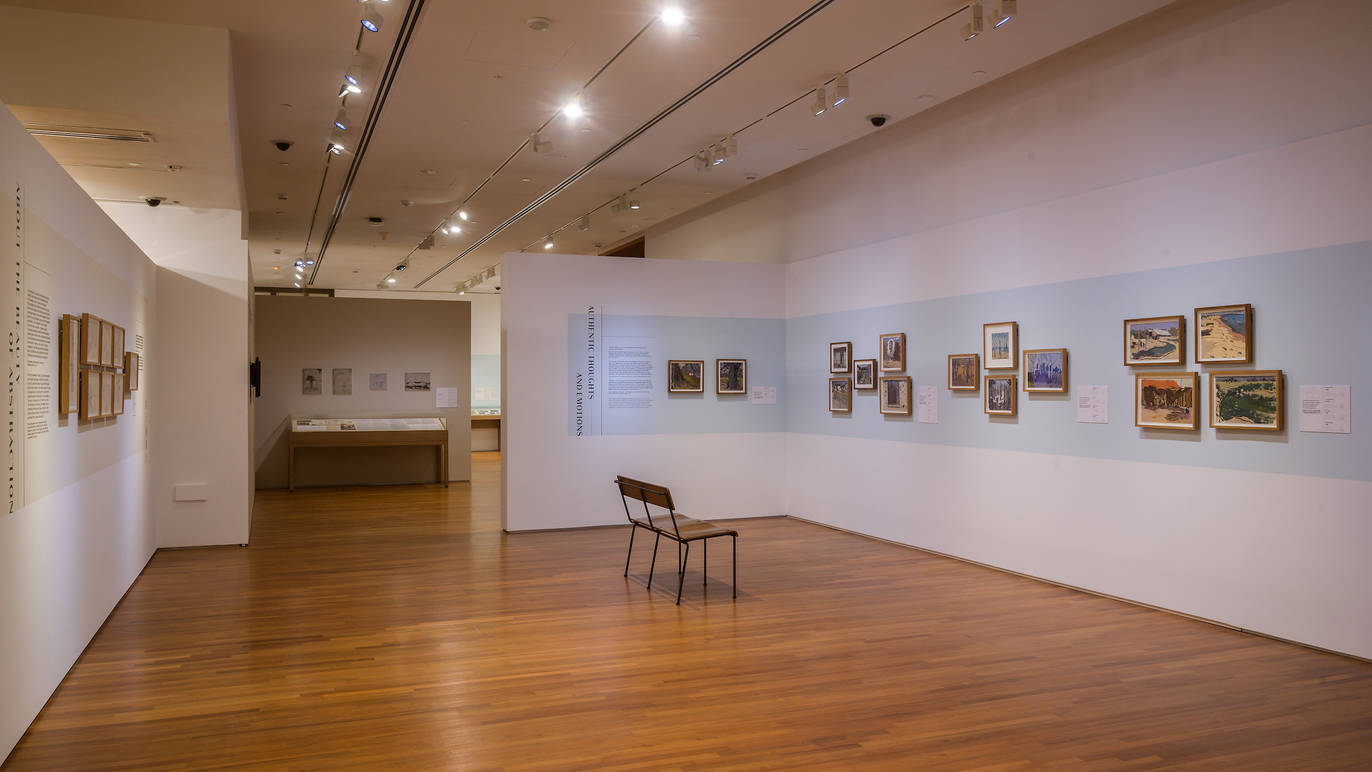 One of the most significant Chinese painters of the 20th century, Wu Guanzhong was known to seamlessly blend Chinese ink with Western modernism. This latest exhibition demonstrates his position as an influential art educator, presented through sketches by Wu and rare archival materials that document his beliefs. Head down this weekend for some Instagram-worthy art works.
National Gallery Singapore
Address: 1 St. Andrew's Rd., #01-01, 178957
Date and Time: 20 February to 26 September 2021, 10 a.m. to 7 p.m. (Daily)
Admission: Free (For Singaporeans and PRs); $20 (General admission)
2. Yoga & Gong Bath with Dawn Sim
Want to try something new aside from doing yoga in a studio? Head down to Gardens by the Bay this weekend and try your hand at getting a yoga practice done outdoors amongst the lush greenery and cool evening air. What sets this class apart from your usual yoga session is undoubtedly the gong bath, conducted by instructor Dawn Sim. Relax your body through yoga practice as the vibrations from the gong bath ease your mind and aching joints. (Remember to bring your own yoga mats!)
Yoga & Gong Bath with Dawn Sim
Address: 18 Marina Gardens Dr., Gardens by the Bay, 018953
Date and Time: 3 September 2021, 6:30 to 7:30 p.m.
Admission: $35
3. Round-the-island route with Singapore Cycling Tours
Cycling enthusiasts listen up! Explore Singapore's diverse park network this weekend and sign up for a round-the-island trip with Singapore Cycling Tours. This route links up all six of Singapore's Park Connector Network (PCN), allowing you to rediscover our island in a whole new light. Get a good workout in as your peddle along the scenic route, passing by various landmarks such as Victoria Theatre and Changi Beach.
Want to learn more about Singapore's PCN? Check out our ultimate guide to all of Singapore's Park Connector Networks here.
Round-The-Island Super6 PCNs
Address: 9 Empress Place, Victoria Theatre, 179556,
Date and Time: 4 September 2021, 6:30 a.m. to 3 p.m.
Admission: $70
4. Singapore Vegan Festival 2021
Who said being vegan is boring? The Singapore Vegan Festival is back for their third iteration and this time under the banner of Singapore Food Festival! Aimed at spreading awareness about plant-based foods, there is an abundance of amazing ethical brands and vegan products on showcase at the festival.
Whether you are a seasoned vegan looking for fresh options or just curious about the meat-free lifestyle, there's something for everyone at this festival!
Singapore Vegan Festival 2021
Address: 2 Stamford Rd., Skai Suites @ Swissôtel, The Stamford, 178882
Date and Time: 4 and 5 September 2021, 10 a.m. to 8 p.m.
Admission: $12
5. OH! Jalan Besar: Refuge for Strangers
OH! Open House is an independent arts organisation that tells alternative stories of Singapore through art. This weekend, take a walk with OH! and rediscover the quaint neighbourhood of Jalan Besar in a brand new light. Led by local artists, OH! takes you on a mini art walk that grapples with the different groups of marginalised communities that call Jalan Besar home – in the process exploring ways to understand and gaze at Jalan Besar from the outside.
OH! Jalan Besar: Refuge for Strangers
Address: 807 King George's Ave., 200807
Date and Time: 4 to 26 September 2021, 10 a.m. to 5 p.m.
Admission: $25
6. Sanrio Daruma steamed bun workshop
Talk about too cute to eat – Mantou Generation has perfected the art of churning out adorable steamed buns and now you can too! Happening this weekend, this workshop will cover the golden ratio recipe of making healthy (and adorable) steamed buns, as well as how to judge fermentation and various dough preparation methods. Bring the kids along for this activity and unleash their creative side!
Sanrio Daruma Steamed Bun Workshop
Address: 2 Jalan Lokam, #01-24/25, Kensington Square, 537846
Date and Time: 4 and 5 September 2021, 9:30 a.m. to 3:30 p.m.
Admission: $190
7. Wedding Festival with The Malayan Council
The Wedding Festival is back and bigger than ever! Streamline your wedding preparations and head down to this one-day event where you will be able to meet all the wedding vendors you need – ranging from bridal photography and videography, wedding cakes, invitation cards and many more. The event is free to enter but entry is by appointment only, so do book your slots early to avoid disappointment.
Wedding Festival
Address: 10 Winstedt Rd., #01-17, The Malayan Council, 227977
Date and Time: 5 September 2021, 12 to 8 p.m.
Admission: Free
8. Art of Planing at Brahm Centre
Hosted by Brahm Centre, the Art of Planting workshop begins this weekend. Head down and learn to grow your own food, including various types of edible herbs that thrive in Singapore's tropical climate. Participants will learn about topics ranging from how to plant microgreens to plant health management, amongst many others meant to stimulate your green thumb.
For Singaporeans and Permanent Residents, you can use your SkillsFuture Credits (SFC) to offset the course fee for this event.
Art of Planting @ Brahm Centre
Address: 473 Tampines St., #01-94, Brahm Centre @ Tampines, 520473
Date and Time: 4 September 2021, 9:30 a.m. to 1:30 p.m.
Admission: $350 (General admission for 4 sessions); $70 (For seniors eligible for the National Silver Academy subsidy)
By Sabrina Ng, August 2021
Don't miss out! Like our Facebook page and follow us on Instagram. Sign up for our e-newsletter, too!
More on The Finder:
Singapore TRAVEL Guide: 22 Things To SEE And DO In Singapore
Guide to MID-AUTUMN FESTIVAL: Mooncakes, Lanterns, Legends
SINGAPORE ZOO: Animal Zones, What To See And How To Save Money