When people think of Woodlands, Malaysia usually comes to mind. But this suburban district located at the northernmost point of Singapore is more than just a border town to Johor Bahru.
Our guide to Woodlands includes the suburbs of Woodlands, Marsiling and Admiralty. The entire Woodlands vicinity earned its name because it was heavily wooded back in the early days. Think rubber plantations and poultry farms situated in modern-day Admiralty and villages dotting the Marsiling area, where residents made their living as small-time shopkeepers and vegetable farmers.
Today, Woodlands features all the comforts and conveniences of a typical Singaporean highrise neighbourhood. It also has experiences unique to this bustling locale – from the revamped Woodlands Bus Interchange and recently opened Thomson-East Coast MRT Line, to new dining and drinking spots within the town centre and a bridge that goes into Malaysia.
With this nifty guide to Woodlands in Singapore, you'll be able to find the best things to do in this underrated neighbourhood, including places to go for shopping, drinks and good food.
Things to do
1. Admire views of Johor Bahru from Woodlands Waterfront Park – or cycle all the way to Seletar
At this coastal park, you get scenic views of the Straits of Johor, the Johor-Singapore Causeway and Johor Bahru state in Malaysia. This makes Woodlands Waterfront Park ideal for beautiful golden hour and skyline pictures. This 11-hectare park is much less crowded than other waterfront spots in Singapore, so there's space to fish at the jetty, stroll along the 1.5-kilometre waterfront promenade or play at the two-storey high adventure playground. You can also dine right on the water at the Rasa Istimewa Waterfront Restaurant.
For fitness enthusiasts, the undulating terrain of Woodlands Waterfront Park provides adventurous and challenging trails, and it links to the existing Admiralty Park via the 25-kilometre Northern Explorer Loop.
The cycling route in Woodlands is also excellent – the path connects all the way to Lower Seletar Reservoir and Sembawang Park, and you get a variety of terrains to try. The path starts out smooth at Woodlands, then changes to bumpy dirt tracks surrounded by tall trees. You don't necessarily need a mountain bike to do the trail either; a normal upright riding city bike will be fine.
Woodlands Waterfront Park
Address: Admiralty Rd W., 759956
Opening hours: 24 hours
Admission: Free
2. Be with butterflies at Marsiling Park
Formerly called Woodlands Town Garden, many people know this park for its proximity to the Old Woodlands Town Centre – which has since been demolished – and the Woodlands customs checkpoint. Established in 1983, this park once had a seedy reputation for vice-related activities, but in 2016 the park was closed for a year-long overhaul. Now it has a new name and more facilities to play, exercise and learn more about nature.
Marsiling Park deserves a place in any guide to Woodlands in Singapore because it's particularly good if you need to entertain children. It has a one-of-a-kind butterfly-shaped playground with climbing ropes and a Fun Play area with musical elements for the young ones. It also has butterfly-attracting plants alongside an enhanced mangrove habitat for nature lovers. Into nature photography? The viewing tower in Marsiling Park offers you bird's-eye views of this tranquil oasis, the perfect photo opportunity.
Marsiling Park
Address: Woodlands Centre Rd., 738930
Opening hours: 24 hours
Admission: Free
3. Children can zip down 26 slides at Admiralty Park playground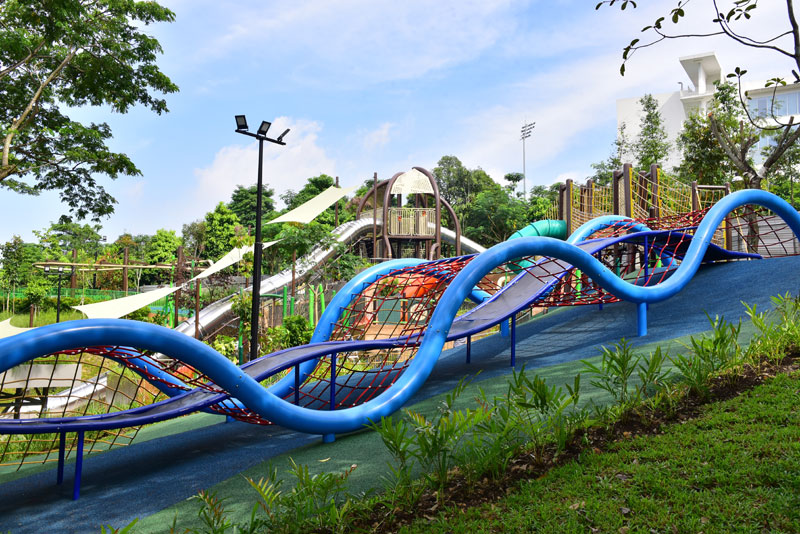 No guide to Woodlands in Singapore would be complete without Admiralty Park. This park is by far the largest park in the north of Singapore. Situated on hilly terrain with the Sungei Cina river running through it, Admiralty Park encompasses a 20-hectare nature reserve and a 7-hectare urban park.
The nature reserve part of the park includes a mix of secondary forest, mangrove, riverine and open grassland habitats. It's also home to more than 100 species of flora and fauna, and has several trails so you can discover different species, including the monkeys and dragonflies that live in the forest.
But for children, the highlight of Admiralty Park is a massive playground with 26 slides, the most in any park in Singapore. It boasts four main play areas – Junior Play (for toddlers and small children), Adventure Play (for bigger kids), Family Terracing Play (for picnics and family games) and the Inclusive Playground, which is specially set up for children with special needs. Honestly, kids love this place. Take a picnic and spend the day.
Admiralty Park
Address: 31 Riverside Rd., 730000
Opening hours: 24 hours
Admission: Free
4. Visit Senoko Fishery Port Market for $5 crabs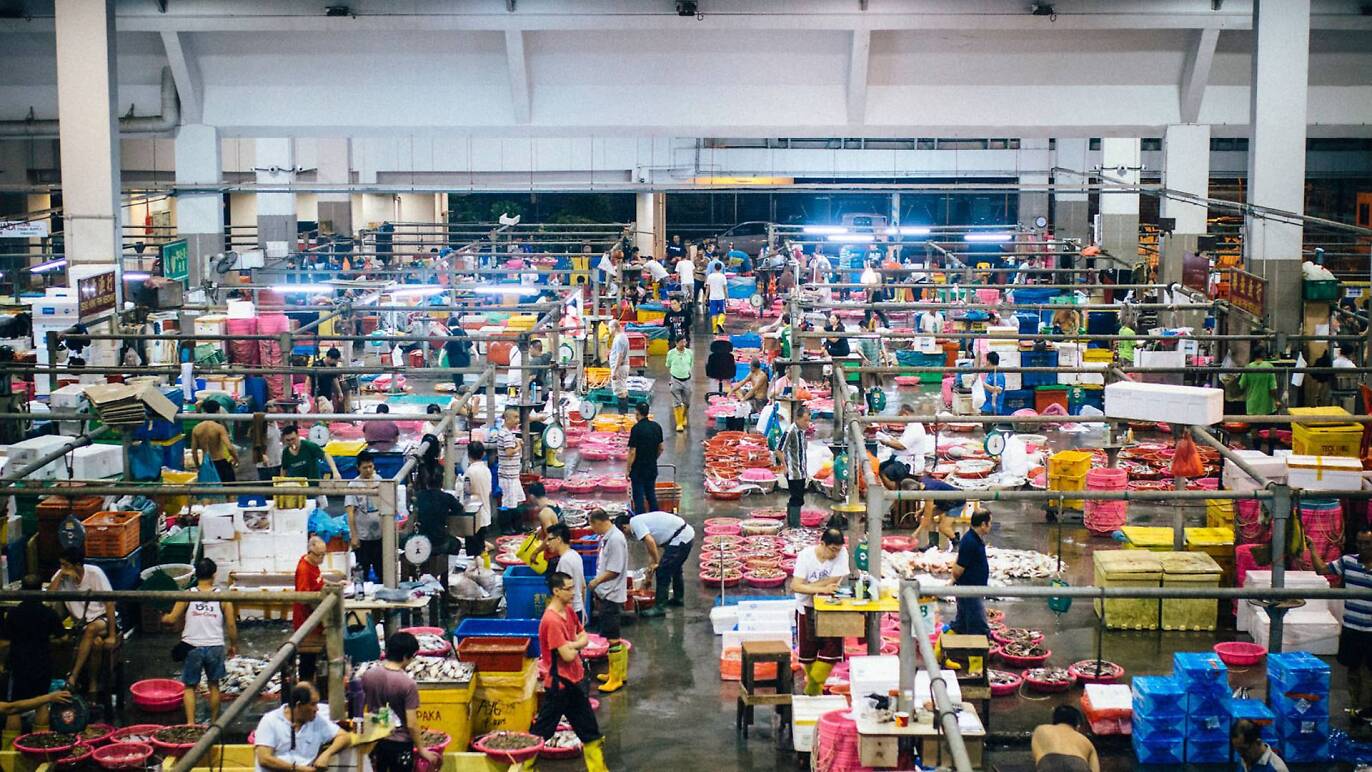 Senoko Fishery Port doesn't usually get included in trendy guides to Woodlands in Singapore, but it's fun! Think about it – when we visit Tokyo, we'll gladly get up at 4 a.m. to visit Tsukiji Market, so why not do it in Singapore?
We admit Senoko hasn't got the trendy restaurants you find around Tsukiji, but it's got all the hustle and bustle of a market, with fishmongers yelling out prices and fish so fresh they're still flopping around in crates. You can just watch or buy direct from the fishmongers, and the prices are incredible; live crab starts from $5 or $13 for a kilo of prawns. Many stalls have a minimum order of 2-kilograms, so you can share with friends or freeze what you don't cook right away. You'll need to bring your NRIC or passport to get past the security checkpoint – driving licences are not accepted.
Tip: Bring newspaper and waterproof wrapping to wrap up your seafood – the fishmongers normally sell wholesale so not all have packaging. Cash only. Don't bother trying to haggle. The fishmongers will probably give you an earful of ripe language. They know the prices are good.
Senoko Fishery Port
Address: 31 Attap Valley Rd., 759908
Tel: 6257 6721
Opening hours: 2 to 6 a.m. (Tue. to Sun.)
Admission: Free
5. Stargaze at Andromeda Observatory
Calling all astrophiles! When Covid restrictions are lifted, the Andromeda Observatory at the Woodlands Galaxy Community Club is an alternative way to stargaze instead of splashing out cash on your own telescope. The club's 30-centimetre telescope is the second largest public telescope in Singapore and it's sited in Woodlands because the sky is darker in the north of the Republic. You can look into the skies, catch glimpses of the moon, stars and the Andromeda Galaxy, and maybe even peek at planets like Jupiter and Saturn, depending on weather conditions.
Andromeda Observatory
Address: 31 Woodlands Ave 6., Level 6, Woodlands Galaxy Community Club, 738991
Email: pa_woodlandsgalaxycc@pa.gov.sg
Opening hours: 7:30 to 9:30 p.m. (Fri. to Sat.)
Admission: $1 per entry
6. Make pottery at workshops at Arudio Ceramic
Founded by professionally trained ceramic artist Poh Sin Yong, Arudio Ceramic in an interesting part of any guide to Woodlands in Singapore, because it specialises in affordable and beginner-friendly pottery workshops. This art studio in Woodlands allows you to let your creative juices flow at the pottery wheel and pick up different pottery-making skills such as wheel throwing and hand-building. You can also learn glazing techniques to beautify your ceramic art.
Tip: Arudio Ceramic offers trial classes, so you can get a taste of pottery making without having to commit long-term.
Arudio Ceramic
Address: 11 Woodlands Cl., #09-30, Woodlands 11, 737853
Email: arudioceramic@gmail.com
Opening hours: 10 a.m. to 5 p.m. (Mon. to Fri.); 10 a.m. to 7 p.m. (Sat. to Sun.)
Admission: Classes, from $70 per person
7. Watch raptors at Kranji Marshes wetland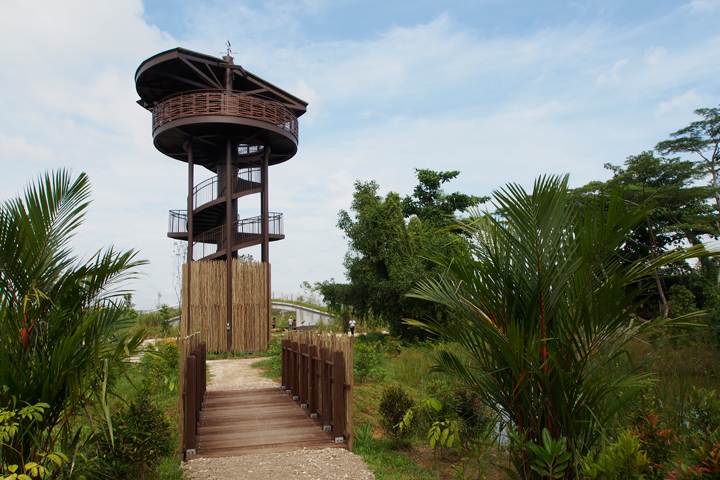 If birdwatching or being around nature is your thing, the largest freshwater marsh in Singapore is on the northwestern shore. Kranji Marshes is a 56.8-hectare freshwater marshland that is home to unique biodiversity, including more than 170 species of birds, 54 species of butterflies and 33 species of dragonflies.
Kranji is important to migrating and local birds because it has a range of natural habitats, such as freshwater marsh, woodland and grass habitats. There are bird hides scattered around to make birding easier, so you can observe shy marsh birds such as the Purple Swamphen and Common Moorhen.
Best of all, Kranji is accessible, with a carpark and Kranji Express Buses leaving from Kranji MRT station. While some of the paths are just earth, there are long stretches of boardwalk suitable for pushchairs, strollers and wheelchairs.
Kranji Marshes
Address: 11 Neo Tiew Ln 2., 71881
Tel: 6794 1401
Opening hours: 4 a.m. to 7 p.m. (Daily)
Admission: Free
Where to eat and drink
1. Tipsy Panda
Recognised by its red and neon-lit interior, Tipsy Panda is the latest hangout spot for North-siders. Brought to you by the same people behind Lady Wu and Takeshi Noodle Bar (a.k.a. Tipsy Collective), this Woodlands bar feeds you with a selection of signature delicacies and drinks mixed and shaken with joy and zest. Think hearty meals like Szechuan Panda Noodles ($23), local flavours like Dry Laksa with Prawn ($23) and tapas like Wagyu Beef Cubes ($18). You can wash it all down with pints of beer and cocktails, or make it fun and order shooters! Tipsy Panda also brings in live entertainment to keep the night young.
Tipsy Panda
Address: 6 Woodlands Square, #01-01, Woods Square, 737737
Tel: 8028 9780
Opening hours: 12 to 10:30 p.m. (Daily)
2. O/T Bar
Another brainchild of Tipsy Collective, O/T Bar oozes a completely different vibe from neighbouring Tipsy Panda. It's grungier in style, featuring wooden and navy blue furnishings complemented with gold details and yellow spotlights, plus its menu cover design screams Art Deco.
This cocktail bar in our guide to Woodlands brands itself as an "office" where your overtime (or O/T in Singapore slang) includes artisanal cocktails. So if you feel like drinking on the job, as it were, head down for tipples like Prohibited PBJ ($22), a peanut butter infused Bulleit bourbon, and seaweed infused sake U, Ma or Mi ($21). If you're hungry, you can order from Tipsy Panda's menu next door, and the meals are delivered to you in O/T Bar.
O/T Bar
Address: 6 Woodlands Square, #01-02, Woods Square, 737737
Tel: 9632 3226
Opening hours: 12 to 10:30 p.m. (Daily)
3. Cheval Cafe Bar Bistro
This cafe, bar and bistro is a hidden gem and a worthy addition to any guide to Woodlands in Singapore. Nestled away from the hustle and bustle of the town centre, Cheval overlooks the grounds of the Singapore Turf Riding Club, so you can watch horses while you eat your hors d'oeuvre. The menu features crowd-pleasing dishes like Wagyu Striploin Steak ($48), Seared Scallops with Herbs in Lemon Butter Sauce ($24) and vegetarian options such as Wild Mushroom Truffle Ravioli ($18).
Chevel is licensed, so you can sample wines, frozen cocktails and draught beers. If you catch its daily Happy Hour promotion from noon to 9 p.m., you'll be treated to deals like $12 house-pour wines, $9 for a pint of Heineken and $12 for a pint of Erdinger or Guinness.
Tip: Children and adults can take horse riding lessons at Singapore Turf Club Riding Centre, and you can also hire riding boots and helmets. You can try group lessons, or private lessons.
Cheval Cafe Bar Bistro
Address: 1 Equestrian Walk, Singapore Turf Club Riding Centre, 737863
Tel: 6269 0918
Opening hours: 11 a.m. to 11 p.m. (Daily)
Reserve on Chope here.
4. Rasa Istimewa Waterfront Restaurant
Situated at the far end of the Woodlands Waterfront Park jetty is Rasa Istimewa Waterfront Restaurant. Commonly known as the Woodlands Waterfront restaurant because of its location, this family-friendly eatery serves a variety of dishes cooked in different styles – from Malay and Chinese to Western and Thai. It's famous for its barbecue stingray and satays, but you should stay for other meals like fried rice, tom yam soup and fish & chips. Its unique position also treats you to the cool sea breeze and stunning waterfront views of Johor Bahru, Malaysia, so remember to bring along your cameras when you dine here.
Rasa Istimewa Waterfront Restaurant
Address: 6A Admiralty Rd West., Woodlands Waterfront Park, 757445
Tel: 6366 9339
Opening hours: 12 p.m. to 12 a.m. (Daily)
5. Al-Ameen Eating Corner
This popular halal coffee shop chain is always packed to the brim with diners, regardless of the time of day. When you swing by this eating spot located just opposite the Woodlands MRT station, you can look forward to tucking into Indian dishes like plates of crispy thosai and doughy prata. Its menu also features an array of other food options, including nasi goreng, mee goreng and nasi biryani, and western dishes like chicken chop and lamb chop, which you can pair with comfort drinks like Milo dinosaur or a teh cino.
Al-Ameen Eating Corner
Address: 35 Marsiling Industrial Estate Rd 3., #01-11, Central Industrial Estate, 739257
Tel: 6366 1740
Opening hours: 6 to 2 a.m. (Daily)
6. Citrus By The Pool
Set right next to the Woodlands Swimming Complex, Citrus By The Pool cooks up a fine selection of western and Asian fusion fare in its trendy and casual establishment. At this halal-certified cafe, dig into yummy mains like a Fried Chicken and Waffle ($15.90), Tom Yum Seafood Pasta ($13.90) and Shiok Burger ($12.90) – a crispy deep-fried chicken thigh served with cheese, sliced tomato, lettuce and sunny side up egg on toasted sesame seed bun. Then treat yourself to desserts such as the Molten Chocolate Lava Cake ($10.90) or order up a sinful milkshake – the options are endless.
Citrus By The Pool
Address: 3 Woodlands St 13., Woodlands Swimming Complex, 738600
Tel: 6366 6581
Opening hours: 11:30 to 6 a.m. (Daily)
Reserve on Chope here.
7. Shiok Garden Hotpot & BBQ Buffet
Great halal food is a must for any guide to Woodlands in Singapore. The latest concept from halal restaurant chain, Yassin Kampung, Shiok Garden halal hotpot restaurant is situated inside Admiralty Park.
Shiok Garden provides more than 100 fresh ingredients for your hotpot, including 30 types of marinated meats and succulent seafood. It serves four soup bases – Bird's Nest Collagen Soup, Chong Qing Mala Soup, Sukhothai Tom Yum Soup and Tomato Soup. Each table can choose two soups – so whether you like your broth numbing spicy or full of collagen, there's something for everyone.
Shiok Garden Hotpot & BBQ Buffet
Address: 31 Riverside Rd., Admiralty Park, 739087
Tel: 8387 8240 (Whatsapp only)
Opening hours: 11 a.m. to 11 p.m. (Daily)
Reserve on Chope here.
8. Woods Square
Woods Square is the town centre's newest mall destination, encompassing both office spaces and F&B outlets. It's not so much a shopping destination as an interesting town planning experiment. The goal is to create an alternative business district in Singapore, with offices, transport and shops linked together.
Built right next to Causeway Point shopping mall, this mixed-use building houses a wide variety of dining spots featuring different types of cuisines on the first and basement floors. You can find western and Italian fare at restaurants like Saizeriya and Andes by Astons, Vietnamese food at Pho Street, local favourites at The White Tiffin and Fun Toast, Asian desserts at Ji De Chi, and so much more.
If Singapore's sun gets too much for you, Woods Square is linked to Woodlands Civic Centre and Causeway Point via shady covered walkways. By the end of 2021, an air-conditioned underground pedestrian linkway will connect all three buildings with the Woodlands MRT and bus interchange on the North-South Line and the Thomson-East Coast Line.
Woods Square
Address: 6 Woodlands Square, 737737
Tel: 6773 6813
Opening hours: 8:30 a.m. to 10 p.m.
Where to shop
1. Causeway Point
Leaving Causeway Point out of a guide to Woodlands in Singapore would be a mistake. Back in 1998, Causeway Point was the first major shopping mall to open in the town centre of Woodlands. In late 2010, it underwent a 30-month facelift and reopened with new shops and a new look.
Spanning across seven floors and a basement level, this Woodlands mall is the seventh largest suburban shopping centre in Singapore. It has everything you can possibly need – from fast-food chains like McDonald's and a seven-screen cineplex operated by Cathay, to restaurants like Crystal Jade Hong Kong Kitchen and Hot Tomato, retail stores such as Sephora and Uniqlo, and a Cold Storage supermarket.
Causeway Point
Address: 1 Woodlands Square, 738099
Tel: 6894 2237
Opening hours: 10:30 a.m. to 10:30 p.m. (Daily)
2. Woodlands Civic Centre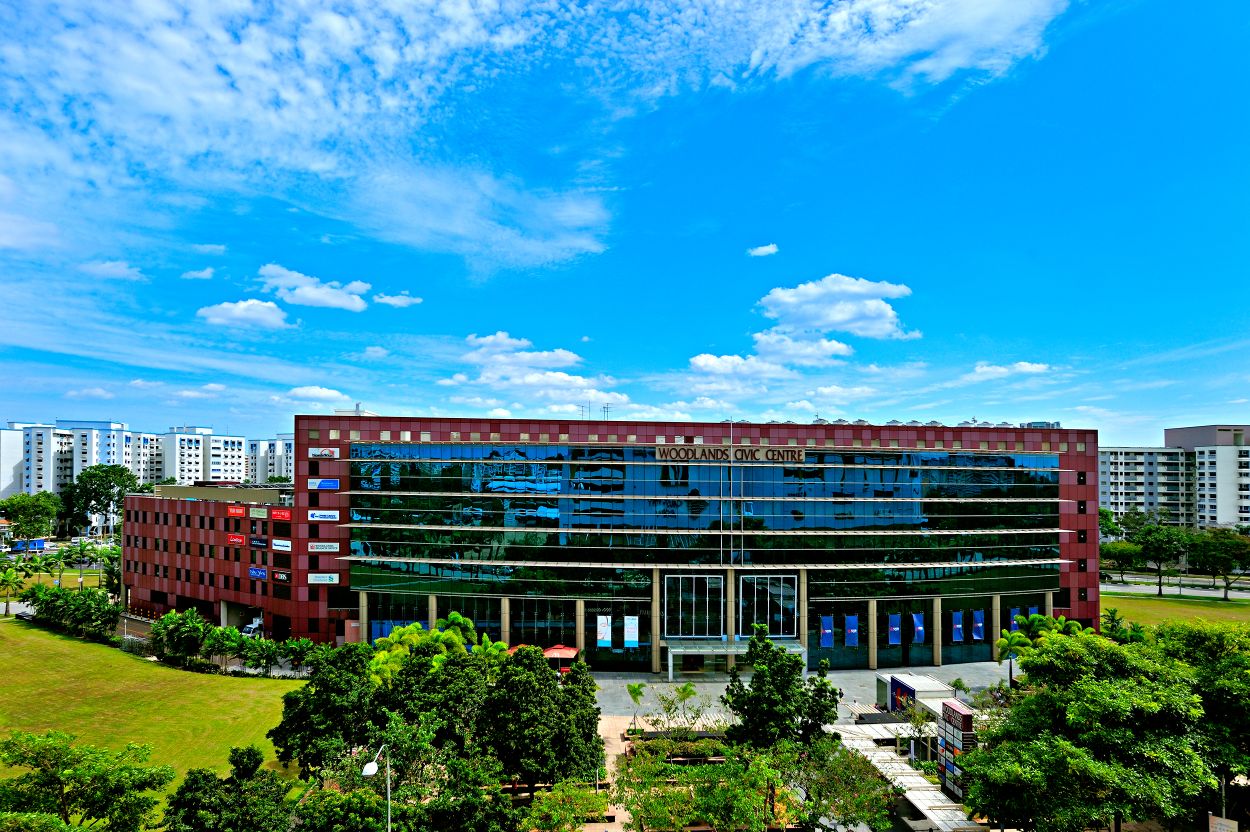 Woodlands Civic Centre deserves to be included in a guide to Woodlands in Singapore because it is more than just a one-stop location for residents to use government-linked services, such as the Central Provident Fund (CPF) Board, and run errands at banks or the Singapore Post Office. This building features enrichment centres, clinics, the Woodlands Regional Library, as well as a couple of food outlets like Lerk Thai Bistro, Jack's Place Restaurant, Kaffe & Toast and Hei Sushi.
Another reason to visit is the newly renovated NTUC FairPrice supermarket located at the basement level. One of the newest outlets in the chair, it looks like a glossy gourmet market with a great range of pastries, an in-house bakery, and a particularly large range of chilled ready meals. The store even has microwaves installed in the wall, so you can heat your meal before you head home.
Woodlands Civic Centre
Address: 900 South Woodlands Dr., 730900
Tel: 6269 4922
Opening hours: 7 a.m. to 10 p.m. (Daily)
3. 888 Plaza
This two-storey outdoor shopping complex nestled within the Woodlands HDB neighbourhood is included in our guide to Woodlands in Singapore because it is THE place to go if you want value for your money. There's the Valu$ store to stock up on cheap snacks and daily essentials, SKP for stationery and toys, Swee Heng bakery for inexpensive yet delicious bread and cakes, and Zener DIY for affordable hardware.
Looking to purchase a new bicycle or get your old one fixed? 888 Plaza is home to Elite Bike Trading, a bicycle shop popular amongst Woodlanders, where you can purchase bicycles ranging from brands like Tsunami and Intro 7 to Cycletrack. The owner, Vincent, has extensive knowledge of bicycles, so expect good help from him.
888 Plaza
Address: 888 Woodlands Drive 50, 730888
Tel: 6368 7756
Opening hours: 24 hours
By Jayme Chong, September 2021
Don't miss out! Like our Facebook page and follow us on Instagram. Sign up for our e-newsletter, too!
More on The Finder:
What's On This September 2021 In Singapore
Yishun: Things To Do + Where To Eat, Drink And Shop
SINGAPORE ZOO: Animal Zones, What To See And How To Save Money