It's the second Wednesday of August, and that can only mean one thing – World Calligraphy Day.
Calligraphy is more than an ancient art form. It's one of the oldest styles of writing and communication in almost every region of the world. Even the original Bible was written in Biblical Hebrew calligraphy!
Not all calligraphy is the same, though. Traditional calligraphy consists of three types – Oriental, Western and Arabic. The origins of the former date back to the Shang dynasty in ancient China, which then became more common during the Han dynasty (206 BCE to 220 CE). Western calligraphy, on the other hand, evolved from the Roman originals, while the latter, also known as Islamic calligraphy, preserves the word of God through the Qur'an.
In today's world, modern calligraphy has taken on a more creative, free-spirited stance and is seen as a way of self-expression. On this World Calligraphy Day, master this beautiful art of writing with the help of this nifty guide. It highlights the essentials you need to practice this form of visual art and the classes you can attend to be skilful at it.
Essential items you'll need
1. Inks
First things first, you need to get proper calligraphy ink because writing calligraphy without one would be hard and almost impossible.
The two types of ink suitable for calligraphy are fountain pen ink and dip ink. Fountain pen inks are only for fountain pens, whereas dip inks are used with dip pens.
Fountain pen inks are dye-based and usually come in various colours. They are ideal for projects that aren't exposed to water because they fade easily. Dip inks, on the other hand, are a thick dense black. Unlike fountain pen inks, dip inks won't change colour or fade over time. It also comes in waterproof models, so your artwork won't get damaged when it comes into contact with water.
2. Pen style
A proper pen is just as important as ink when it comes to achieving flawless calligraphy. The common ones include straight dip pens, oblique pens, fountain pens and brush pens.
Straight dip pens and oblique pens are great for traditional calligraphy. The former is inexpensive and can accommodate any nib, while the latter tends to be more costly and is specifically fitted for one type of nib. This means you'll need multiple oblique pens if you want to use different nibs.
Fountain and brush pens are acceptable if modern calligraphy is more up your alley. They're both easy to use and come in a variety of colours, making it effortless to create your own calligraphy style.
3. Nibs
A nib is the traditional writing instrument of calligraphy. The more flexible a nib is, the easier it is to make thick downstrokes as its tines spread apart and thin upstrokes as its tines spring back together.
There are all sorts of nibs with different shapes and characteristics that achieve varying effects. But if you're a beginner, the Nikko G nib is recommended for its medium flex as it helps to make downstrokes and upstrokes uncomplicated. Up for a challenge? Get yourself the flexible Brause EF66 nib after you've practised with the Nikko G.
4. Paper
Lastly, the type of paper you use for calligraphy can affect how your artwork turns out. For the best results, your paper must be thick, non-absorbent, smooth, grain-free and acid-free.
Here's why:
Calligraphy pens dispense more ink onto paper, so it's crucial to use thick, non-absorbent paper to hold the ink better and prevent it from bleeding. Choose a paper that has a grams per square metre (GSM) of at least 120.
Smooth, grain-free paper can help avoid damaging your nibs and pens.
Acid-free paper with a neutral PH preserves your artwork because it won't turn yellow and old-looking over time.
Calligraphy classes and workshops in Singapore
1. Souldeelight Studio
Looking to dabble in modern calligraphy? Check out Souldeelight Studio's list of watercolour and calligraphy classes conducted by self-taught artist Dee. Whether it's a workshop on brush or modern calligraphy or an introduction to watercolour and its basic techniques, each of these 2.5-hour lessons are beginner-friendly and will teach you the steps to making your artwork stand out. This includes learning how to hold a dip pen, the adequate pressure to apply on the pen and using the dip pen to create consistent strokes.
Souldeelight Studio
Address: 19B Hillview Ave., 669555
Tel: 9102 5012
Price: From $130 a person
2. Liew Calligraphy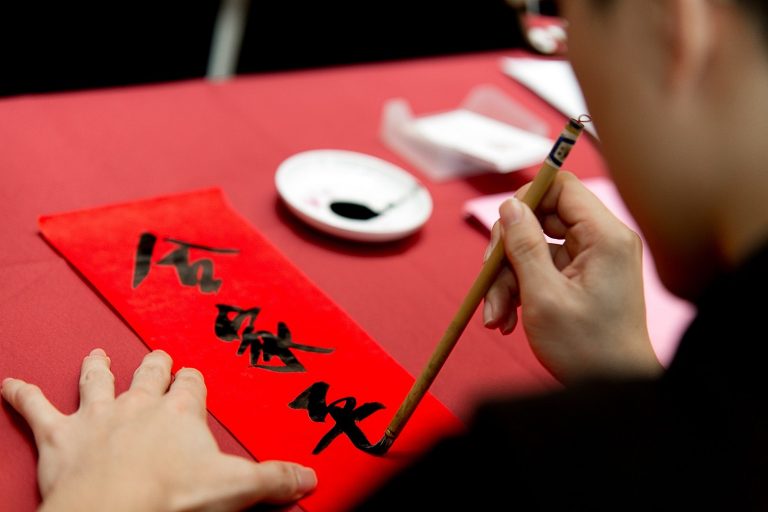 Mastering the art of Chinese calligraphy or any form for that matter comes with a lot of practice. If you're keen on picking up this new skill, hit up Liew of Liew Calligraphy. Liew has been writing Chinese calligraphy for over 20 years and now imparts his skill to interested individuals. At his five-session Chinese Calligraphy Beginner Course, you'll learn how to handle the Chinese brush and create your very own Chinese calligraphy artwork using fundamental brush strokes and the correct writing alignment.
Liew Calligraphy
Address: 656 Choa Chu Kang Cres., 680656
Tel: 8135 5602
Price: From $150 a person
3. The Workroom
The Workroom has been teaching calligraphy since 2013. With eight years under its belt, you can count on The Workroom to teach you everything you need to know – like the tools and strokes – to grasp the basics of modern calligraphy to create your stunning art piece at its workshop. You can also pick up brush calligraphy at its Brush Lettering Workshop. And if you wish to practise calligraphy at home, you can purchase supplies like nibs, inks and pens from its website, too.
The Workroom
Address: 176 Orchard Rd., #05-05, JustCo at The Centrepoint, 238843
Email: info@theworkroom.sg
Price: From $140 a person
4. Dottieshop
Pick up brush calligraphy and watercolour painting from Dorothea, the lady behind Dottieshop. In her 3.5-hour class, you will learn the basic techniques of brush calligraphy. We're talking about the strokes and how pen pressure affects it, the lettering of lower and uppercase alphabets, and the joining of letters to form words. You'll get to experiment with colours and floral designs, too, as you paint flowers and leaves around your hand-lettered text using watercolour paint.
Dottieshop
Address: 200 Jln Sultan., #12-07, 199018
Email: dottieshop@gmail.com
Price: From $120 a person
5. Artsynibs
Artsynibs provides modern calligraphy courses for beginners and those who want to take their calligraphy skills to the next level. For the newbies, Joyce, the face behind Artsynibs, handholds you through the process of learning how to write beautifully with the traditional pointed pen – this includes how to sit, position your paper, hold the pen and angle the nib correctly. The experienced can look at Artysnib's intermediate course, which exposes you to more technical skills like practice habits and refining your ligatures, flourishing and layout.
Artsynibs
Address: See website
Email: hello@artsynibs.com
Price: From $237 a person
By Jayme Chong, August 2021
Don't miss out! Like our Facebook page and follow us on Instagram. Sign up for our e-newsletter, too!
More on The Finder:
Where To Buy Essential Oils In Singapore: 12 Brands Offering A RELAXING "Me" Time
The ULTIMATE Singlish Guide To Speak Like A Local Within A Day
Going Plastic-Free: These Dining Estabs Are DITCHING Single-Use Plastic